This is actually my second time at Tokyo Disneysea. Hubby and I first visited back in 2005, when our son was 4 and our daughter was 1. They're much older now. They can walk and ride everything so we decided it was a good time to take them to Tokyo Disneysea.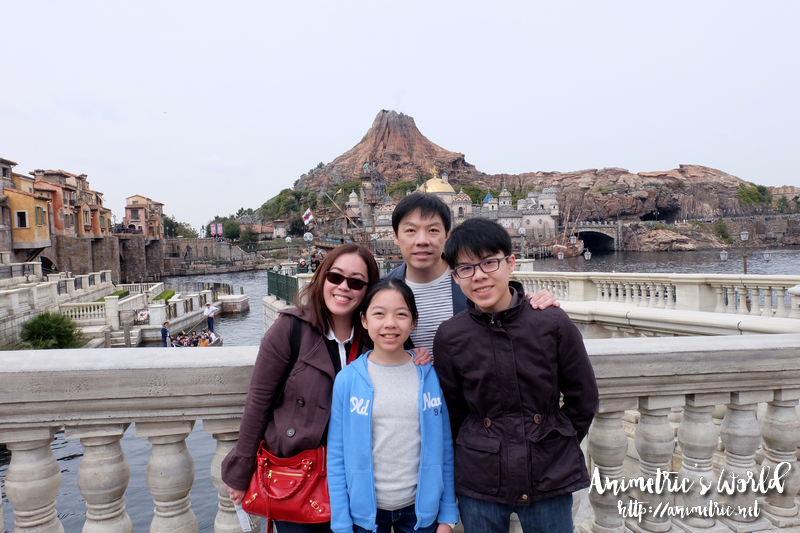 They were awed by how different Tokyo Disneysea was compared to Disneyland. We've all been to Hong Kong Disneyland and Disneyland in Los Angeles. Japan is the only place in the world with a Disneysea. The volcano behind us is one of Tokyo Disneysea's most popular attractions, Journey to the Center of the Earth. It's a coaster ride with a drop by the mountainside. I recommend going straight there or getting a Fast Pass as the lines can get really long.
Tokyo Disneysea is very European in terms of look and theme. There are even gondolas you can ride.
The first ride we went on was 20,000 Leagues Under The Sea. It's a submarine exploration ride for all ages. Nothing wild plus you're enclosed so it's okay even if it rains.
True to its name, Tokyo Disneysea is home to Mermaid Lagoon. All the attractions here are Little Mermaid-themed. Everything in Mermaid Lagoon is too kiddie for our kids who are 12 and 16. It's pretty much one big playground with catterpillar and merry-go-round type rides. We just had a look and left for more exciting pursuits lol.
Tokyo Disneysea also has an Aladdin-inspired area called Arabian Coast. The main highlight here is The Magic Lamp Theater. It features a 3D show with the Genie. But it's entirely in Japanese. Still quite enjoyable though because of the high-tech visual effects.
There's also Sinbad's Storybook Voyage, which my kids describe as the Arabian version of the "It's a Small World" boat ride in Disneyland. This ride takes you through the seven voyages of Sinbad. If you ever go on this ride, take note that Sinbad's eyebrows MOVE. Fluidly. I find that so awesome because the usual animatronic puppets just have moving mouths and limbs.
It was a pretty cold day when we were at Disneysea, so no one was lining up for ice cream. We tried these Tokyo Disneysea exclusive flavors: Tiramisu Ice Cream Sandwich and Sea Salt Ice Cream Monaka. They cost 350 yen (P155+) each. They're worth every cent. Creamy, not overly sweet, and really just a treat.
My Sea Salt Ice Cream had a crisp shell and strawberry puree in the middle. The ice cream tasted like lightly salted milk. Could use a bit more salt I think, but overall yummy.
We rode the Tokyo Disneysea Steamer Line. It's a fun and relaxing way to go from area to area without having to walk. No lines too. In fact the boats were never full when we were there.
Food at Tokyo Disneysea is pricey, which is typical of all Disney theme parks. This was my lunch — Reuben Sandwich, Fries, and Iced Oolong Tea. It cost something like 1200 yen (around P534). To be fair, it was delicious. The red and yellow bell peppers on the side were probably the best bell peppers I've had.
My daughter's favorite ride was the Tower of Terror. We queued up for a little under 2 hours for this because they had run out of Fast Passes. It's a haunted elevator ride which takes you to the top floor, opens the windows so you can see how high up you are, and then drops you. Woohoo! Fun.
Thumper was the only mascot we came across who wasn't swamped by people so we took a photo with him. I wanted one with Jafar but he was waving people off lol.
Maybe I'm getting old but I really enjoyed the Tokyo DisneySea Steamer Line wahahaha. We didn't get on the Indiana Jones ride because it had a 2-hour line plus it was the same one we had already ridden in Disneyland.
I've been to Disney theme parks countless times in the past but this was my first time to ride the Electric Railway. Every park has one. It's a train that goes all around the property.
The Tokyo Disneysea Electric Railway offered really great views from above the park. Had I known it was this awesome I would've gotten on the trains in Disneyland Hong Kong and Los Angeles wahahaha.
There's the Tower of Terror!
Some schools were already on spring break when we went to Tokyo Disneysea so we had to line up a bit for some rides. Overall, the kids were impressed by how different Disneysea was from Disneyland. The park was pretty packed so I suggest scheduling your visit when Japanese schools are NOT on break. The first time hubby and I visited, there weren't any lines because it was a weekday in the middle of their school year.
Tickets prices are as follows:
7,400 yen (around P3,300) for adults from 18 to 64 years of age
6,400 yen (around P2,900) for juniors from 12 to 17 years of age
4,800 yen (around P2,200) for kids from 4 to 11 years of age
6,700 yen (around P3,000) for seniors ages 65 and up
Tokyo Disneysea
1-13 Maihama, Urayasu,
Chiba Prefecture 279-0031, Japan
http://www.tokyodisneyresort.jp/en/tds/
Like this post? Subscribe to this blog by clicking HERE.
Let's stay connected: