After all these years, there's finally an Ayala Mall in Ortigas! I've been to Ayala Malls The 30th a few times in the past few weeks and I'm pretty happy with it. Anyhow, last week, we went and tried the newly opened restaurant Toast Asian Kitchen.
Well the interiors sure look mighty toasty — everything is in a shade of brown and mostly wooden. Pretty cozy though, great for catching up with friends.
We had some appetizers in the form of Yakitori. These are sold per stick. We tried Chicken Wings (P49), Wagyu Cubes (P119), and Pork Belly (P45). Albeit pricey, the Wagyu Cubes are a dream. They seem to just melt in your mouth. The Pork Belly is great too. I skipped the Chicken Wings because I don't like the L-shaped part.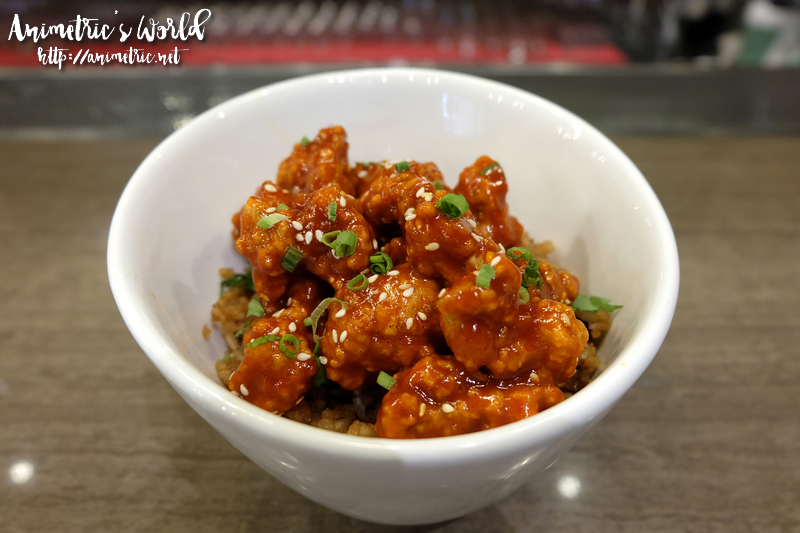 If you're just in for a quick lunch, Toast Asian Kitchen offers a variety of rice bowls. We had the KFC Rice Bowl (P288). KFC stands for Korean Fried Chicken. The KFC is heaped on top of dirty fried rice. Very tasty, I think kids would dig this.
We also tried the Salmon Belly Teriyaki Rice Bowl (P248). Never been a fan of salmon belly because I find it yucky (malansa!). This dish doesn't change my perception so I won't be ordering this anytime soon.
Longganisa Pasta (P349) combines pasta, longganisa (Filipino sausage), and tomato cream sauce. Very tasty.
Another unique dish I tried was Tom Yum Meatballs (P249). Wasn't really impressive, I think I prefer the original soup version lol.
I liked the Thai Basil Chicken Poppers (P228). Crispy battered chicken pieces are cooked in oyster sauce and basil.
Squid Ink Laksa is a new dish that isn't on the menu yet. It's not spicy and the squid ink makes it very smooth and comforting. Hubby liked it a lot.
I quite enjoyed the Twice Cooked Pork with Salted Egg Fried Rice (P275) although I didn't really taste the salted egg. Braised and seared pork belly is tossed in honey and garlic. It's really tender and flavorful, one of my faves that day. The serving is huge too so it's good value for money.
For dessert we had Chocnut Creme Caramel (P105). I hate Chocnut. After trying this, I still hate Chocnut.
I really loved Tapioca and Mango Trifle (P108). Layers of sweet ripe mango chunks, broas, and tapioca came together with what tasted like dulce de leche.
Dark Chocolate Mousse (P128) is a very rich and intense chocolate experience. I liked this one too.
Had a really awesome lunch with My Mom Friday and Chessy! Thank you Toast Asian Kitchen for having us over. The cozy interiors make the place conducive for nice long talks over sumptuous food. They serve a variety of cocktails too. I'll definitely be back.
Toast Asian Kitchen
Ayala Malls at The 30th
Meralco Ave., Ortigas Center, Pasig City
2469069 ext. 592
Like this post? Subscribe to this blog by clicking HERE.
Let's stay connected: