Wow, look what I found on my doorstep a couple of weeks ago! I get excited with food and ingredients these days because I do all the cooking at home. We don't dine out anymore so it's up to me to plan our meals. When I'm too tired to cook, I order food. But I always have my kitchen staples… and one of them is olive oil. I use olive oil to cook, bake, and even make my own salad dressing.
Dona Elena Olive Oil is one of the brands I use, so I was excited when I saw this box with my name engraved on it.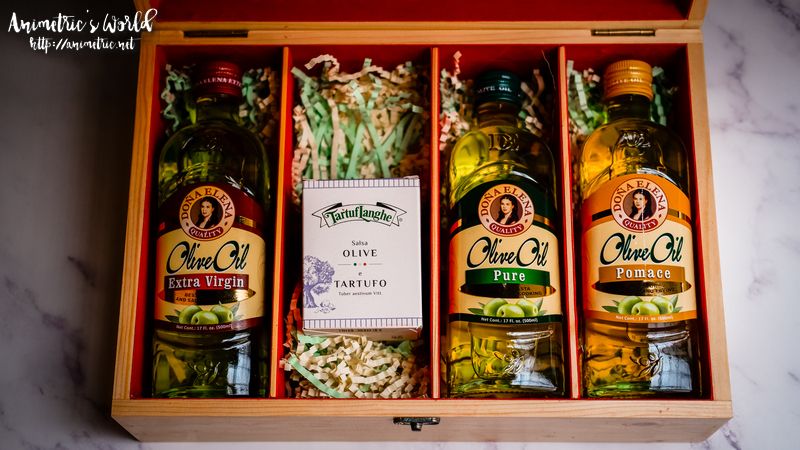 What do you know, Dona Elena Olive Oil now comes in these gorgeous bottles created by a French designer the brand commissioned in 2017. They even threw in a jar of TartufLanghe Olive and Truffle Spread.
Love the elegant new look! Dona Elena's olive oil line-up includes Extra Virgin Olive Oil, Pure Olive Oil, and Pomace. They're definitely very giftable and would make nice additions to Christmas baskets this holiday season.
I've been using their Pomace to cook in place of regular cooking oil and the bottle is easy to hold. It fits nicely in my hand. The embossed patterns add grip so it doesn't slip from your grasp. This new packaging is now available at all leading supermarkets nationwide. You can also order from https://www.acemarket.ph/.
All the Dona Elena Olive Oil variants are available in 250ml, 500ml, 1 Liter, and 5 Liter PET bottle sizes for maximum versatility. There's a suitable size for every application.
Like this post? Subscribe to this blog by clicking HERE.
Let's stay connected: