The last time we had Big Guys Pizza, it was a different experience. I remember the gigantic pizza having a thinner crust. It's been only a few months and whoa, I was told that pizza is gone. They scrapped everything and made it better. By everything, I mean the dough, the sauce, and even the toppings!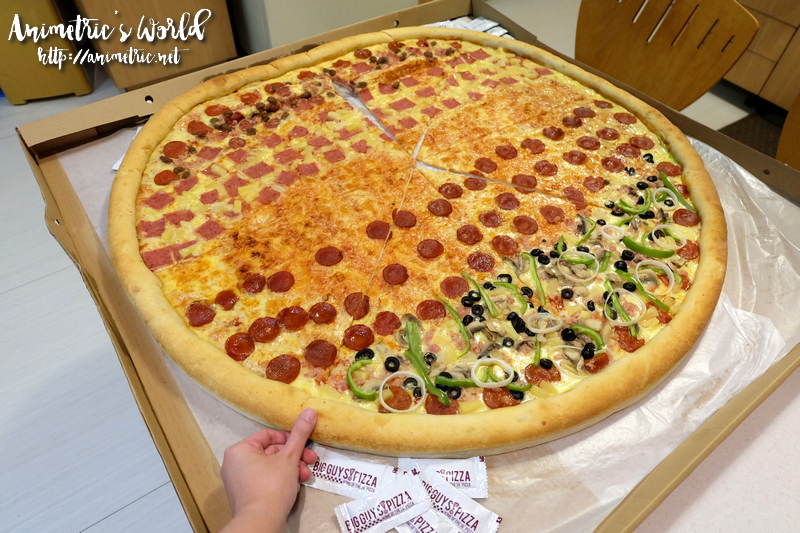 So today, we had the reinvented Big Guys Pizza for lunch. The first thing I noticed was the thicker crust. By the way, this is the Big 5 Pizza (P1,548). It's their famous 36″ pizza featuring 5 different flavors: Cheese, Pepperoni, Hawaiian, All Meat, and Super Supreme.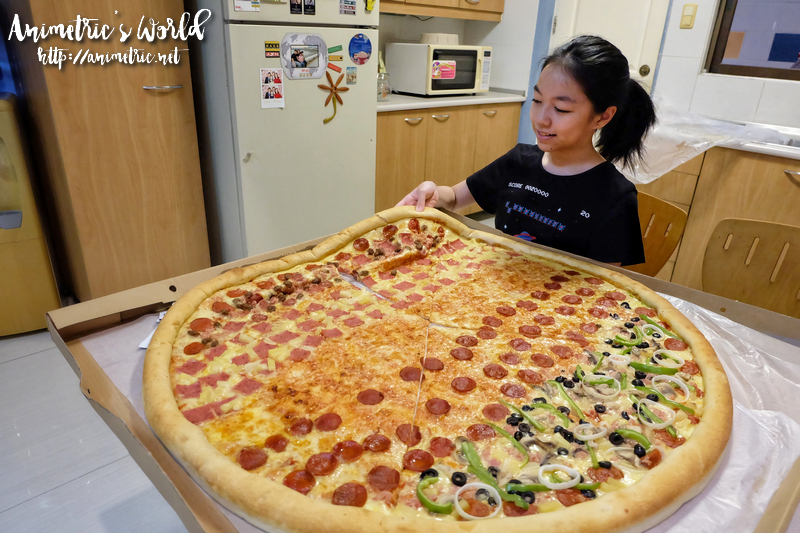 Just look at how huge the pizza is! It was sliced into 8 humongous slices. My daughter and I didn't know where to start, lol.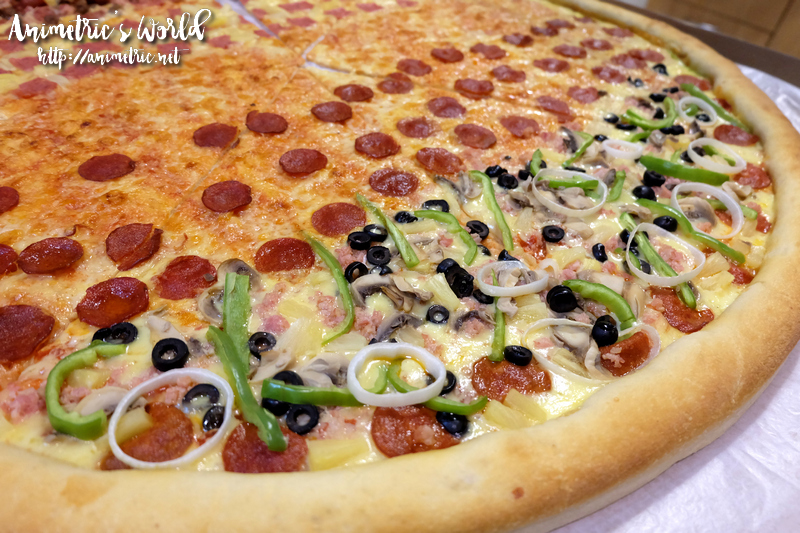 Personally, I like my pizza with veggies so I decided to get a slice from the Super Supreme side.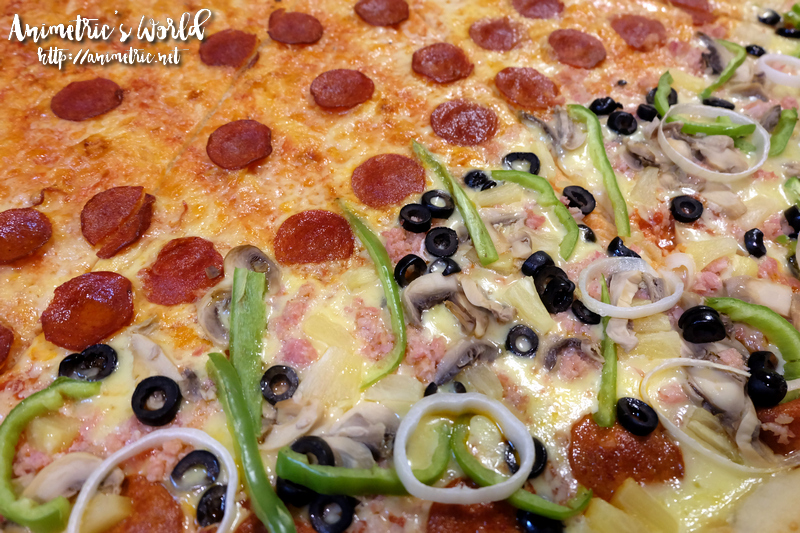 The Super Supreme slice would turn into a Pepperoni slice somewhere along the way.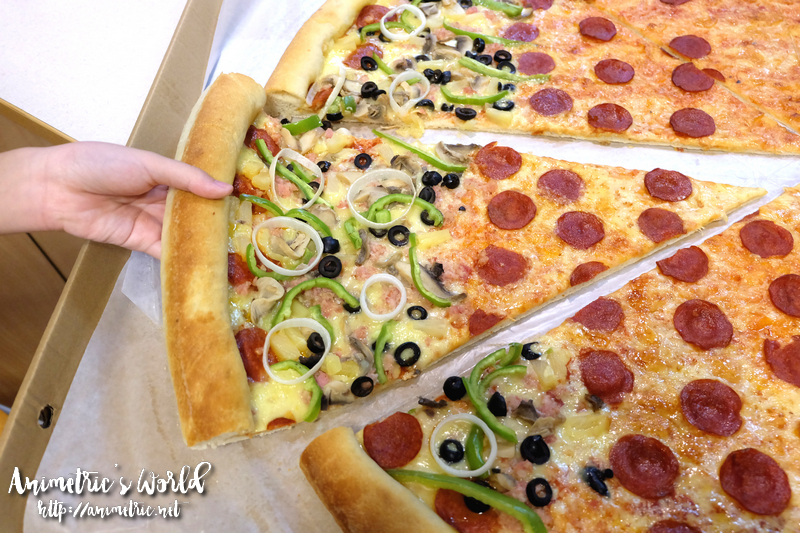 Ummm none of our plates can accommodate one slice. What my daughter and I did was split one slice between the two of us. Then I cut it in half so it could fit our plates.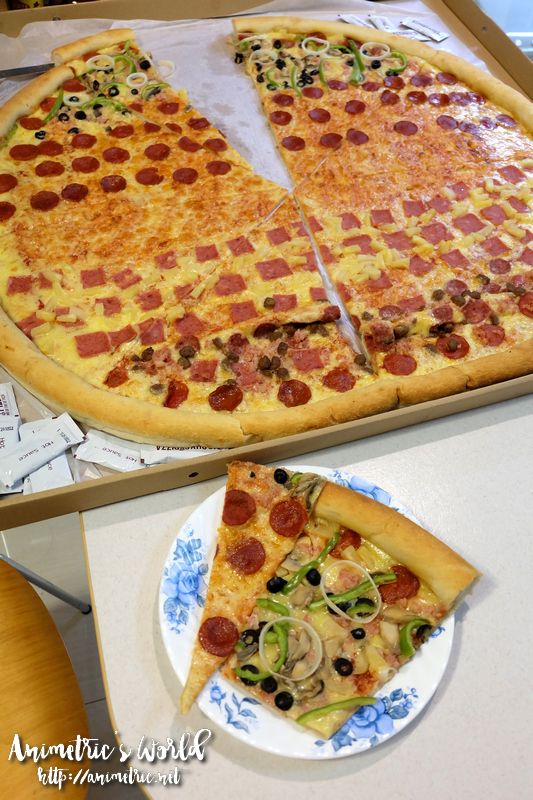 So this happened. This is technically just half a slice.
So how did the all new reinvented Big Guys Pizza fare?
Okay, I hate Pepperoni pizza… as in I can't stand it because I find it way too salty. Now my Super Supreme slice was half Pepperoni. I was surprised I actually LIKED this Pepperoni slice. Their Pepperoni is not overly salty and I could tell it was of good quality.
The crust is just the right thickness. Not too thick and not too thin. It's also soft and chewy. The ends actually reminded me of soft pandesal.
The sauce is less overwhelming compared to before. I remember the old sauce having a stronger and more tart tomato flavor. This new sauce is smoother and complements the toppings better.
The meat toppings are of better quality. They are leaner and you can just tell there aren't any fillers.
Would you like to try the reinvented Big Guys Pizza? Call their new hotline 231-1212 to order. Get an instant 10% discount by ordering anytime from now until July 4, 2018! For more information, menus, and store locations, log on to https://www.bigguyspizzaph.com.
Like this post? Subscribe to this blog by clicking HERE.
Let's stay connected: