Last October 31, my teenage son went on a school trip to China. He was to stay there with classmates and teachers for 6 weeks. This is the first time he's traveling without us. Hubby and I made sure he brought enough warm clothes since it gets freezing cold in China this time of the year. We also got him a supply of medication for just about every ailment — cough, cold, diarrhea, fever, etc. Before his flight, we made sure his cellphone had WeChat since it's the most reliable and stable free chat application in China.
Our son chose to go to Beijing, which also has a sidetrip to Shanghai. They had a really excellent itinerary. They would see all the sights like Great Wall of China (he took the photo above), Forbidden City, Tianamen Square, Summer Palace, etc. In Shanghai, they'd get to tour the Oishi Factory, The Bund, and Shanghai Disneyland among many others.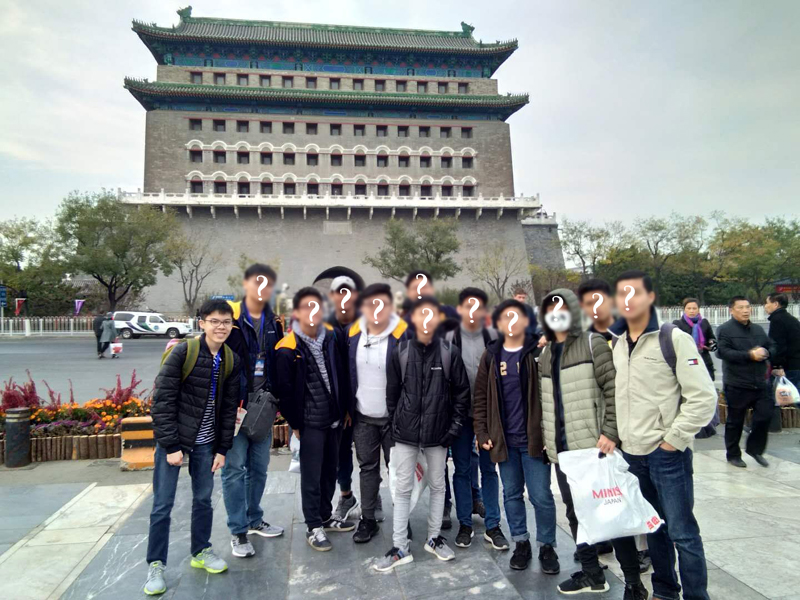 Everything was good. He was all smiles in the photos that were sent to us. Our son kept constant communication. Plus he was prudent enough not to spend all his pocket money early on in the trip. My hubby and I figured this was a good and safe way for him to learn how to be independent. He now knows how to do his own laundry. We felt happy that we had taught him well.
Three days before his flight back to Manila, I got a WeChat message. Our son said he has to get surgery for a boil. I'm like, when you get back to Manila? And he goes no, now here in China. My first reaction was WTFFFF. Literally. That was what I said in WeChat. He assured me it's nothing serious and sent me some documents in Chinese which I read with Google Translate. It was an outpatient procedure which involved draining the boil. He has never had a boil his entire life living here in the Philippines. I got in touch with his pediatrician and told her what happened since he was flying home in 3 days. She referred us to a pediatric surgeon who would check the wound when my son got home.
Anyway our son sounded so confident and chill we didn't worry so much. Afterwards he told us the procedure was done without anesthesia. Wow. This boy dreads injections and everything related to hospitals and there he was, done with outpatient surgery with no anesthesia. He assured us he was fine. He tried walking around the next day but the wound opened up and he had to go back to the hospital. After that he was advised to just stay put in the dorm.
We picked him up from school last Tuesday night. We went straight to the hospital to have his wound checked, dressed, and cleaned. The pediatric surgeon told us it was okay. It would close and heal by itself in 2 weeks.
A close friend of mine told me I had been exceptionally calm through it all. She said that if the surgery had happened to her son she would've flown there right away. I don't know. I view this all as the ultimate test to see if everything we have taught him had registered through the years. So far we're pretty happy and satisfied with what we've seen.
I guess what I want to say is despite the title of this post, there is no art to letting go. You have to trust that how you've brought up your child will guide him when he is on his own. Trust in your decision over a decade ago to send him to this school. I've been pretty hands on with both kids from day one so I can say that I know them well. I know that he would never do anything that would jeopardize himself and others. In short, I trust my child.
Letting go is all about trust. It's easier if it's built on a solid foundation.
Like this post? Subscribe to this blog by clicking HERE.
Let's stay connected: