UK brand TESCO became available in the Philippines a while back. I've never really seen it around since I only ever go to Robinsons Supermarket, Unimart, and S&R before the pandemic. Now that I have most things delivered, I got wind that TESCO products are available at https://www.waltermartdelivery.com.ph/. Our helper left before quarantine and I don't think we're getting a replacement so I'm all about convenience now.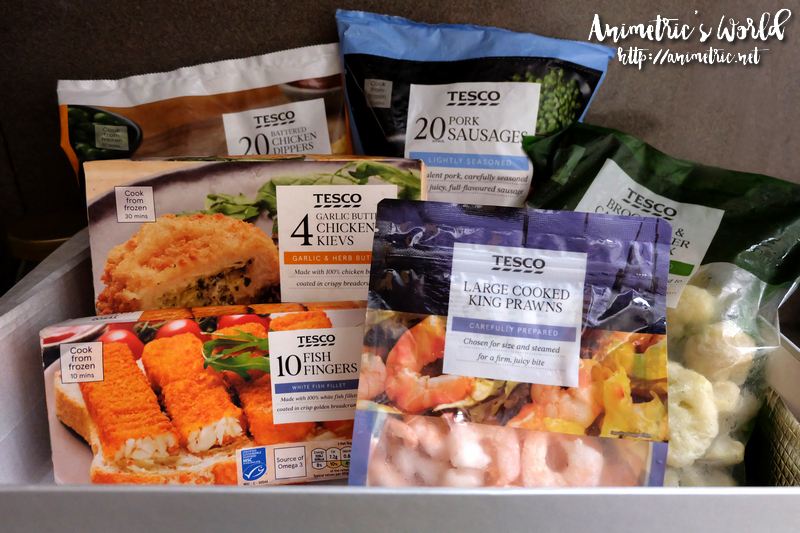 I got to try several kinds of TESCO frozen food from WalterMart Delivery.
I baked the Fish Fingers (P168 for 300g) right away. It's so convenient. It goes from the freezer to your oven and in less than 15 minutes you have Fish Fingers! They use Alaskan Pollock, not the usual Cream Dory. They're pretty good, the kids liked them. I was so surprised this was just P168, I expected it to be a lot more expensive since it's British.
These are Chicken Kievs (P318 for 500g). Same procedure — you take them from the freezer and pop them straight to the oven.
Now these are really really good. It's just right for us, one piece per person since there are 4 pcs per pack. I love the garlic butter and chives.
I added the Pork Sausages (P375 for 20 pcs) to my Japanese Curry dish, although they're already tasty on their own.
Meanwhile, I cut up the Large Cooked King Prawns (P388 for 170g) and made salad. I tossed it with lettuce, walnuts, dates, sweet corn kernels, and made my own lemon vinaigrette. The prawns are very fresh and have a nice bite.
I forgot to take a photo but I baked the Broccoli & Cauliflower Mix (P168 for 900g) with garlic, olive oil, and parmesan cheese. We were surprised by how good the quality of these frozen veggies was — the broccoli was naturally sweet and crisp. I tried buying a different brand of frozen broccoli before and it was soggy.
TESCO frozen food are of surprisingly good quality and inexpensive. We minimize going out so I prefer stocking essentials in the freezer. I would repurchase most of these again in a heartbeat.
TESCO frozen food can be ordered for delivery from https://www.waltermartdelivery.com.ph/. Also available at the Waltermart store on Grab Mart and Panda Mart.
Like this post? Subscribe to this blog by clicking HERE.
Let's stay connected: