I think I've made shortcut Japanese curry at least 3x during quarantine season. I say shortcut because it uses the least amount of easy-to-find ingredients while giving maximum taste. I've been cooking Japanese curry for years but previous versions have all required boiling meat and a whole bunch of other stuff together for 30 minutes or so. Given how scary it is to do supply runs and how hot it is in the kitchen, I… just… can't. Anyhow, I've come up with a Shortcut Japanese Curry Recipe that's easier and faster to make.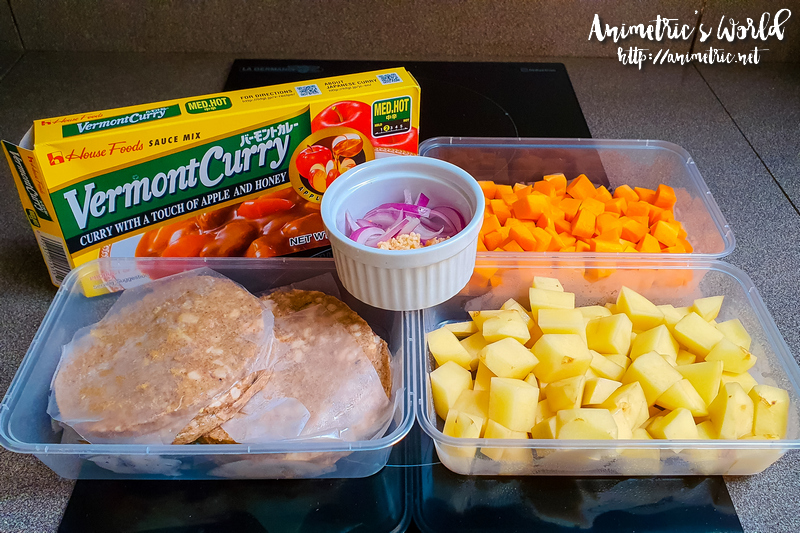 These are pretty much all the ingredients you need. Oh… and unsalted butter + sugar!
Shortcut Japanese Curry
Ingredients:
4 blocks Vermont Curry roux
500g Unseasoned Meat (you can also use patties, ground meat, or cubed meat)
1 carrot, cubed
1 potato, cubed
1 tbsp minced garlic
1/2 onion, sliced
2 tbsps unsalted butter
2 tbsps brown sugar / coco sugar / muscovado sugar / honey
400ml water
grated cheese (optional)
Step 1: Boil the cubed potatoes and carrots until tender. Fry meat until cooked.
Step 2: I used storebought pork patties this time but I've also tried using hamburger patties. Sukiyaki-cut meat, ground meat, and cubed meat all work too. They just have to be unseasoned / unflavored… just lightly salted at best, so the taste will not conflict with the curry roux. After frying the patties I cut them into bite-size pieces. Set aside.
Step 3: Strain the boiled potatoes and carrots. Set aside.
Step 4: Melt butter in pan, saute minced garlic and onions until fragrant. Butter has to be unsalted because the curry roux is already very flavorful.
Step 5: Add the potatoes and carrots and continue sauteeing.
Step 5: Add 4 cubes of Vermont Curry roux to the potatoes and carrots. Pour in 2 cups of water and stir.
Step 6: Bring the mixture to a boil, stirring constantly. Simmer until the curry sauce reduces to your desired consistency. If you find the taste too strong you can add a bit of milk (around 1/4 cup) to soften the flavor.
Step 7: Add the cooked meat and continue stirring. Add sugar (or honey, if that's what you prefer) and stir until completely melted and mixed in the sauce.
Step 8: Since I wanted to be extra I grated cheese on top of the hot curry, the way they do it in Japan. Up to you how much cheese you want. Or you can just skip the cheese altogether if it's not your thing.
I serve this over steamed rice with an egg fried sunny side up, as I've seen them do in Tokyo during our past trips. This serves 4-5 people.
Vermont Curry can be bought at Landers and/or most supermarkets with Asian or Japanese sections. I usually get the Medium Hot variant. I prefer Vermont Curry because for me it has a more balanced flavor compared to the other Japanese curry rouxes I've tried. Hubby and the kids have been enjoying this Shortcut Japanese Curry so far. 😀
Like this post? Subscribe to this blog by clicking HERE.
Let's stay connected: