Summer's here! Tis the season for travelling with the family… and you know what that means — passports, visas, and documents for processing. Now one of the most crucial requirements in securing a passport or visa is an NSO copy of your birth and marriage certificate.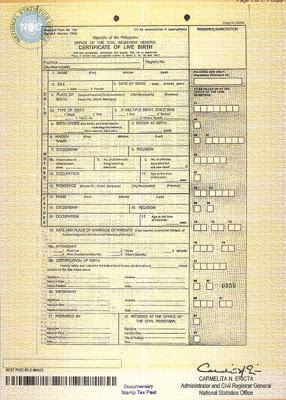 I still remember the days when you'd have to line up the entire day just to get an NSO document. Thank goodness those days are gone. Now you can just go online, fill out a form, and then apply for one. You don't even have to leave your seat. You can request for a CENOMAR (Certificate of No Marriage), birth, marriage, or death certificate by phone or internet.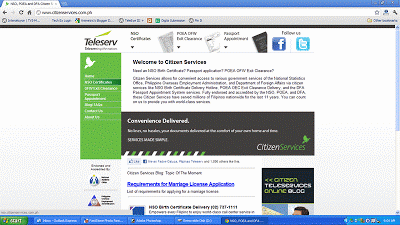 You can start by visiting http://www.citizenservices.com.ph/. From the main page, you can choose what service you need to avail of. You can request for an NSO certificate / OFW exit clearance, or schedule a passport appointment.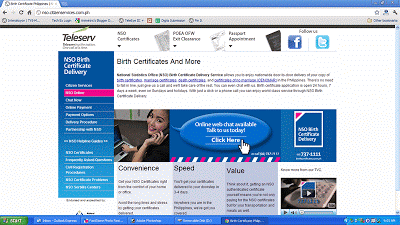 Since I needed NSO copies of our birth certificates for visa application, I selected NSO Certificates from the menu. You can either call the hotline to order NSO certificates or click on the online web chat option to order online. I chose to do everything online.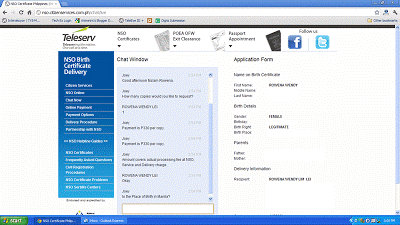 You fill up the form completely so your NSO request can be processed. After you submit the information, a real-time live chat window will activate and a Teleserv rep will assist you to confirm your request. You can click on all my screen captures for a closer look.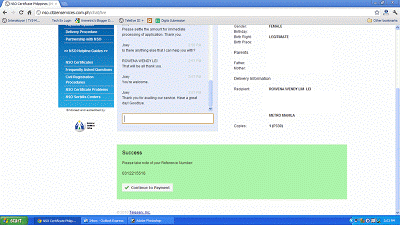 After everything is confirmed, a payment button will appear. Clicking on it will take you to the payment options. You can pay via an over-the-counter bank transaction or online via credit card. Since I don't want to drive to the bank, I opted for credit card payment. It's so convenient! I love it! An NSO certificate costs P330 inclusive of shipping. You will get it around 3 working days after payment. You will have to be there when it's delivered to receive it or else leave a valid ID with authorization letter to the person who will be there to receive it for you. If not, the courier will leave and then try to deliver again the following day.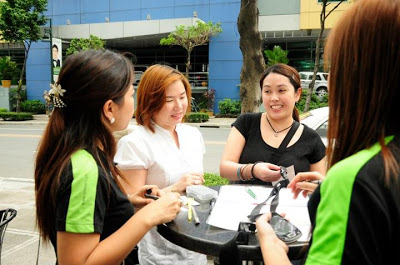 Anyhow, we were invited to an intimate lunch at Harvest Gastropub by Teleserv last March 16, 2012. I borrowed this photo of me registering from the Pilipinas Teleserv Facebook Page.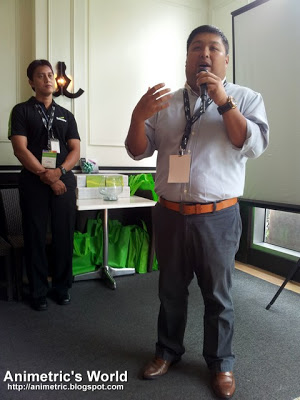 Teleserv Director for Marketing Raffy David briefed us about their online and phone services including processing NSO certificate requests and setting passport appointments with the DFA.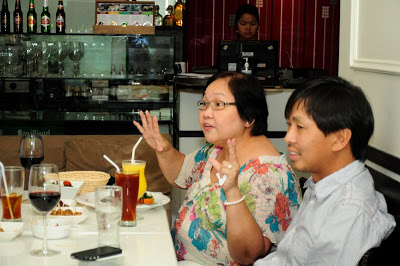 There was an added bonus — NSO Director Lourdes Hufana was there to answer NSO-related questions! I borrowed this photo from Teleserv as well.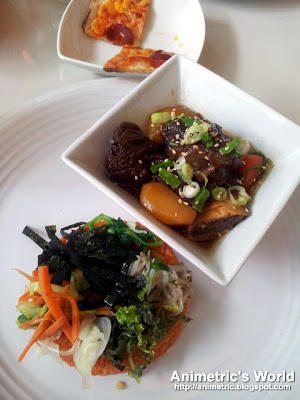 So we had a very informative session with the Teleserv folks and the NSO director over a sumptuous lunch. After everything had been presented, we were allowed to ask questions. I tweeted that I was at the event and that the NSO director was ready to answer NSO-related questions.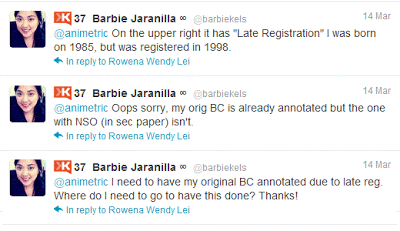 Surprise surprise! I got a tweet-in question.
Barbie was concerned that her birth certificate, which was registered late, had no annotation on the NSO copy. The NSO director said that it's not an issue. 🙂
Here are a few things I learned about NSO documents during the event:
The security paper always changes and never repeats. The NSO will order a specific number of rolls for printing out certificates and when they run out, rolls with a different color and pattern will be ordered. This is how embassies and other entities can tell if you're NSO document is current or not. The NSO regularly issues advisories on the most current color and pattern of security paper being used. Embassies usually require NSO documents secured within a year's time.
NSO documents have no expiry date but certain institutions require the latest version of the security paper.
Processing time for NSO documents is approximately 30 minutes, so if say there's no line at the NSO then you get your certificate after 30 minutes. If you order by phone or internet you get it 3 working days after payment.
Want to get your NSO documents without leaving the house? Call 737-1111 or log on to http://www.birthcertificates.com.ph/. Personally I'd rather go online and pay P330 instead of filing a request in person. It saves me gas and time plus it's stress-free.

Like this post? Subscribe to this blog by clicking HERE.Become a Facebook Fan for updates from Animetric's World.