At the risk of sounding like a broken record, here's yet another workshop I'm attending… I took part in Studio SnR's Barista Workshop last week and I had a blast! I promise to blog about it within this week to give you an idea of what it entails. Let's just say I can now make hot and cold coffee concoctions AND milk tea (yes, the type you buy with pearls!).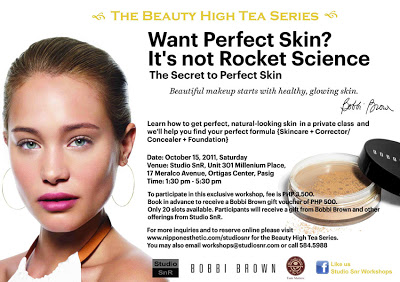 (Click on the poster above for a bigger view and for registration details.)
Anyway, I just want to share another upcoming workshop by Studio SnR. This time, it's for beauty enthusiasts and women who want to have perfect, flawless skin. Yes, get ready for Studio SnR + Bobbi Brown's The Secret to Perfect Skin make-up workshop. It'll cover skincare and make-up application focusing on foundation and concealer to correct skin problems and give you perfect-looking skin. The trainer is an accomplished make-up artist from Bobbi Brown Singapore! 😀
Although I have already taken up a personal beauty and a professional make-up artistry course, I believe there are still many make-up techniques out there which I need to be exposed to in order to excel in this field. In fact prior to this one I will be attending a workshop under a Korean make-up artist affiliated with another cosmetics brand. I just love the fresh and flawless look Koreanovela actresses are always sporting and so I'm really really excited!
Early registrants for this workshop will get a Bobbi Brown GC worth P500. All participants will get a gift from Bobbi Brown and other offerings from Studio SnR. All materials and tools will be provided although you can opt to bring your own make-up brushes (I know I will!). The workshop fee is P3,500.
I actually use a few Bobbi Brown products. Check them out:
Hope to see you then! For more information email workshops@studiosnr.com or call 584-5988.

Like this post? Subscribe to this blog by clicking HERE.Become a Facebook Fan for updates from Animetric's World.