When it's time to get a hair cut, do you and hubby go to different salons? If you have a son and daughter like I do, do you take them to separate establishments? These days, traffic is such a pain it's best to do everything in one place. That's probably one of the ideas behind Stud and Sassy Barber Salon. Men and women can avail of both barber shop and salon services here.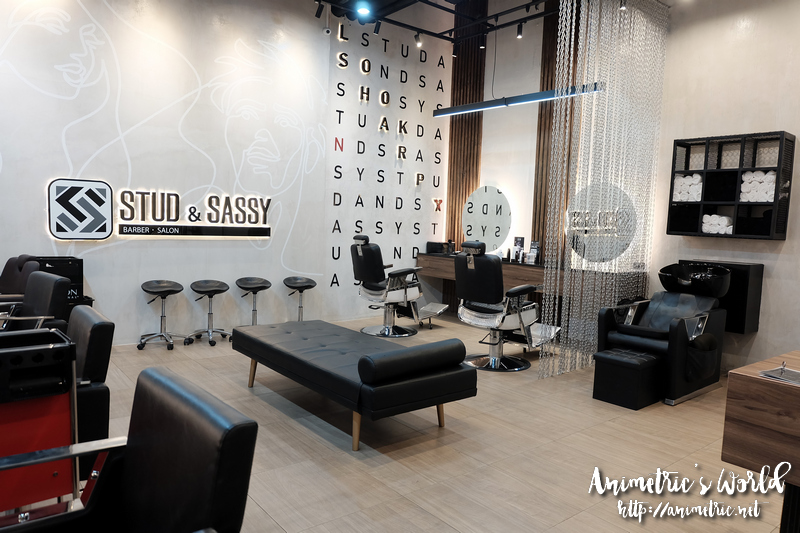 Stud and Sassy Barber Salon is located at ground floor of Citadines Millenium Ortigas along Sapphire Road. There's paid parking available at the basement which makes it convenient for people who drive. I liked how bright, spacious, and immaculately clean the place was.
This is the barber side.
This is the salon side.
There's a shampoo area as well.
Okay so I went in for a Full Color. As you can see I have a lot of white hair underneath my top layer of hair. This is also how wavy my natural hair is. I stopped having it straightened a while back and decided to just live with this. Anyhow, the pricing for Full Color depends on the length, thickness, and the number of colors that will be used. My hair was classified as long so my rate was P2,300. Two colors will be used to give my hair dimension. You add P1,000 per color after the first so my total was P3,300.
They were really careful in handling hair. I told them that I stopped rebonding my hair because I couldn't deal with the damage anymore. I'm happy that they respected my decision and didn't try to push any of their straightening services. They just asked me if I wanted a trim.
They applied color in thin layers to ensure that all the white strands would be covered.
After application, they set a timer in front of me for 45 mins. This pretty much eliminates the "Are we done yet?" syndrome because you can just see for yourself how much more time you need to sit there.
After 45 minutes, they washed the color off and conditioned my hair. Then they blow-dried my hair using a round brush. Again, I appreciated that they did not attempt to make my hair stick straight like other establishments would. So these are the two shades of reddish brown. I'm happy with the results!
They actually showed me what my hair looked like from the back, I just forgot to ask them to take a photo. There were no white strands left so my hair is now a glorious shade of reddish brown. Although I use DIY hair color kits at home, nothing beats a professional coloring job. I make it a point to have it done 1-2x a year.
I'm very happy with the coloring service of Stud and Sassy Barber Salon and I would actually go back for another session next time. I like the place and I like how professional the staff are.
This month of February, Stud and Sassy Barber Salon has a Valentine Promo. For P3,250, couples (or any pair of guy + girl) can avail of the Full Color for 2 for P3,250 for ANY length of hair. Or… you can WIN this Full Hair Color for 2 via the giveaway ongoing on their Facebook Page.
Stud and Sassy Barber Salon
G/F Citadines Millenium Ortigas
Sapphire Road, Pasig City
0915-4277259
Like this post? Subscribe to this blog by clicking HERE.
Let's stay connected: