Every time I'm in SM Megamall (I don't go often) I take the opportunity to visit Strip. Strip is the only place I trust when it comes to my waxing and hair removal needs. I've tried other establishments and none of them can even begin to compare with Strip.
Now my last visit to Strip at the Mega Fashion Hall was last October. Told ya I don't go to SM Megamall that much. I was introduced to their painless semi-permanent hair removal service — Strip IPL Ice. IPL stands for Intense Pulsed Light. Strip IPL Ice is a laser hair removal treatment. Hair is disintegrated from the root. New hair growth is delayed… a percentage of hair may not regrow. The more sessions you have, the less hair will come back until there's almost none.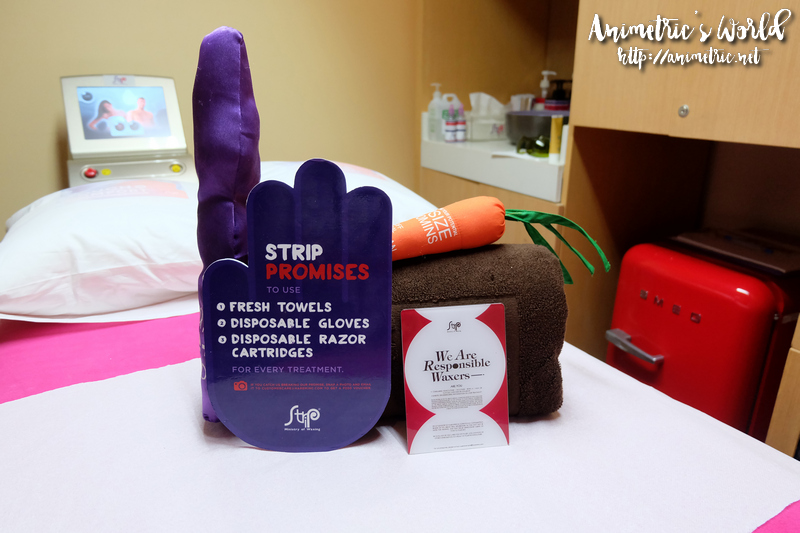 I was ushered into a clean and cozy treatment room. I'm always happy with my Strip experience because they really know what they're doing. I've been burned by wax that was too hot and pricked by lasers that were too intense at other establishments. I've learned my lesson so it's always Strip or nothing for me.
It's so hygienic that you get your own kit for every service you avail of. Since I was there for Strip IPL Ice, I got an IPL kit. It contained everything — the wipe, spatulas, disposable gloves, razor cartridge, cotton pads, and cotton bud. No sharing. No double dipping.
This is the Strip IPL Ice machine.
This wand with the square-ish head is where the light is pulsed from. They coat it with icy cold gel so you feel a freezing sensation instead of the usual hot pricking from lasers. I quite enjoyed it. I didn't feel any pain or discomfort during my underarm hair removal session.
What I like about Strip IPL Ice:
It's a pleasant and completely pain-free experience.
It's pretty effective. I saw a reduction in hair regrowth after just one session.
You can sked a session over lunch because it's fast. I think I took 3o minutes tops.
Downside? It's pricey. I think one Strip IPL Ice session for the underarms costs P6,500. They have packages though. You can shoot them a message at the Strip Manila Facebook Page for inquiries. I think I'll avail of a package soon because I find plucking underarm hair tedious and inefficient.
Log on to http://www.strip-manila.com/ for their full menu of services and a complete list of branches.
Like this post? Subscribe to this blog by clicking HERE.
Let's stay connected: