Last week I held the Watsons Wishlist giveaway on Facebook. Watsons was going to give me and one lucky reader P5k GCs each to go Christmas shopping! After a week, I had to choose one winner among all those who answered why he/she should be the one to go shopping with me. How I wished I could award more than one winner, but I had the challenging task of picking just one.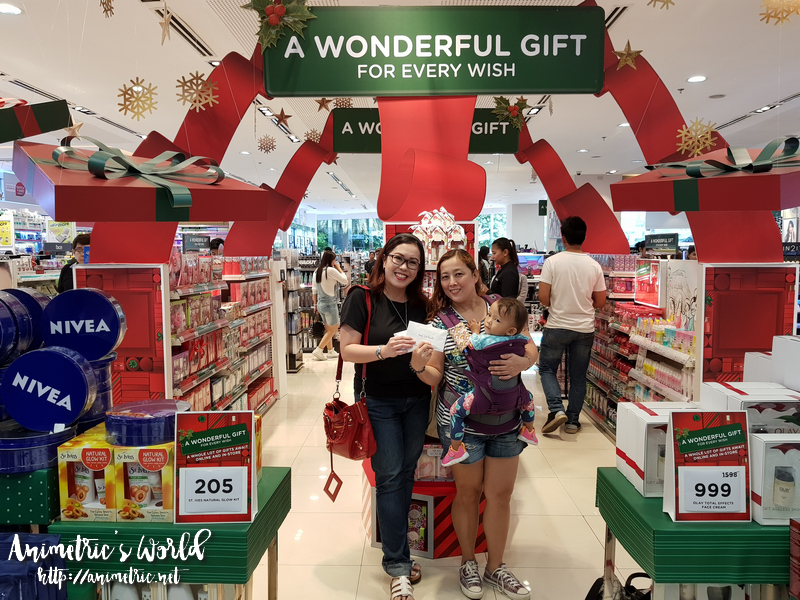 Last Thursday, Farrah Leah Boone-Draculan went shopping for our Watsons Wishlist at Watsons in SM Mall of Asia. Farrah is a long-time blog reader who's also a hands-on mom. She has been exclusively breastfeeding her baby girl for 21 months and counting!
Watsons gave us P5k GCs each so we could shop for our Watsons Wishlist. I usually purchase toiletries from Watsons. My favorite item is Watsons Antibacterial Handwash which is always buy 1 take 1. It comes out to only P100+ for a pair of 500ml pump bottles!
Our first order of business was to check out the Watsons Christmas sets. You can buy special gift sets starting at P99 per set. There's lotion, body wash, Or you could get 3 sets for only P279! This is perfect for office mates, teachers, etc.
If you want something a bit more grand, there are sets that retail for P149 each. Or you could get 3 sets for only P399! I swear, Christmas shopping has never been easier. There are so many kinds of sets there's sure to be something for everyone on your list!
Since people in our office are quite addicted to lotion, I decided to get Silky Luxury Lotion sets. One set is comprised of 2 big pump bottles filled, approximately 443ml each. Farrah also decided to get these sets for her son's teachers.
Aside from the Watsons Christmas sets, we picked up a few other essentials too. Farrah got buy 1 take 1 Nivea deodorant, a couple of Purederm facial sheet masks I recommended, and an umbrella because it started to rain. I told her she can also use the GCs to buy her kids' vitamins since Watsons also carries a complete line of meds. Meanwhile I got my favorite buy 1 take 1 Watsons Antibacterial Handwash, some Betadine, and a bottle of Aveeno Skin Relief Lotion for my daughter's eczema.
Haha, we would've shopped for more stuff but our bags were already super heavy!
In case you need product information or recommendations, there's always a super friendly Watsons staff member stationed at the shopping area who can help you out.
Thank you Watsons Philippines for helping us complete our Watsons Wishlist!
Like this post? Subscribe to this blog by clicking HERE.
Let's stay connected: