*This establishment is now closed. Please visit Nova Wellness Store Trinoma instead.
Just before the last ECQ, we made a quick run to several places — Landers for a quick shopping trip, Decathlon to exchange something I had bought in the wrong size, and then Nova Wellness Store just to check the place out. It was the last day when everyone would be open after all. Given the neverending surge of infections, who knows when everyone would be allowed to open again? Things are so unpredictable these days.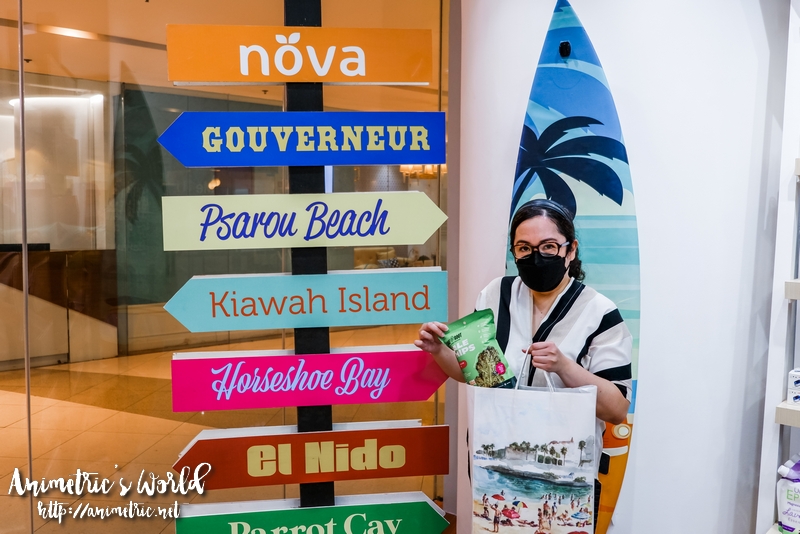 Nova Wellness Store has 2 branches — Shangri-la Plaza Mall and Uptown BGC. I visited Shangri-la Plaza Mall since it's a lot closer to me.
Nova Wellness Store is a, pardon the description, Healthy Options-esque shop which carries everything from snacks to cooking ingredients to toiletries. Of course, they are all healthy. Sugar-free, low calorie, free from harmful chemical ingredients… you name it.
Since food is life, well for me anyway, I scoured through the edible stuff first. I've been finding joy in food ever since we went into the first quarantine. There's an entire selection of nuts and dried fruits — Pistachios, Dried Berries, Pumpkin Seeds, etc.
I've always loved caramel so I grabbed a pack of Dr. John's Healthy Sweets No Sugar Low Calorie Caramels (P440). Pricey but at least I won't get diabetes lol. I ate the entire pack by myself by having a couple of pieces daily. Not really a fan of hard candy so I skipped them.
The Natrue Chocoat (P150) was probably my best purchase that day. It's SOOO GOOD. I was so shocked. I don't drink chocolate milk anymore because it makes me feel heavy and bloated. This was a pleasant surprise — all the rich goodness of chocolate yet surprisingly light and refreshing. My gosh, I regret buying just one pack. I should've gotten at least half a dozen lol. Even the kids loved it so much.
I also got a box of Jones Camomile Herbal Tea (P200). My son was diagnosed with an acid problem some years back and the doctor told him that Chamomile Tea can help calm the stomach. Nowadays it's the only thing he drinks. He doesn't drink coffee (he's 20 years old in case you're wondering lol).
I've always used Himalayan Pink Salt at home. I find it a lot less salty than regular table salt so I also grabbed a pack of Ancient Ocean Himalayan Pink Salt (P400 for a 454g pack). It's available as Fine Grain or Coarse Grain. I got Fine Grain since I use it for everything, including seasoning food already on the table.
I also got Tea Tree Therapy Shampoo and Conditioner (P400 per 473ml bottle). Again, it's for my son. He has scalp issues and the dermatologist told him to use gentler shampoos and conditioners. These are formulated with Tea Tree Oil and Herbal Extracts so they fit the bill.
I also got some Radius Vegan Natural Dental Floss (P180 each). I was intrigued by the Cranberry Floss lol. I'll post an update on IG Stories after I've tried using it. We're still finishing our existing floss.

Don't want to go out? Nova Wellness Store is online! You can easily order all the healthy stuff you need at their Lazada store.
Like this post? Subscribe to this blog by clicking HERE.
Let's stay connected: