I color my hair regularly to cover up white hair. White hair makes me look old. You know I don't like looking old. That said, I've already tried a lot of DIY home coloring kits. The latest one I've used is Shades Cream Hair Dye from Splash Corporation. Free full-sized samples are currently up for grabs at Sample Room.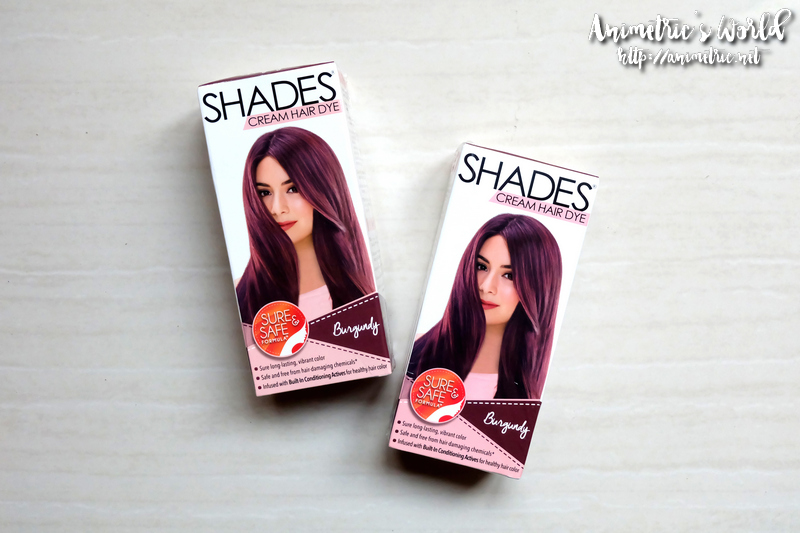 Shades Cream Hair Dye is available in five (5) shades: Medium Brown, Mahogany, Burgundy, Dark Brown, and Soft Brown. I opted for Burgundy.
Shades Cream Hair Dye is priced at a very affordabe P120 per kit. Each kit contains a 50g Cream Colorant Tube, a 50 mL Cream Developer Bottle, disposable plastic gloves, and an instruction leaflet.
The first thing to do is to get a non-metallic bowl like this plastic bowl I'm using. Empty the tube of cream colorant onto the bowl.
Then pour in the developer. I suggest wearing gloves at this stage. I forgot, lol.
Mix the colorant and developer until completely blended. I used a plastic brush that salons usually use to apply hair color or hair treatment. At this point, I applied the cream to my entire head of hair, focusing on the white strands I want to cover. The consistency is quite watery so you need to make sure your clothes are protected because it will drip. You can maybe cut up a plastic bag and put it over your shoulders or something. After completely covering my hair with the cream, I put on a disposable shower cap so it will stay put. For my hair length and thickness, I had to use 2 kits. I left it on for 30 minutes as per the instructions before rinsing off.
So anyway, here are my before and after photos. My hair used to be gold-toned now it's darker and more purple in terms of hue.
What I like about Shades Cream Hair Dye:
It completely covered my white strands.
It's probably the most affordable home coloring kit at P120.
It has built-in conditioning actives so it didn't dry out my hair.
No parabens and heavy metals in the formula.
It's fairly easy to use.
Downside? Medium length or thick hair will need 2 kits, but it's still okay because that will just set you back P240. It's still cheaper compared to most. Oh and it really stains so make sure you wash away any drips in your bathroom or sink area immediately.
I'd recommend this for covering white strands or gray hairs and for making subtle shade and tone changes. It doesn't dramatically lighten so don't expect your hair to be 2-3 shades lighter afterwards.
At the moment, Shades Cream Hair Dye is available at the following outlets:
GMA
Ever Department Store Commonwealth
Ever Supermarket
Liana's Supermarket
Isetann Department Store
Isetann Supermarket
South Supermarket
North / South Luzon

Visayas
Gaisano Brothers
Injap Supermart
Mindanao
Gaisano Mall
Gaisano Main
Ororama Supercenter CDO
Like this post? Subscribe to this blog by clicking HERE.
Let's stay connected: