So many products in the market promise to instantly whiten skin. But the question is, do they work? It's so easy to make the claim. That said, I was skeptical when I attended the Seoul White Korea launch. I already have fair skin to begin with so it's kind of hard to see if whitening products do anything to me. The brand people assured me that it really works.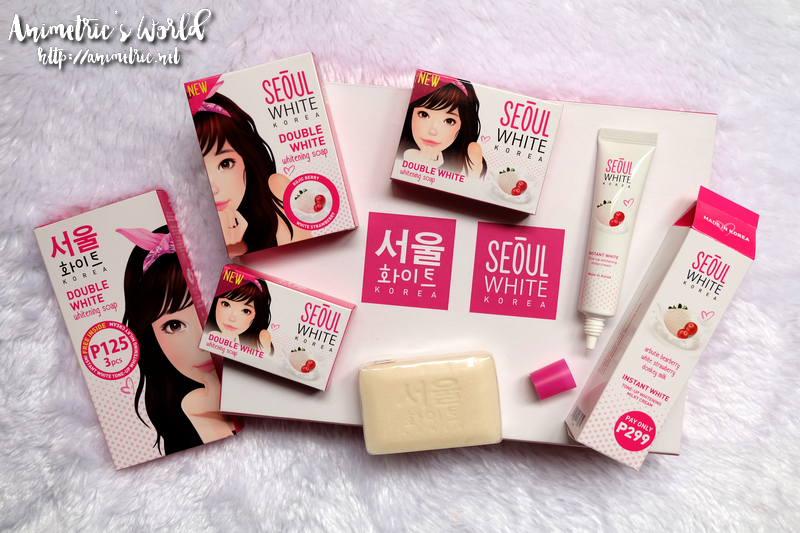 So I took home a few Seoul White Korea Double White Soap Bars (P205 for 120g x 3) and a tube of Seoul White Korea Instant White Tone Up Cream (P299).
The soap comes in 2 sizes — 60g and 90g. It's cheapest to get the triple pack of 90g soap bars at P125. It comes with a free trial sachet of Tone Up Cream too.
The first thing I noticed about the soap is the pleasant milky fruity scent. Key ingredients include Kojic Berry (Kojic Acid + Bearberry) and White Strawberry. I tried bathing with it and wow, this is one whitening soap that doesn't leave my skin super dry. Most whitening soaps have an extreme drying effect. This one doesn't. In fact my skin felt soft and smooth after using it. I love it!
Then comes the real test. Will the Seoul White Korea Instant White Tone Up Cream really whiten my already light-toned skin?
This is my arm without anything. It's already pretty fair.
I apply Seoul White Korea Instant White Tone Up Cream. I massage it all over my arm until the white cream disappears.
Wow, my arm IS actually whiter — so much so that it didn't match my other arm anymore. Seoul White Korea Instant White Tone Up Cream really does whiten skin instantly by at least 3 shades. What's more, it's not sticky or greasy. It smells really nice too, like the soap. Active ingredients include Arbutin Bearberry, White Strawberry, and Donkey Milk.
So what do the active ingredients do?
Arbutin Bearberry is a powerful but gentle skin brightener.
White Strawberry is a natural exfoliant with an SPF-like effect that protects the skin.
Donkey Milk packs up to 4x more Vitamin C compared to cow's milk which brightens, nourishes, and moisturizes skin.
Seoul White Korea products are available at Watsons stores nationwide. You can also buy online at Seoul White Korea on Shopee.
Like this post? Subscribe to this blog by clicking HERE.
Let's stay connected: