I've been a member of Sample Room PH since they started back in 2012. Sample Room is a sampling site which gives FREE samples in exchange for product reviews on the platform. Registration is FREE. Just click register and enter your details and you're good to go. You get 100 points after registering. How this works is you use your points to claim samples. Samples cost anywhere from 15 points to 200 points but the usual cost is around 30 points. The more expensive the item, the higher no. of points you need in order to redeem.
When Sample Room started it was mostly just beauty products. They've since diversified so they even give out food samples and home care samples now among many others.
Okay so after you register, you head to the "sample cabinet" and check what's available for claiming. Samples are listed chronologically to the product with the most samples is listed first and then so on. As you can see, there are a lot of St. Ives Sheet Masks.
It takes 30 points to redeem St. Ives Sheet Masks and a redemption will give you 6 masks — 2 of each kind. The masks cost P85 each so 30 points will give you P510 worth of masks. You pay only for shipping! Here's the best part, you can claim 3 different samples with every shipment. So you can get a set of St. Ives Sheet Masks (30 points) + Gumtect Sensitive Toothpaste 100ml (30 points) + Gumtect Gum Care Toothpaste 100ml (30 points). That's P510 + P109 + 109 in terms of peso value. Shipping costs maybe P150 tops (it depends on the size and weight). You'll be paying at most P150 for P700+ worth of stuff. After you get your items, you review them on the site and then get your points back plus bonus points for reviewing. Then you can claim even more samples!
But what if you want to redeem samples that are worth more than 100 points? You can't wait through the cycle of reviewing to increase your points, you want those samples NOW. For example, you want the Herbal Essences Argan Oil Shampoo and Conditioner Set. These are 400ml bottles worth P399 each so it's almost P800 for the set. What you can do is become a Sample Room VIP member.
You can become a Sample Room VIP member by paying P649 to get 1,000 points in addition to the 100 free points. 1,100 points will get you a lot of stuff. Almost all the Belo Sun Expert products cost 120+ points but are priced at over P400 if you buy them from stores. You can get the Herbal Essences Shampoo Set (180 points), Kamillosan Throat Spray (200 points), 5 sachets of Belo Collagen worth P700 (120 points), and so forth. These points also replenish after you review the items you redeem.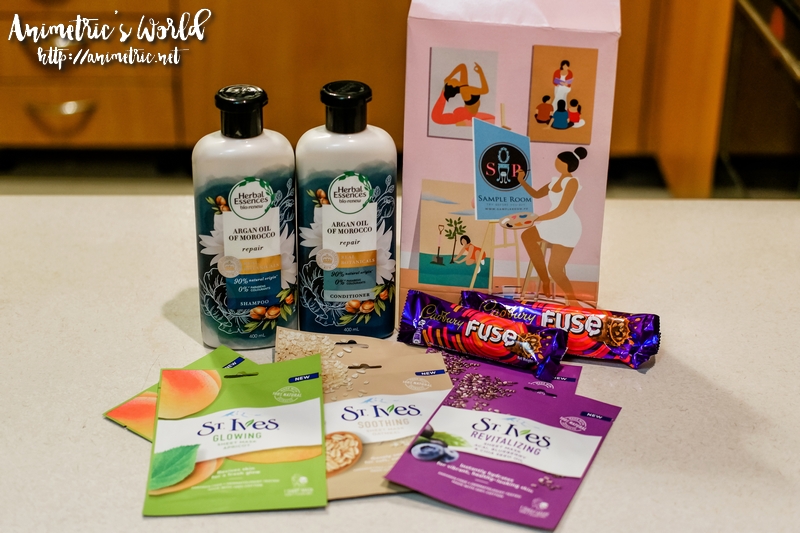 I'm a Sample Room VIP member so I got to claim the Herbal Essences Set, St. Ives Set, and Cadbury Fuse Chocolates. I spent a total of 225 points for P1,363 worth of items. You redeem 3 types of samples per shipment. Shipping cost P170 since I had a couple of 400ml bottles. I still have a lot of points left so I can actually do another round of claiming then pay only for shipping.
Wow, I can't believe I got all of these mask sheets for just 30 points!
Anyhow, if you're still not a Sample Room member, register now! It's super worth it. Just go to https://www.sampleroom.ph/. I've been a member since 2012 so that's almost 10 years — I assure you they're legit! 😀
Like this post? Subscribe to this blog by clicking HERE.
Let's stay connected: