Although I've been a Sample Room partner blogger and active member since 2012, it's only last May that they officially launched to the public.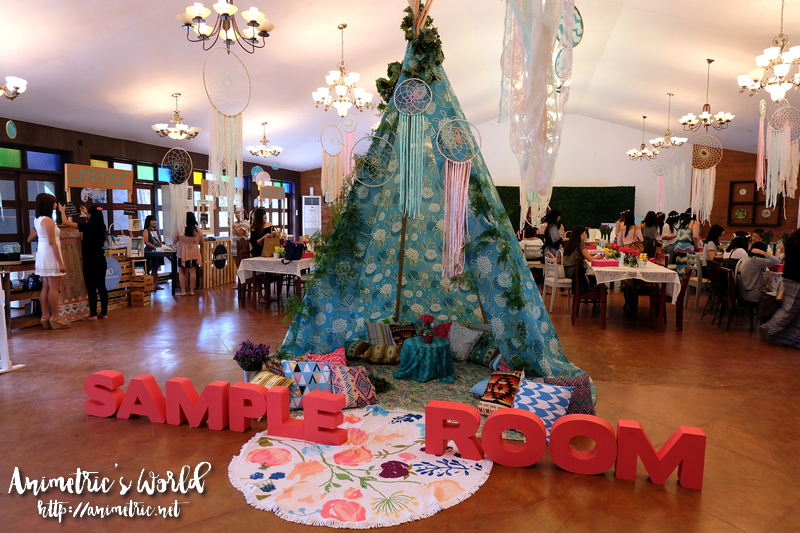 We were all whisked off the Balay Indang for the occasion.
The theme was boho chic and the venue was transformed into a um… glamp site, lol.
There were booths featuring premiere beauty, health, personal care, and lifestyle brands. We were there to experience the concept of try before you buy in an offline setting.
My favorite Korean brand Laneige had a booth for makeup sampling.
What we did was get samples and then post reviews at the booths.
Don't you just hate it when you buy a full-sized beauty product only to find out later that it doesn't suit you? By then your only options would be to give whatever it is away or sell it at a loss. This is exactly how I discovered my favorite Korean beauty brand Laneige. A friend gave me a bunch of samples and I got hooked because they worked so well for me!
You can access Sample Room online at http://www.sampleroom.ph. There are always FREE samples up for grabs from different brands. They have personal care products, cosmetics, fragrances, and even spa vouchers. Anything you can try, they can offer for sampling.
So how does Sample Room work?
When you register for a Sample Room account (it's FREE!), you are given points to spend on samples that you want. The number of points each sample costs vary. The higher end samples cost more points.
The samples are completely FREE plus they are full-sized most of the time. You pay only for shipping. You can order up to 3 different samples per shipment.
You earn more points to spend when you post a review of the sample(s) that you got at Sample Room.
I'd like to congratulate the ladies behind this innovative site — Sophie, Diana, Nats, and Kaths. Thank you for letting us try before we buy!
Like this post? Subscribe to this blog by clicking HERE.
Let's stay connected: