I've been wanting to try the much talked about pancakes at Rustic Mornings by Isabelo for quite some time now. I see people raving about it online a lot. Then I saw Rustic Mornings Original Buttermilk Pancake Mix being sold for P150 on their Facebook Page. I was planning to order when I suddenly got a message that Rustic Mornings wanted to send me their Christmas Breakfast Basket. What a happy coincidence! 😀
The Rustic Mornings Christmas Breakfast Basket consists of the Original Buttermilk Pancake Mix (P150), Classic Pancake Syrup (P200), and Breakfast Blend Ground Coffee Beans 250g (P230). I didn't take a photo of the nice basket but you can see it in their Facebook Page.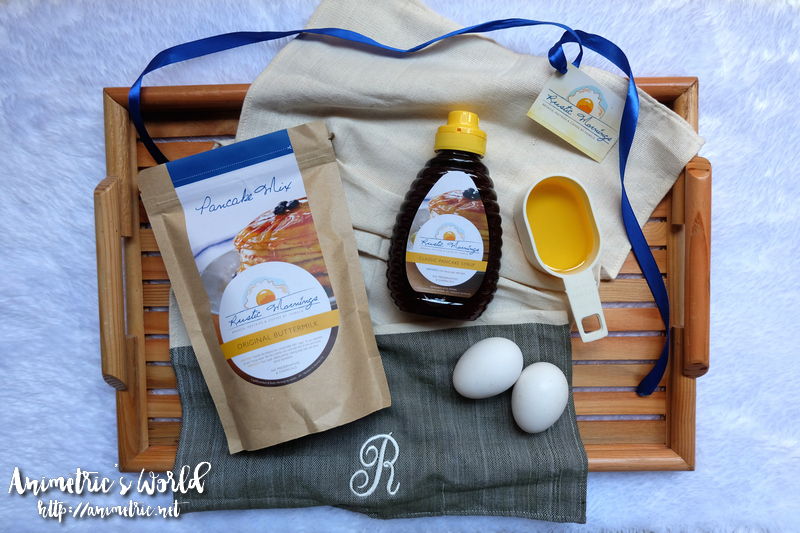 I was super excited about the pancakes! I've heard/read so much about them. It's really simple to prepare. All you need are eggs, oil, and water. I could already smell how good the pancakes were going to be as I was mixing the batter. There's this rich buttermilk aroma that I just wanted to smell all day.
As per the instructions I cooked the pancakes with lots of butter. They're really fluffy and yet quite dense at the same time. They weren't hard to cook at all, no special skills needed!
OMG they're soooo good! I normally don't buy pancake syrup because I haven't found one I liked. I've tried Caro, Aunt Jemima's, Clara Ole… nope. I disliked them all. That said I wasn't really expecting to like Rustic Mornings Classic Pancake Syrup. Boy was I ever so wrong. This is by far the BEST pancake syrup I've ever tasted! It's not overly sticky nor sweet. It's SO GOOD! Just pat some butter and drizzle some syrup on the pancakes and wow… incredible breakfast experience! I paired this with a piping hot cup of coffee.
I love the pancake mix and syrup so much I want to give them out to friends this Christmas. A gift basket with the pancake mix, syrup, and gift tag retails for P450. I wonder if there is volume discount.
Definitely the best pancake mix and the best syrup ever — I'm definitely ordering more when I run out!
For orders, email portiabaluyut@me.com or call +639260556588. For more information, visit Rustic Mornings by Isabelo on Facebook.
Like this post? Subscribe to this blog by clicking HERE.
Let's stay connected: