So… I got a box full of Revlon Colorstay Makeup last December. Their tagline is "Stay All Day, Slay All Day". After all, this is their line of makeup that lasts. If you need to look good from morning till night, this is your go-to. Anyhow, my box had 3 kinds of foundation, concealer, and liquid highlighter. Let's take a look… shall we?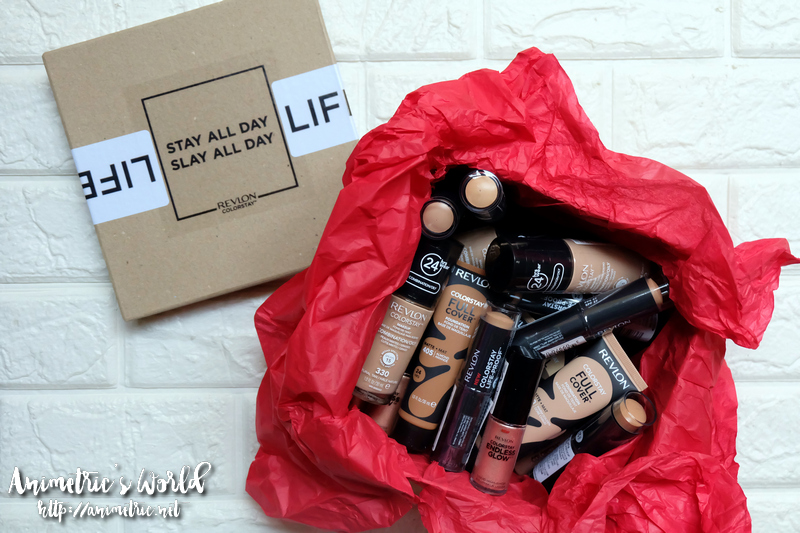 I haven't tried any of these products before. For most part, I've only been reviewing lip color from Revlon.
First we have Revlon Colorstay Full Cover Foundation (P825 per 30ml tube). This has the most coverage among the 3 kinds of foundation I got. It's ideal for oily skin because it instantly mattifies everything it touches. There are a lot of shades available
If there full coverage foundation, there's also Revlon Colorstay Full Coverage Concealer (P625). I use concealer to cover dark undereye circles and any blemishes I might have at the time of application.
These are swatches of the Full Coverage Foundation and Concealer. I think shade 150 matches my skin most closely.
For the second foundation product, we have Revlon Colorstay Life-Proof Foundation Stick (P725).
I swatched 3 light shades. I think 200 is the best match for me. It's surprisingly lightweight.
The third foundation product is the Revlon Colorstay Makeup for Combination / Oily Skin (P825). This is the Colorstay line's liquid foundation.
I swatched the 2 lightest shades. I think both will work for me. This is actually the most lightweight among the 3 foundation products.
Now I've never used liquid highlighter but I'm excited about the Revlon Colorstay Endless Glow.
It comes in 5 super pigmented shimmery shades.
So I tried spreading them onto the skin. It definitely gives you a glow.
What I put to the test is the liquid foundation. I thought it was the most sheer so I went with it. I don't really need too much coverage and I prefer the most lightweight products when it comes to my face. This is shade 150. I used a foundation brush to apply.
It's pretty light under the sun. Next time maybe I'll try shade 180.
I took this photo some 7-8 hours after application. I think my foundation still looks pretty decent.
What I like about Revlon Colorstay Makeup for Combination / Oily Skin:
It's pretty easy to apply. The liquid foundation goes on smoothly and blends easily with a foundation brush or beauty blender.
There are a lot of shades to choose from.
The finish is matte but not dry-looking. Skin looks supple but not greasy.
I didn't need to finish with powder.
Oil control function is pretty good. My face wasn't greasy even after 8 hours of wear.
Price is reasonable at P825 per bottle.
Downside? Liquid foundation is not as convenient to use as a cushion but at least this one is easy to apply. Make sure you shake the bottle before use for the best consistency.
Revlon makeup products are available at major department stores nationwide. You can also purchase online at Shopee, Lazada, and BeautyMnl.
Hmmm… I'm giving away a set of Revlon Colorstay Makeup. Follow me on Instagram to join.
Like this post? Subscribe to this blog by clicking HERE.
Let's stay connected: