Meet my new favorite lip color — Revlon Ultra HD Matte Lipcolor! I'm always skeptical when it comes to matte lip color products. There always seems to be a trade off somewhere. Maybe it's hard to apply. Maybe it dries up your lips. I don't know.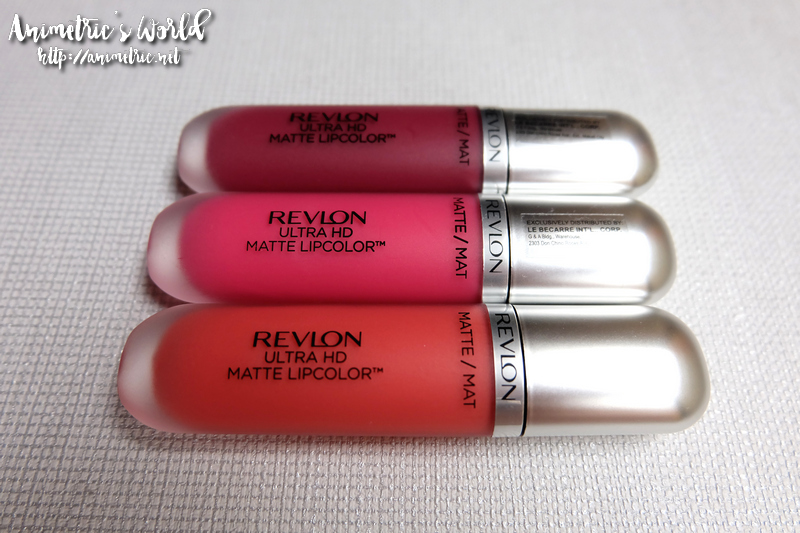 Revlon Ultra HD Matte Lipcolor (P575)
That said I wasn't really expecting a lot when I road-tested the Revlon Ultra HD Matte Lipcolor. I just wondered if it would actually come out matte since it seemed to be in liquid form.
Revlon Ultra HD Matte Lipcolor comes with a sponge-tip applicator.
It's flat and I find that the flat applicator tip makes application so much easier.
I got 3 shades for review: 610 HD Addiction, 615 HD Temptation, and 620 HD Flirtation.
Here's what the shades look like when applied onto the lips under natural light.
This is 610 HD Addiction.
This is 615 Temptation.
This is 620 Flirtation.
What I like about Revlon Ultra HD Matte Lip Color:
It's super smooth and glides effortlessly on your lips, even if your lips are dry and a bit chapped.
It's got this yummy mango vanilla scent.
The applicator makes it easy to draw perfectly shaped lips.
The pigmentation is excellent as you can see from the swatches.
When applied correctly, this will last a looooong time.
It's lightweight. You don't feel like you're wearing lipstick!
You can make it flat and perfectly matte (zero shine) by lightly blotting with a tissue.
Downside? It leaves marks all over stuff your lips touch — glasses, cups, spoons… etc.
Tip: To make the color last, apply on your lips and then blot with a tissue. By blot, I mean hold a sheet of tissue paper flat and then tap gently on your lips. The lipstick will become flat and completely matte. Pat some powder on lips. Apply another coat of lip color and let dry.
Here's what happened after I applied Revlon Ultra HD Matte Lipcolor the way I said above. This is a photo of Revlon Ultra HD Matte Lipcolor in 610 HD Addiction after I had gotten how after a heavy dinner with friends. I had Minestrone Soup, Chilean Sea Bass, Canonigo, Brewed Coffee, and maybe 4 glasses of water. I didn't reapply or retouch my lipstick. Not bad right?
Revlon Ultra HD Matte Lipcolor is available for P575 per shade at Watsons and leading department stores nationwide.
Like this post? Subscribe to this blog by clicking HERE.
Let's stay connected: