I think I've tried just about every kind of food delivery service. I've had everything delivered from diet food to fast food to restaurant food (Mr. Choi Kitchen anyone?). For many years I refused to try my hand at cooking so my answer to helper-less days was either to order in or eat out. That said I'm not lacking in experience when it comes to food delivery.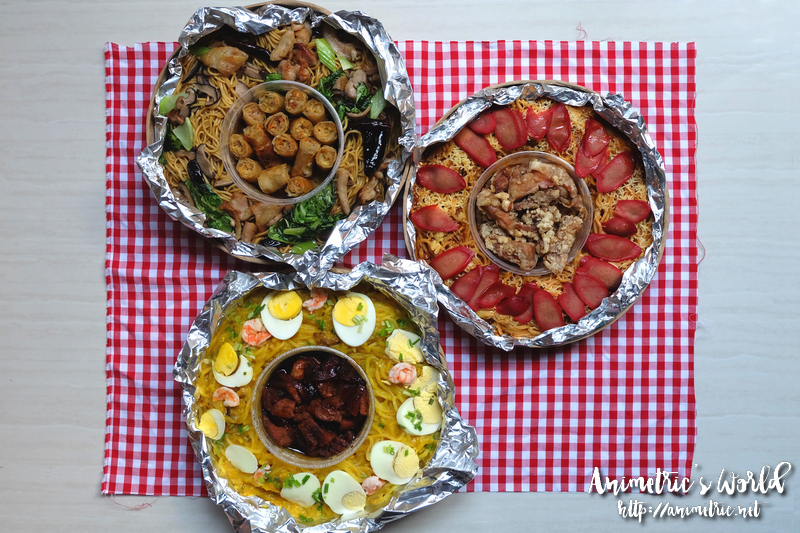 Last Saturday, I just wanted to take the weekend off from cooking so I decided to schedule food delivery from Red Door Kitchen. My kids are bottomless pits so we always have to have food stocked and ready to eat. Red Door Kitchen is a new food purveyor in our area, oh what luck! I actually wanted to order everything off their menu because all the food looked so yummy. They actually surprised us by bringing over the entire menu!
Now the most value-for-money sulit thing you can order from Red Door Kitchen is their Build-Your-Own Combo. For P399, you get your choice of noodles with matching viand. One combo order is good for 4 people so it's just P100 per person. Sure beats fast food delivery plus you don't get unhealthy overly processed whatchamacalits.
So this is their Chinitoyo and Lumpiang Shanghai. Chinitoyo is Red Door Kitchen's take on pancit canton. Now here's the thing. I hate pancit canton. I'd rather eat Lucky Me Pancit Canton vs real pancit canton. So you can just imagine my surprise when I tried a forkful of Chinitoyo. OMG. It's savory, sweet, a bit spicy… in short, everything I could possibly want in a noodle dish. It's got generous helpings of vegetables and meat too. Their Lumpiang Shanghai is easily the best one I've eaten… and I've tried a lot. It's good old-fashioned Chinatown style Lumpiang Shanghai that's lightly crisped outside and meaty inside.
Their Palabok is another shockingly awesome noodle dish. It even comes with a packet of chicharon you can sprinkle on top! The flavor is subtle yet perfect — not too salty, not too strong… just perfect. The Liempo BBQ is wonderfully tender and meaty, kinda like eating birthday party pork BBQ without the sticks.
Their Spaghetti is definitely Pinoy style. It's sweet, kind of like a cross between Amber and Jollibee. I like the Chinitoyo and Palabok better but this is also pretty good. Their Chicken Chops remind me a bit of the snacks served in Taiwanese milk tea places. They come with vinegar dip to be served on the side. Yummy!
If pasta is more your thing, you can go for the Kung-Fu Shrimp Pasta (P225 Small / P440 Medium / P850 Large). It's spicy soy-based pasta with lots of juicy shrimp, mushrooms, red bell peppers, and nuts. The kids liked it too! It's reminiscent of kung pao pasta except it's got a lot more shrimp than the usual. If you want this for Build-Your-Own-Combo, just add P100.
I love how Red Door Kitchen doesn't scrimp on ingredients when it comes to their noodle and short order dishes. You really get what you pay for, maybe more.
Red Door Kitchen also makes the best White Loaf Bread (P58). It's so soft, chewy, and fluffy at the same time! It rivals that of Bread Talk's and it costs like half as much. It's even cheaper than Gardenia and it tastes so much better.
My kids hate ensaymada but they loved Red Door Kitchen's Classic Ensaymada and Ube Ensaymada. My daughter describes it as soft, cheesy, buttery, and super yummy! She said the other ensaymadas she tried in the past were all to sweet.
If you're the type who loves all cakes and can't decide which one to have, their Can't Decide Cake (P499) is perfect for you. It's equal parts Ube, Cookies and Cream, Strawberry, and Mocha. All the cakes are super light and fluffy. My daughter says it's like eating clouds. Best of all, they have just the right sweetness so they cap off a hearty meal perfectly.
Red Door Kitchen cooks up the yummiest dishes and delivers them too. I loved everything! They are superbly and securely packaged as well so you can bring these to potluck parties hassle-free. Next time I don't feel like cooking I'm definitely ordering from Red Door Kitchen!
They also sell Choco Liquor Cakes by Maricar Reyes. 🙂
I've attached their flyers for ordering details. They have a nice location you can visit as well if you want to buy breads and pastries. Check out Red Door Kitchen on Facebook for more details.
Like this post? Subscribe to this blog by clicking HERE.
Let's stay connected: