Who hasn't eaten at RACKS? I still remember going to RACKS with friends for some ribs during my college days. The secret is in the sauce. They have the yummiest barbecue sauce which you just want to pour onto everything. That said, RACKS' younger brother Rackshack will further tickle your tastebuds with a whopping five (5) signature sauces on top of their trademark ribs.
Last Oct. 24, we paid a visit to the newly opened Rackshack in SM Aura. I was told that it's RACKS for millennials. Food is just a bit more fun and affordable.
While waiting for our orders, we dug into these Ridiculous Nachos (P365). It's a fully loaded platter of crunchy nachos so it also has pulled pork, spicy hot links, olives, salsa, jalapenos, onion strings, cheese, and sour cream. Yum! One order can be shared by at least 3 people.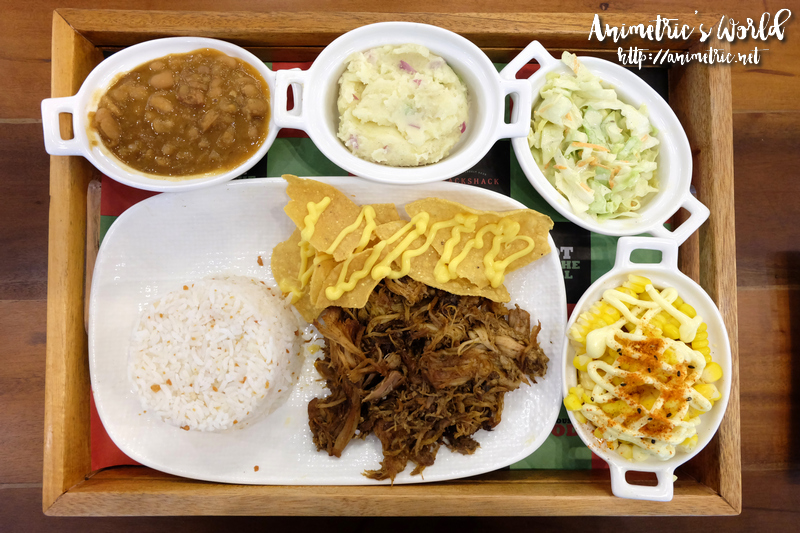 I wanted something easy to eat so I ordered Pulled Pork (P225 Single / P375 Double). It comes with your choice of steamed or garlic rice. You can order side dishes to go with it too!
Here's a closer look at my pulled pork. It's not too saucy (but it was tasty) which is fine because I wanted to try Rackshack's signature sauces with my meat.
I got to try 4 side dishes: Shack Beans (P65), QP Corn (P65), Shack Slaw (P65), and Harajuku Potato Salad (P65). Shack Beans is savory sweet baked beans with pulled pork. QP Corn is sweet corn kernels drizzled with Japanese mayo and topped with spices. Coleslaw is pretty much shredded cabbage and carrots while Harajuku Potato Salad is mashed potatoes with onions, celery, and a vinaigrette base. My side dish picks are Harajuku Potato Salad and Shack Beans.
If ribs aren't your thing, you can go for Creole Garlic Shrimp (P395). Spicy juicy shrimps are served with rice. I imagine this would be great with a super cold beer.
Crack Fried Chicken (P195 for 2 pcs / P345 for half / P615 for whole) is surprisingly delicious. It's flavor is reminiscent of Shakey's mojos from way back in the 80's. I don't know about you but I remember Shakey's mojos having a distinct flavor when I was a kid. Today's mojos are a lot more bland than what I remember from my childhood. This Crack Fried Chicken tastes exactly like the original mojos I loved so much.
Here's a look at the Pork Rib (P275 Single / P515 Double) my seatmate ordered, lol.
You can have all the sauces you want on your orders. They have all the variants on each table. There's also an entire wall of them in case you want more. I wish they'd sell these by the bottle. They're perfect for marinating meat!
For dessert we tried Brownie Smores (P150). Yummy fudgy brownies are topped with toasted marshmallows and graham crackers all basking in chocolate and caramel. If I weren't on a diet I would've finished the entire thing. But I was a good girl and so I had to limit myself to one bite lol.
I love the look of Rackshack. The wooden bench-type tables and chairs highlight the barbecue vibe. It's really clean, spacious, and comfortable. There's a sizable al fresco area with a Foosball table and Beer Pong mat set up. They have tabletop games you can borrow while you're there too. Rackshack is really perfect for getting together for some beer, food, and fun with friends. Food is priced a bit lower compared to the original RACKS but serving sizes are smaller too.
Rackshack
Level 5 Sky Park SM Aura Premier,
Bonifacio Global City, Taguig City
541-4766
Like this post? Subscribe to this blog by clicking HERE.
Let's stay connected: