And another 1 Michelin star restaurant finds its way to the Philippines from Singapore… PUTIEN. PUTIEN was named after the founder Fong Chi Chung's hometown, Putian City, a coastal suburb in Fujian, China. This establishment served Fujian or Hokkien cuisine. While most of us are familiar with stuff like Xiao Long Bao (Shanghainese) and Siopao (Cantonese), PUTIEN's offerings are quite a departure from what we've come to expect from a Chinese restaurant.
Located at the 5th floor of The Podium beside Niu by Vikings, the vibe is pretty casual. I like that it's well-lighted and no-frills in terms of furnishings.
I researched a bit to find out which dishes the Michelin guide recommends. This Seaweed and Mini Shrimps Dressed with Sauce (P288) appetizer is one of them. Don't be fooled. It looks tiny but the flavor is intense. I suspect the sauce is vinegar-based so if you're averse to sour tastes like my hubby, this isn't for you. I liked it though, I just don't think I can finish a whole order by myself.
Another Michelin Guide recommended dish is the PUTIEN Bian Rou Soup (P138). I'd describe it as wonton and seaweed in chicken broth with a bit of vinegar. The pork is pounded a thousand times (at least that's what I remember hearing) so it's super fine. I really really love the clean and comforting taste of this soup. This is definitely something I'd order again.
The Shredded Pork with Sesame Bun (P99 per piece) isn't mentioned in the Michelin Guide but we loved it all the same. Shredded pork and onions are cooked in savory sweet sauce then served with sesame buns on the side. The buns are crisp outside and soft inside. We filled the bun with pork and onions and ate it like a sandwich. Pricey at P99 per bun but a must-try.
This is the PUTIEN Sweet and Sour Pork with Lychees (P388 Small / P588 Medium). Tender pieces of pork with fat are battered and fried. The sauce hits just the right balance of sweet and sour. Since I prefer my pork lean and really crispy, I have to give this round to Paradise Dynasty's Crispy Sweet and Sour Pork.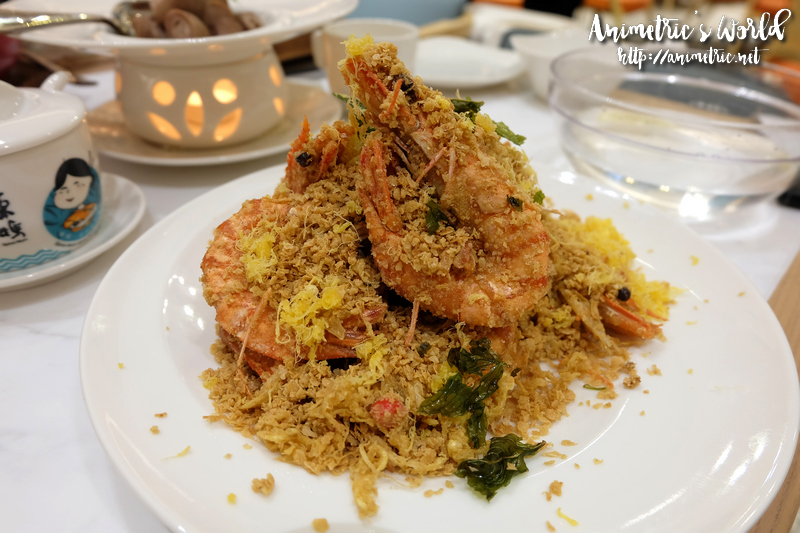 Another favorite of mine is the Cereal Prawn (P688). The sweet crunchy cereal is laced with what I think are fried basil and pork floss. I recommend eating the prawn with a spoonful of the cereal mix. Delicious!
Stir Fried Kailan with Beancurd Skin is a lovely vegetable dish that's easy on the palate. The veggies are so fresh they're naturally sweet.
Everyone loved the Homemade Bean Curd. Silken tofu cubes are served with sugar snap peas and mushrooms. The tofu is heavenly! I highly recommend this dish.
This is another dish in the Michelin Guide — '100-Second' Steamed Yellow Croaker (P488). The 200g fish is flown in from Putian, China and then stewed in exactly 100 seconds. This is to cook the fish perfectly. This is the kind of dish that elderly Chinese would love. I'm not really a fan of fish broth because I find it well… fishy. Anyhow, this actually has a cleaner taste than usual but the fish has a lot of bones so patience is a virtue you'll need.
For dessert I tried the Chilled Lemongrass Jelly with Fruits (P128). This is a refreshing dessert with a very subtle hint of lemongrass. It's a nice way to cap off a meal since it kind of works as a palate cleanser too.
My dining companion for the night was fellow blogger Hershey. It was a fun and food coma-inducing night for us! PUTIEN Philippines' prices are lower compared to Singapore. For example, the '100-Second' Steamed Yellow Croaker is P488 here but around P550 in Singapore. The Chilled Lemongrass Jelly with Fruits is P128 here but around P180 there.
Thank you PUTIEN Philippines for having us! Will definitely be back with hubby and the kids. I love that dining here doesn't cost an arm and a leg.
Ooooh and they have opening promos:
Free Shredded Pork with Sesame Buns from Nov 15-21, 2019
Free dessert for Vikings Card holders from Nov. 25-29, 2019
PUTIEN
Level 5, The Podium
ADB Ave., Ortigas Center, Mandaluyong City
8282-1888 / 8282-6888 / 09189193888
Like this post? Subscribe to this blog by clicking HERE.
Let's stay connected: