Prior to visiting the posh new Chinese restaurant Paradise Dynasty, I had no idea what S Maison was. Anyway, S Maison is this upscale new mall right across SM Mall of Asia. High-end shops and fine dining establishments line its elegant halls. I love how relaxed the vibe is at S Maison. No unruly crowds so you can go malling in peace.
But I'm not here to talk about S Maison today. I'd like to share my dining experience at Paradise Dynasty, the premiere Chinese restaurant at S Maison. My hubby has been bugging me about Paradise Dynasty but we never really got around to it because it's quite far from us. We're from QC and traversing to the MOA area during the -ber months is not a simple task.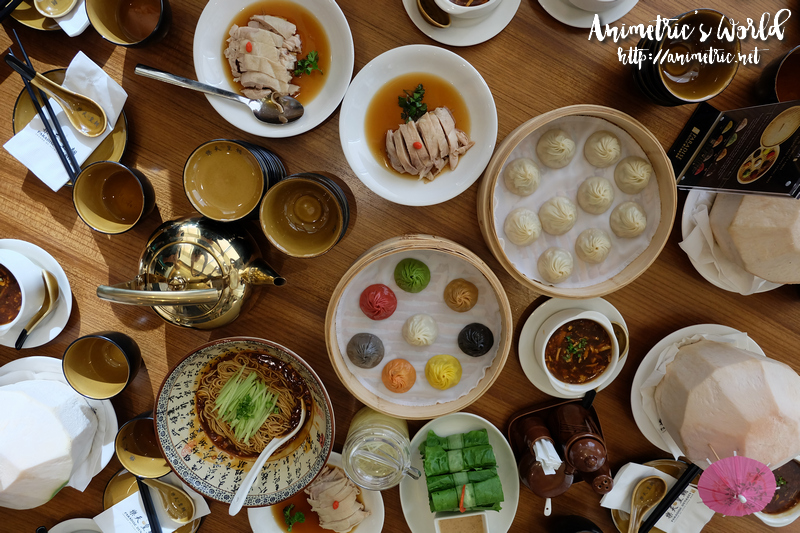 Paradise Dynasty invited a bunch of us for some dimsum a little over a week ago. There's normally a queue during regular mealtimes like lunch and dinner, so we were set for 3pm. We had a truckload of food but I will be featuring my favorites.
Meet the Special Dynasty Xiao Long Bao (P388). It's an 8-pc Xiao Long Bao Set featuring different flavors: Original, Ginseng, Foie Gras, Black Truffle, Cheese, Crab Roe, Garlic, and Szechuan. I can finish one of these by myself lol. This is probably what Paradise Dynasty is most known for.
The delicate yet chewy Xiao Long Bao wrappers are colored using natural plant pigments. Each one is generously filled with ground pork and piping hot broth. Traditional folk and purists like my daughter would probably still prefer the Original Xiao Long Bao. I think it's worth trying the more unique variants though. I particularly enjoyed the Black Truffle Xiao Long Bao albeit I don't think I can have too much of it.
The good news is, a 10-pc basket of Original Xiao Long Bao costs a very reasonable P298. I highly recommend ordering this.
Hands down my favorite dish that day was the appetizer — Steamed Glutinous Rice Stuffed in Red Dates P230. My gosh, I didn't think the combination of slightly sweet sticky rice and dates would send me to food heaven. It's sooooo good I want to have it for breakfast, lunch, dinner, and merienda. When I go back I will order one whole dish for myself.
Seafood Hot and Sour Soup (P168) is another dish I really enjoyed. Hearty and comforting, it's the perfect blend of sweet, sour, and slightly spicy. Delicious! If you're like my hubby who can't stand the scent of vinegar, there is none.
Chilled Jellyfish and Seafood in Vinaigrette (P250) is another appetizer worth trying. It's probably the best version of jellyfish I've tried in all my years of eating Chinese food. The spicy-tart sauce complements the jellyfish, squid, and shrimp perfectly.
Let's move on to the mains. I skipped the rice and noodles because I didn't want to feel too full too soon. This is the Crispy Sweet and Sour Pork (P288). Tender yet lean pork are fried to a perfect crisp and cooked in tangy sauce. It's exactly the way I like my sweet and sour pork.
Scrambled Egg White with Fish and Conpoy (P328) is a uniquely comforting dish with complementing textures. The shredded dry scallop, tender fish, and incredibly fluffy egg whites all make for a life-changing taste experience. Delicious!
Not to be left behind, Paradise Dynasty has their own take on the salted egg craze. Check out the Lotus Paste Bun with Salted Egg Yolk (P138). I tried one and it reminded me of mooncake.
Glutinous Rice Ball topped with Grated Nuts (P138) is reminiscent of masachi… actually it probably is masachi under a different name lol. It was filled with gooey black sesame paste. Pretty good.
Might I suggest that you wash all the food down with Homemade Barley Water (P80). You can have it hot or cold and I opted for cold. It's very refreshing and thirst-quenching, not overly sweet.
Thank you Paradise Dynasty for giving us mommies a much needed mid-week break! It was great taking half the day off lol.
I'll definitely be back with hubby and the kids. I find the prices very reasonable given the excellent food quality at Paradise Dynasty. We all have a penchant for Chinese food so I'm pretty sure they'll love it here. Paradise Dynasty has branches in several countries including Malaysia, Indonesia, Singapore, Japan, Hong Kong, Taiwan, and China.
Paradise Dynasty
2nd Level S Maison at the Conrad,
Mall of Asia Complex, Pasay City
828-8333
Like this post? Subscribe to this blog by clicking HERE.
Let's stay connected: