There's only one beauty vlogger I watch regularly and that's the Korean makeup artist Pony. I love her clean and flawless makeup looks. Her techniques are simple and easy to follow too. Pony came up with her very own makeup brand, Pony Effect. Pony Effect is inspired by the philosophy of infinite transformation. She did, after all, become famous after releasing a Taylor Swift transformation video on YouTube. Anyhow, Pony Effect is now in the Philippines.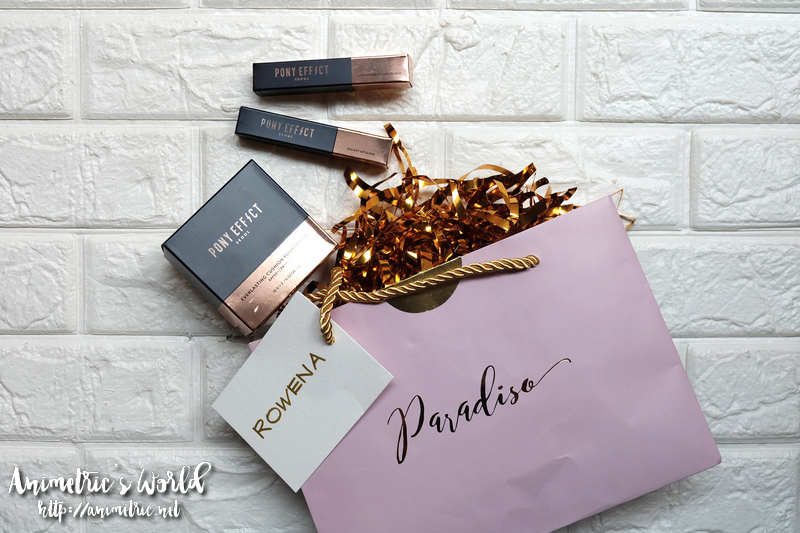 I picked 3 makeup products to try.
The first one is Pony Effect Everlasting Cushion Foundation (P1,950). It comes in a square shaped compact, which is rather unusual. Most cushions come in round compacts. A refill is included too, so you're actually getting 2 cushions for the price. It's actually cheaper than the last Laneige cushion I bought.
I chose the shade Nude Beige. It looks kind of dark when you look at it like this.
It's really not dark though. In fact, it blends easily to match my skin tone.
This is what it looks like when applied all over the face. I love how easy it is to apply. It's probably the best cushion I've used, but more on that in a bit.
The other 2 products I picked are Pony Effect Galaxy Lip Gloss in Meteor (P890) and Pony Effect Stay Fit Matte Lip Colour in Exquisite (P990).
Both lip products are nicely pigmented, even the lip gloss.
The Lip Gloss comes with a silicone applicator wand.
This is the first time I've encountered this kind of applicator tip for a lip product.
It is rather easy to use. I love how natural my lip color looks when I use this gloss.
The Matte Lip Colour comes with a conventional sponge tip applicator.
The sponge tip applicator is a lot like most of the others I've used.
I was surprised at how easy it was to apply the matte lip color. It doesn't dry midway like the others. The lip color goes on very smoothly plus it has a fruity scent. It dries to a perfect matte finish too.
I'm using the cushion and the lip gloss in this photo.
What I like about the Pony Effect makeup products:
The Everlasting Cushion Foundation is the best cushion I've used so far. It has enough coverage to replace foundation but it's lightweight so it's easy to forget you have it on your face. Skin looks bright, flawless, and moisturized… just the way I like it! It stays on until you take it off and doesn't look cakey at any point in the day too.
The Galaxy Lip Gloss can be used alone or on top of lip color. It's pigmented enough to be used by itself. Lips look naturally rosy and glossy.
The Matte Lip Color is the best liquid matte lipstick I've tried. It's super easy to apply because it glides smoothly and doesn't dry up midway. It dries to a perfect matte finish and lasts practically forever. I tried eating lunch and merienda without retouching and my lip color was still intact. It only came off when I used makeup remover at the end of the day.
I don't really see any downside with the products I've tried because everything is sooo good. I'm fine with the prices and shade selections too. In fact, I'm thinking of buying the other products like concealer, brush set, and blur pact. Pony Effect makeup products are available at https://www.paradisoph.com/pony-effect.
Like this post? Subscribe to this blog by clicking HERE.
Let's stay connected: