I got a literal box full of Pixi Glow Tonic from the US last week. It's not my first time to encounter this product as I've been using it prior to getting this package. This product has been available in the Philippines for a while, selling for P1,050 per 100ml bottle. That's precisely why I tried it — I wondered what kind of toner would sell for over P1k for 100ml? That's a whopping P100+ per 10ml right? Given how obsessed with skincare I am, I just had to experience it for myself.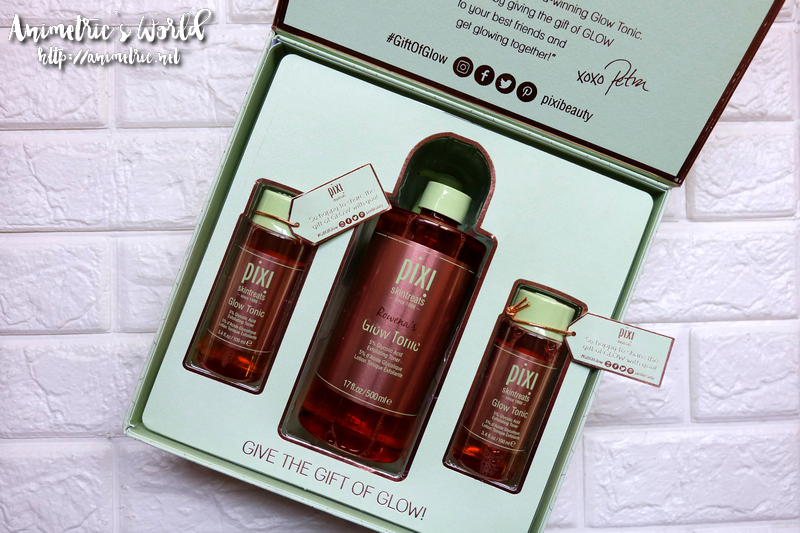 But before I tell you more about Pixi Glow Tonic (P1,050 for 100ml), let me share some good news. I'm giving away a 100ml bottle and one lucky reader gets to have it mailed to her doorstep! Pixi told me to share so I'll gift one bottle to someone I know (I haven't decided to who yet lol) and give away one bottle to a reader.
The 100ml bottles even come with gift tags!
Meanwhile, I got a 500ml personalized bottle.
The 100ml bottle can last for about 2-3 months depending on how often you use it daily.
Anyway here's my current bottle of Pixi Glow Tonic. I use it when my face needs exfoliation, so that's something like 3x a week. It smells lovely!
I used it this morning after washing my face. Lol, if the cotton pad had turned black that would probably mean I have a cleansing problem.
Excuse the eyebags but that's what Crash Landing On You did to me. I slept at 4am so I could finish the series lol. Pixi Glow Tonic makes my skin feel nice, clean, and fresh. It doesn't sting because it's alcohol-free. It's formulated with 5% glycolic acid which loosens build-up in your pores and evens out the skin.
What I like about Pixi Glow Tonic:
I love how it exfoliates and leaves my skin glowing without stinging or drying it out.
The mild, pleasant scent is great.
It's alcohol-free, paraben-free, and cruelty-free.
A little goes a long way — one cotton pad with a splash of product is enough for the entire face.
The bottle is compact and easy to bring when traveling.
Downside? Some may find it a bit pricey for a toner, but for me it's just okay because the Sulwhasoo toner I bought is double the price of this one lol.
Pixi By Petra products, including Pixi Glow Tonic, are available at Glamourbox, BeautyMnl, Sephora PH, and Lazada. If you prefer to shop at an actual store, you can find them at SM Beauty and Landmark. Here's a tip: the best prices can usually be found at Glamourbox.
Join my Pixi Glow Tonic giveaway on Instagram. It's much easier for me to keep track of entries there.
Like this post? Subscribe to this blog by clicking HERE.
Let's stay connected: