One of the western brands that has become available in the Philippines recently is Peter Thomas Roth. Touted as clinical skincare, the brand philosophy is simple — Breakthrough formulas. Astonishing results. Being the skincare junkie that I am, I was just too excited to give it a go.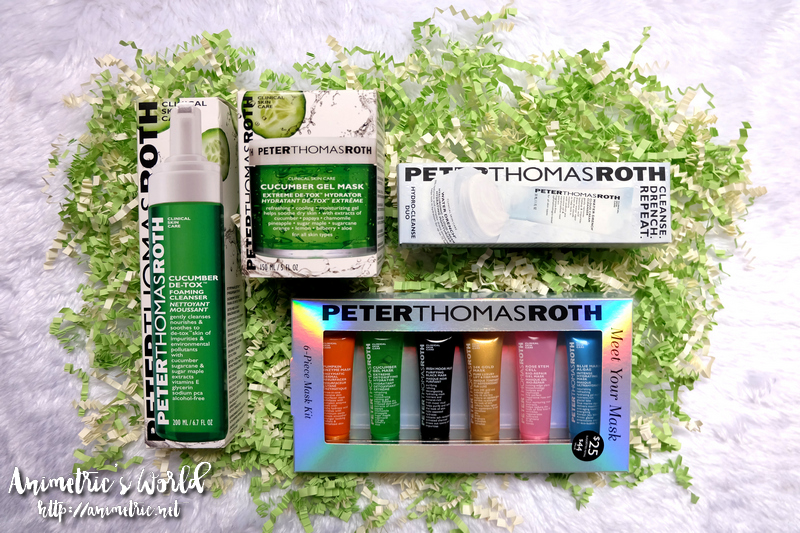 This is my initial Peter Thomas Roth haul. I got the following products:
Cucumber Detox Foaming Cleanser (P2,000)
Cucumber Gel Mask (P2,800)
Water Drench Hyaluronic Duo (P995)
Meet Your Mask 6-Piece Mask Kit (P1,250)
I saw a video of the Cloud Cream Cleanser on Facebook. A woman demonstrated how you can use just this product to remove heavy makeup. Well, I copied what she did in real life and tried to remove all my makeup with just this facial wash. No go. It can't even remove BB Cream completely so don't even expect it to work on foundation, waterproof eyeliner, etc. It's really bad. When I use toner after washing my face with this, there is still a lot of dirt and grime. The Water Drench Hyaluronic Cloud Cream Hydrating Moisturizer however, is pretty good. It's light yet moisturizing, perfect for this hot and humid summer.
I haven't tried the Cucumber Detox Foaming Cleanser yet but I have tried the Cucumber Gel Mask thanks to the sampler kit I got.
This is my favorite item, the Meet Your Mask 6-Piece Mask Kit. Peter Thomas Roth masks are not cheap so I want to be able to try everything before committing to a big jar. This kit lets you do just that… giving you 6 travel-sized tubes of all their masks. Each tube is good for about 3 uses.
I tried everything in a week by using a different mask every night before going to bed. The last time I used masks daily was when I tried the Tonymoly 5 Day Project Mask Sheet. Anyway, here are my first impressions:
Blue Marine Algae Intense Hydrating Mask (Blue) – I loved this one. It's cooling and hydrating, so your face feels really nice after use.
Rose Stem Cell Bio-Repair Gel Mask (Pink) – The words stem cell led me to have high expectations for this anti-aging mask. There's a slight rose scent but I didn't yield the dramatic effect I was expecting. I usually leave my skin as is after masking, but I felt the need to apply moisturizer after using this.
Irish Moor Purifying Mud Mask (Black) – This one is pretty good. It really does clean the skin well by removing surface dirt, oil, and impurities.
Cucumber Gel Mask (Green) – Refreshing and hydrating, it's similar to the Blue Marine Algae Intense Hydrating Mask except skin feels fresher.
Pumpkin Enzyme Mask (Orange) – This is really more of a gritty facial scrub rather than a mask. I tried to take a pic but it stings quite a bit so I was afraid to leave it on my face long enough for a photo. It smells like pumpkin pie though and I think it's good for exfoliation.
Okay so the mask I had the highest hopes for was the 24K Gold Mask (Gold). It's the priciest one at P4,200 per jar. Although it's solid gold in color, it becomes almost transparent when you spread it onto your skin.
It's not opaque gold when applied, your face will just look slightly yellow. With regards to the effect, it's really nothing dramatic. I was more satisfied with the other masks (Blue Marine Algae and Cucumber Gel are my faves) compared to this one.
All the masks are pretty transparent except for the Irish Moor Purifying Mud Mask. They are actually perfect for multi-masking. You can use the appropriate mask on specific areas of your face. For example, Irish Moor Purifying Mud Mask on the T-Zone, Cucumber Gel Mask on the cheeks, etc.
One week of masking with Peter Thomas Roth did make my skin brighter though. I'm glad I took a chance with the big Cucumber Gel Mask jar because it's one of the best ones in their roster.
Peter Thomas Roth products are available at Zalora.
Like this post? Subscribe to this blog by clicking HERE.
Let's stay connected: