Sometime last year, I bought a P1,500+ mask set called Tonymoly 5 Day Project Mask Sheet. The skincare addict in me couldn't resist. I thought if these masks cost that much (they come out to P300+ per piece) they must be good.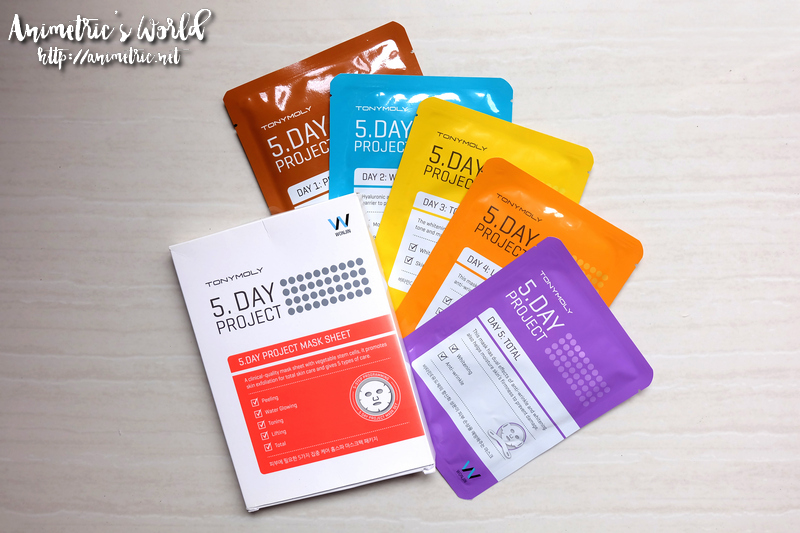 Like the name suggests, the Tonymoly 5 Day Project Mask Sheet consists of 5 color-coded masks. You use one mask a day consecutively:
Day 1: Peeling (Brown)
Day 2: Water Glowing (Blue)
Day 3: Toning (Yellow)
Day 4: Lifting (Orange)
Day 5: Total (Purple)
My favorite of all the masks is Day 1: Peeling. It's a peel-off mask made from a combination of volcanic ash, mud, seaweed, and silk. It's designed to absorb dirt and oil. It deep cleans your face so your skin can better reap the benefits of the masks that will follow.
This mask is divided into two pieces. One piece each for the upper and lower part of the face.
You put on both parts and let them stay on for 40 minutes… until fully dry.
When you finally remove the mask, you can see the absorbed sebum.
Wow, my face felt soooo clean and smooth after this mask. One of the best masks ever. I want to buy more!
I really stuck to the program and used one mask a day. The next mask was Day 2: Water Glowing. It's the typical mask sheet that moisturizes your face, nothing really special. I liked Day 3: Toning which is like a Vitamin C infusion. It's the thinnest of all the masks and it had a lemon scent. It supposedly whitens and clears the skin.
Day 4: Lifting was probably the most unique mask. It's literally designed to lift as I had to fasten the mask from my chin to my earlobes for that lifting action.
Ummm yeah, not very comfortable as I had to really stretch the mask so the straps would reach my earlobes. They were kind of tight.
The last of the 5 masks is Day 5: Total. You get it all from this one — anti-wrinkle, whitening, and moisturizing benefits. Like Day 4: Lifting, this one has "straps" which you fasten around your ears. By now I'm really hating this kind of mask because of the ear fastening shiz.
What I liked about the Tonymoly 5 Day Project Mask Sheet:
It works like a shortcut. I mean, my usual regimen involves cleansing, toning, moisturizing, putting on serum, etc. With this, I just wash my face, tone, and then slap on a mask. After the mask, I don't apply anything else lest they interfere with the mask's effects. You do this for 5 days.
All the masks feel cool and refreshing.
My skin is really nice every morning when I wake up.
They all have a pleasant scent, even the one with volcanic ash lol.
Downside? The price! It's P1,500+ for 5 masks. For whatever it's worth, I don't regret getting this set because the masks are really good and more or less deliver what they promise. I learned NOT to get masks with that ear fastening strap lol.
Tonymoly 5 Day Project Mask Sheet is available at Tonymoly counters and boutiques for P1,500+ per set. Log on to http://www.tonymoly.ph for a complete list of stores.
Like this post? Subscribe to this blog by clicking HERE.
Let's stay connected: