Forgive my title. I know some people find these new fangled Pinoy slang terms like bes / besh / beshie among many others annoying. Couldn't help it. I was actually tempted to write this entire post in Tagalog. This is because Perla is a homegrown Philippine brand available only to people in this country. Lucky us.
Perla has been a permanent fixture in the houses I've lived in all my life. When I was growing up at my grandma's, we had a seemingly neverending supply of Perla. The innocuous white soap was everywhere… in bathrooms, in the laundry areas, on the kitchen sink… it was pretty hard to miss. Decades later, I'm married with kids. Perla is still around, being my mother-in-law's household soap of choice. She even uses it to wash dishes, go figure. She'd tell us she feels it's the non-toxic alternative.
I'm no laundry expert but I know this — when I hold the usual laundry soap in my hand (especially those speckled ones), there's a very light stinging feeling. Always. But when I hold Perla, there is nothing like that. I can rub it all over my arm and it would feel just like bath soap. I've been wondering why this is so. When I got invited to an intimate lunch with Perla, I discovered the reason why. Perla is primarily made from pure coconut oil. In fact, 50% of it is coconut oil. Mind blown. No wonder it never stung my skin. Coconut oil contains lauric, a natural cleaning agent that traps dirt and oil… making them easy to wash away.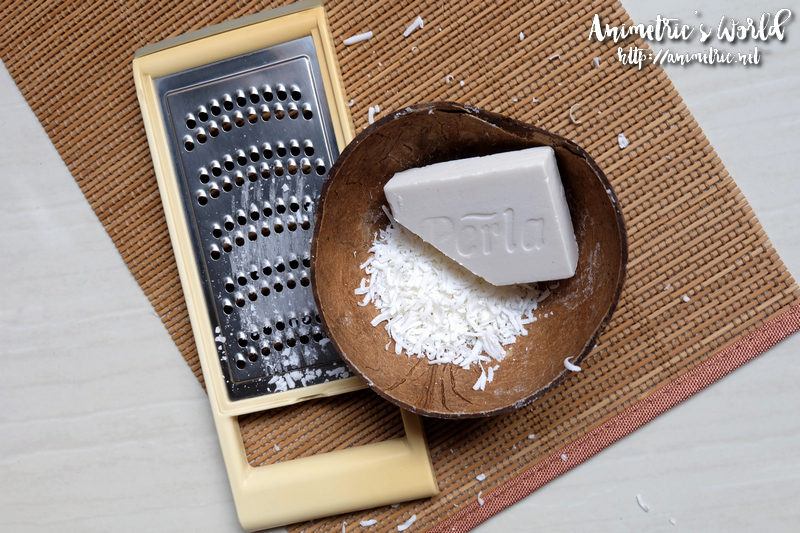 We only have one helper at home. Most of the time, hubby and I are at work. That said, I had to ask — how do I use Perla if I machine wash our clothes? I was told I could grate half of one Perla bar and use it to launder one load in the washing machine. I grated this bar myself and it was surprisingly quick and easy.
Seriously I love how Perla doesn't contain any harmful ingredients. I feel it every time I wash anything with it. There's no stinging and it doesn't dry my hands.
Here are a few things I learned about Perla over lunch:
Each bar contains glycerin, a natural moisturizer. This plus the fact that there are no harsh harmful chemicals are the reasons why they don't make your skin feel raw.
Perla is mildly perfumed with essential oils like lavender.
Buying this product helps provide livelihood to Filipino farmers.
There are no plans to alter its coconut oil-based formulation.
Perla is a natural fabric softener. Since it contains glycerin and it has a high PH, mercerization occurs. Mercerization is a natural phenomenon that fluffs up cloth fibers, making them feel softer.
It's less abrasive compared to its synthetic counterparts so your clothes last longer.
It's safe to use on produce because it contains no harmful chemicals. I wash fruits like apples, oranges, and lemons with the white Perla soap.
The Original White variant whitens clothes.
There are 3 variants: White, Blue, and Papaya.
It's only available in the Philippines. Wheee.
We've been using Perla for over a week now and I'm a believer. I expected it to cost a lot, given how coconut oil-based products are being marketed as the "in" thing these days. Surprise, it costs only P12+ per bar. It's so gentle you can use it on your body. I have actually tried washing my entire arm with it lol. I just want a ready-to-buy grated version or powder version I can readily use with the washing machine.
Perla Laundry Soap is available at all leading supermarkets nationwide. You can purchase online from Perla Philippines Flagship Store on Lazada.
Like this post? Subscribe to this blog by clicking HERE.
Let's stay connected: