It's been 6 months since I discovered PayMaya. I've been using it mainly to pay for Steam video game purchases. But I've also started accepting payments with it from people who buy my preloved stuff. It's really convenient because I don't have to cash out. I can use my PayMaya card or my cellphone to pay for the stuff I buy.
PayMaya recently introduced PayMaya QR. It's a super convenient way to make payments. With PayMaya QR, you don't even need your wallet anymore. You can pay for stuff with your cellphone. I put it to a test at SM Department Store.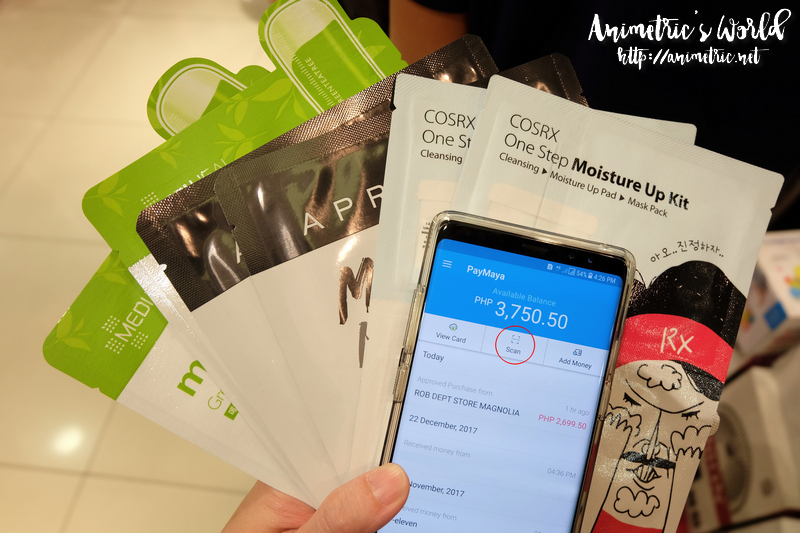 I picked up a few Korean sheet masks from brands I like which are available only at SM and Watsons — Mediheal, Aprilskin, and COSRX. After I was done, I logged onto the PayMaya app on my phone. There's a "Scan" icon (encircled in red) you have to click in order to use PayMaya QR. A window will appear.
The next thing you have to do is find a PayMaya QR-enabled cashier. Scan the PayMaya QR symbol with your PayMaya app.
After scanning, you will be prompted for the amount you need to pay. Simply enter it and click the Pay button. You'll get a pop-up message which indicates your payment was successful. It's that easy! The best part is, you earn a 50% rebate on ALL your PayMaya QR purchases until Dec. 24, 2017! You can earn a maximum of P500 rebate per merchant per day. The rebate will be credited to your PayMaya account 14 business days after the promo period. That said, my masks cost only P220+! After Dec. 24, there will be a 10% rebate for PayMaya QR until month end.
The best part is, you can now use PayMaya QR to shop not just in SM but also at Robinsons and selected Mini Stop stores. Since the 50% rebate promo is ending tomorrow, I shopped for some clothes earlier today.
Okay let's say I buy a top worth P1,399.75. If I pay for it with PayMaya QR, I get a P500 rebate. My top will be down to P899.75! Woot!
It's definitely a good time to shop for clothes so you can maximize the 50% rebate!
Because Christmas is the season of giving, I'm giving away P5,000 PayMaya credits to one lucky winner! Head on over to https://www.instagram.com/p/BdEV7NiD4V9/ for the complete contest mechanics.
Like this post? Subscribe to this blog by clicking HERE.
Let's stay connected: