My favorite Chinese restaurant is Paradise Dynasty. We always go to The Podium branch because it's closest to us. Our favorites are their Xiao Long Bao, Crispy Sweet and Sour Pork, Steamed Glutinous Rice Stuffed Red Dates, Fried Rice Shanghai Style, and Stir Fried Spinach with Minced Garlic. I'm pretty certain every single dish in their menu is delicious.
Paradise Dynasty at The Podium is pretty spacious. They have function rooms too.
We started our meal with the Specialty Dynasty Xiao Long Bao (P388). This has long been a Chef's Recommendation. Garlic, Szechuan, Black Truffle, Foie Gras, Ginseng, Cheese, Crab Roe, and Original Xiao Long Bao are all served together for a one-of-a-kind eating experience. I've tried them all and Cheese is definitely a favorite.
I was able to try Vegetable & Pork Wanton in Signature Pork Bone Soup (P188) for the first time. The taste is clean and comforting. This is the kind of soup I want if I'm feeling under the weather. It's surprisingly affordable too.
Chilled Jellyfish and Seafood in Vinaigrette (P328) is a refreshing appetizer. I especially love their vinaigrette.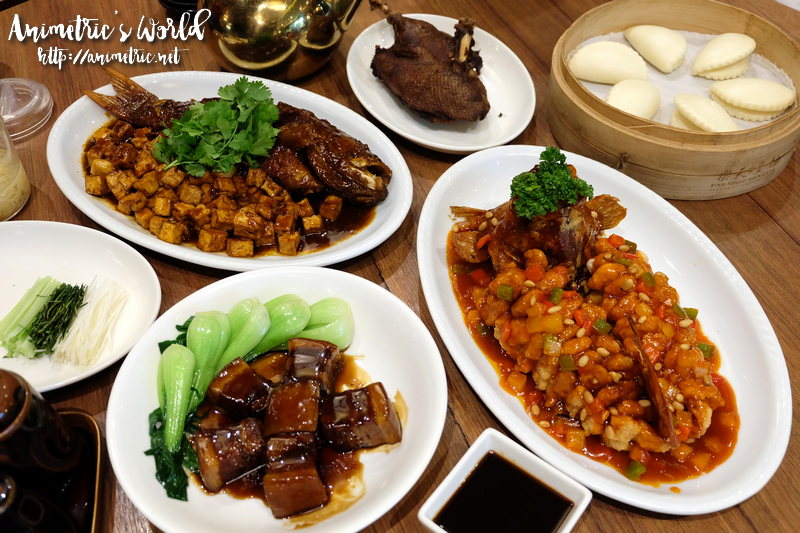 These four Chef's Recommendations are exclusive to Paradise Dynasty at The Podium.
I've said it before and I'll say it again, Shanghai Style Braised Pork Belly (P588) is my dream pork belly, the kind of taste I want the pork belly I cook at home to have. Super tender pieces of pork belly are glazed in a sweet savory sauce and served with bokchoy on the side. It's s00o good, albeit on the pricey side at almost P100 a piece.
Grilled Grouper with Tofu in Mapo Tofu Style (P1,288) has the most delicious tofu ever — incredibly silky and just the right level of spicy. If I can order just the Tofu I would because I'm not really fond of fish.
Grouper with Pine Nuts and Fruits (P1,288) is kind of like Sweet and Sour Fish but fruitier and less tart. The fish is crunchy outside and soft inside too, which is how I like fish to be cooked.
Deep Fried Duck with Steamed Bun (P1,288 for Half) is a dish where they shred the duck and assemble it into the buns with the veggies and sauce. There will surely be leftover duck because there's more duck than buns. Anyhow, the duck is really flavorful. I love how crispy the skin is so even with no bun, it's still delicious.
We had Charcoal Custard Lava Bun (P188 for 3 pcs) for dessert. The soft steamed charcoal bun is filled with piping hot molten custard filling. I love how it's not overly sweet.
We always keep coming back to Paradise Dynasty because the food is so good! This is one restaurant where I actually want to try everything in the menu. I don't think I'm even halfway done lol.
Paradise Dynasty
2/F The Podium
18 ADB Ave., Ortigas Center, Mandaluying City
682-3333
Like this post? Subscribe to this blog by clicking HERE.
Let's stay connected: