I got my first Pandora bracelet back in 2013. I was staying at my mom's place in Las Vegas. We went to the Miracle Mile Shops at Planet Hollywood and I saw a Pandora boutique. I was enchanted the moment I walked in. I couldn't stop poring through rows and rows of finely detailed charms. I'm not really into jewelry but I love Pandora. To date, I've bought a bracelet, maybe a dozen charms, and a pair of earrings. I'm planning to get a necklace next.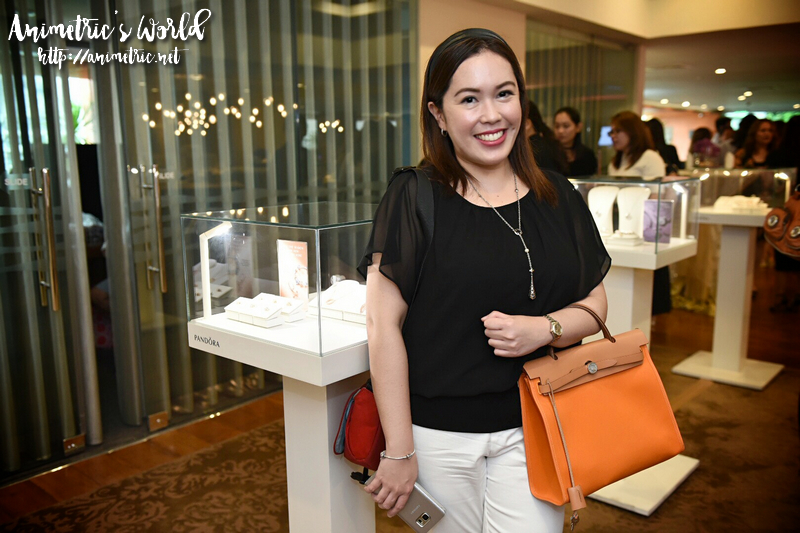 Anyway, I was thrilled to have been invited to the unveiling of the Pandora Autumn Collection 2016. I really really love the brand so I was excited to check out their latest stuff.
Waaah I already saw something I wanted to buy at the first display case I looked at — the Pandora Floating Locket!
This is the Pandora Floating Locket. It's a transparent circular receptacle you can fill with selected charms. I already checked prices online and it's going to set me back around P10k. I'll be visiting Pandora one of these days to buy one for myself.
My Pandora bracelet is sterling silver but seeing how they dressed up the leather bracelets kind of makes me want to get a leather one too.
Pandora leather and sterling silver bracelets side by side, decked out with the charms from the newly launched Pandora Autumn Collection.
There were black-clad ladies going around with more charms and pieces from the Pandora Autumn Collection 2016. Can I take all of you home??? Pandora charms start at P1,920 a piece. The fancier designs can fetch up to over P6k.
Aside from jewelry, Pandora Philippines was launching something special that day — a book entitled We Are Unique.
From left to right: Valerie Chua, Nina Santa Maria, Samantha Sotto, Tata Mapa, Lia Bernardo, Grace Katigbak, and Chi Bocobo.
We Are Unique are stories of ten real women compiled by accomplished writer and editor Tata Mapa. They are inspiring accounts that celebrate each woman's uniqueness. Encouraging and inspiring, you'll find a little bit of you just as I found a little bit of me while poring through the pages. The book comes with a special brass bookmark too. It will be available as a special gift with every purchase made at all Pandora outlets in the Philippines. Random thought: Tata was my blockmate in Ateneo. Congrats Tata!
I love the charm I took home from the Pandora Autumn Collection 2016. It's the Loving Sentiments Charm and it retails for P2,570.
I added it to my bracelet the moment I got home.
The Pandora Autumn Collection 2016 can be viewed at http://www.pandora.net/en-ph. Prices and store locations are all there too!
Like this post? Subscribe to this blog by clicking HERE.
Let's stay connected: