I started working out last Oct. 27, 2020. One of my tasks for the Bifina Gut Health Challenge was to do at least 15 minutes of light exercise. I thought what the hell, if I was working out I'd do it for real na. And so I searched YouTube and found a 30-minute beginner-friendly workout. After all, I was coming from over a year of zero exercise. I didn't want to shock my system too much and injure myself. I don't really fancy visiting the doctor or any medical facility at this time.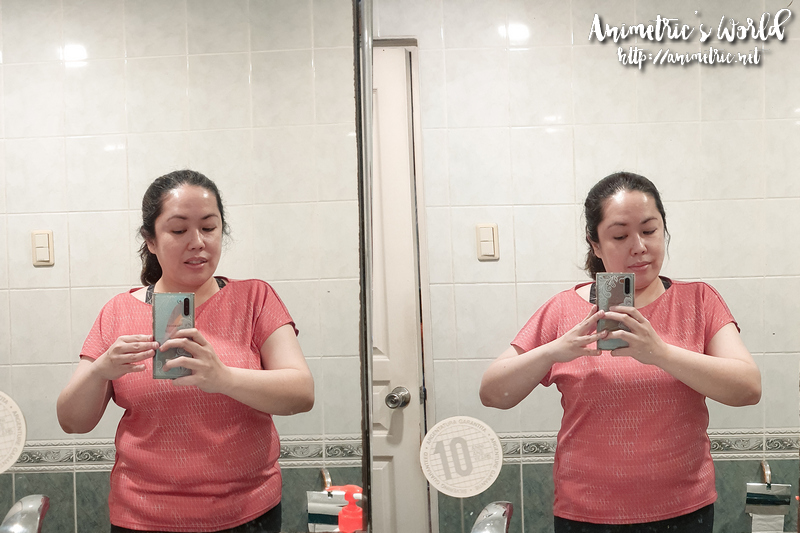 So I took the left photo over a month ago and the right photo last December 1. This is the progress I've made so far in terms of slimming down after 20 workouts. I'm wearing the same Uniqlo Activewear top and Uniqlo sports bra lol. I don't follow any diet, I just don't pig out. Everything in moderation. I work out with YouTube videos at home when I'm not in the office. That's 4x a week (TTH + weekends) since I go to work MWF. If there's a holiday, then 5x a week.
Anyhow I looked for an exercise video to follow on YouTube. I forgot what exact search terms I used but I found this Eva Fitness video. The title Fastest Weight Loss Exercise caught my eye and it was 30 minutes long, just what I was looking for. See I don't believe in workouts that last less than 30 minutes. I love this video because:
It's not hard to follow.
They don't do any stunts that could injure me.
It works with limited space.
No jumping. I hate jumping.
No mats. I'm not too fond of mat exercises because some of them make my tailbone hurt.
No equipment needed.
OMG I sweat buckets after following this video, having come from over a year with no exercise. I did this for a week then graduated to a 40-minute Eva Fitness workout video. Then 45 minutes, 50 minutes… now I can do an hour. Sometimes I'd combine and do 20-minute and 30-minute workouts consecutively. You see, spot exercises don't work if you don't have a legit base full body workout that gets your heart rate up. For example, I want slimmer arms. Doing solely arm exercises won't give me slimmer arms. I need to do the entire shebang and then do the arm exercises.
These days I pick an Eva Fitness video based on the length. I usually go for 45-minutes to 50-minutes then combine with a focused arm workout or something. Eva Fitness is my favorite workout channel because she always does full body workouts which concentrate on the midsection. That's my main area of concern — my big belly. She has so many videos and she keeps making more so there's always something new to follow.
My current spot exercise is April Han's Slim Arms in 30 Days, which means 30 days of doing it — not 3x a week in 30 days lol. I'm doing workout #28 tomorrow so… I have 3 more times left to do this. I'll try to find a more intense arm workout to replace it with. The first time I did this wow, I could barely lift my arms after. I think I've gotten used to it now and I don't feel the effect that much which is why I have to move on.
I attribute most of my belly fat loss to doing Eva Fitness workouts at least 4x a week. Considering I'm not on a diet, I think my progress in a month's time has been pretty good. If I diet, it's going to be even faster but life is too short to deprive myself. Good food has been a source of joy for me this pandemic. So… everything in moderation + eat only when hungry. That means if we go get milk tea, I will always get the regular serving even if a mere P10 will double the size of my drink. It's sharing one 350ml can of soda, juice, beer, or whatever else with 2 other people. It's having just one small slice of cake… one small scoop of ice cream… less than a cup of rice during meals… and so forth.
I'll post an update when I've done maybe 50 workouts. I might do a juice cleanse after the holidays but we'll see.
Like this post? Subscribe to this blog by clicking HERE.
Let's stay connected: