I am not living a healthy life. I try. But I'm too weak against temptation. I'm trying my best to minimize events in general since they are almost always overflowing with unhealthy food and drink. It used to be easier. I used to be younger. Such is a fact of life.
Anyhow, when I was asked if I wanted to review this Omron Automatic Blood Pressure Monitor and keep it afterwards, I said yes right away. My mom, my dad, as well as all my uncles and aunts all have high blood pressure. This would allow me to monitor my BP without having to pay for the service every single time I have my BP taken.
Here's the unboxing.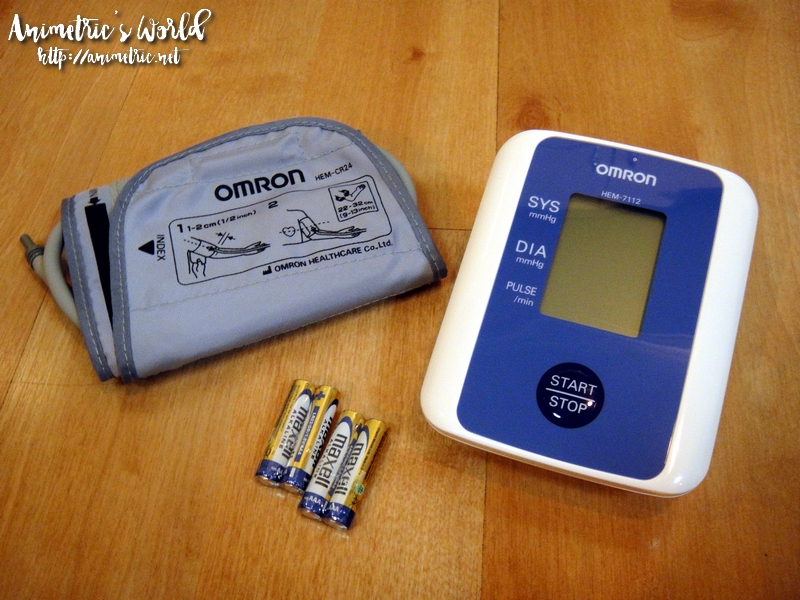 Yay, four (4) triple A batteries that you need to run it are included!
You attach the cuff to the unit by plugging in the um, hose.
You wrap the cuff on your upper arm, about 1-2cm above your elbow (at least that's what the instruction manual says). Then you press the Start button. The cuff tightens around your upper arm and gradually deflates. This little gadget does everything. All you have to do is strap the cuff on. I had to repeat the procedure several times because I got the cuff position wrong and it actually recorded 155/100 which I knew was far too high. I just had my BP checked maybe 3-4 months ago and it was 120/80. I've never had it higher than that, ever. When I was single, it was 90/60.
I decided to do it again with my arm at rest on the bed while I was sitting on the floor. This time, I breathed lol. I wasn't breathing the first time for some reason. It went down to 138/76. Errr… okay. According to the manual, the guiding values are 135/85 for home-measured BP. I'm guessing this is to give you more leeway in case you don't do it perfectly right, like I did.
Anyhow I went to see the doctor and had her legit take my blood pressure and it's still 120/80. Still, the  results I got from the Omron Blood Pressure Monitor were enough to give me a scare so I'm thinking I'd better detox soon and get more exercise. This unit costs around P2,600 to under P3,000 depending on where you buy it.
Omron Blood Pressure Monitors are available at Abenson, Anson's, Watson's, etc. I can still remember how Kim Atienza suffered a heart attack so it's really important to be aware of your BP so you can catch such health problems early on.
Like this post? Subscribe to this blog by clicking HERE.
Let's stay connected: