My children catching dengue is one of my greatest fears. When I was fresh out of college, a high school batchmate of mine died because of dengue. We were both maybe 20 years old back then. I heard that she went out of town, somewhere with a lot of mosquitoes. Next thing I know she was confined to the hopital. Some days later, she passed away. She was so young. She had so much potential… and she was gone too soon.
Dengue is scary because there is no medicine you can take to make it go away. When you catch it, all you can do is pray and hope for the best. You're confined to the hospital but honestly, who knows if and when you'll be able to walk out? When my brother caught dengue, I witnessed how nurses would constantly conduct blood tests to monitor his platelet count. But that's about all they can do… hook him up to an IV and watch his platelets. I can never have peace of mind anytime a loved one is in the hospital because of dengue. I always think back to the time when I lost a friend at such a young age. I'm thankful that so far, none of us here at home have been affected by dengue.
I'm a mom to two children now and the way I see it, the best way to deal with dengue is to prevent it. Some may consider me an overacting or paranoid mom but I take dengue prevention very seriously.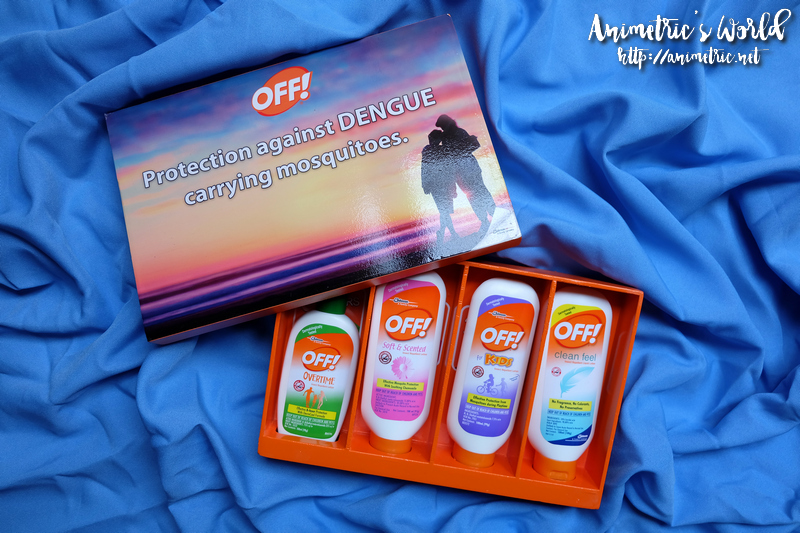 Whenever we go out, I make sure my kids are covered up. I never let them leave the house without protection against mosquitoes. My preferred product for this? OFF Insect Repellent Lotion. Although I can pretty much control the environment at home, I can't keep tabs on them when they're in school or outside the house. Thus I always make sure they apply OFF Insect Repellent Lotion before going out.
Our variant of choice is OFF for Kids. It provides 3 hours of protection against mosquitoes. It comes in a light tropical fragrance which is agreeable to kids. It's affordable at ₱135 per 100ml bottle too. OFF Insect Repellent Lotion has been effective in keeping dengue away from my children. I'm happy to say that to date, neither one of them have ever contracted dengue.
I like how OFF Insect Repellent Lotion is non-sticky and non-greasy so it's not uncomfortable for my kids. The scent is light and fairly pleasant too, so it doesn't bother them. We've tried many other brands of topical insect repellent. I've had a slew of complaints from the kids ranging from it's so oily to it smells bad to it's not effective because I still have bites. With OFF! Insect Repellent Lotion, I can say we have none of those problems.
Off! for Kids is available at leading supermarkets, drugstores, and sari-sari stores nationwide. It's available in three sizes:
Sachet (6ml) – ₱7
Bottle (50ml) – ₱76
Bottle (100ml) – ₱135
Personally I always go for the 100ml bottle of OFF for Kids as I find that it's the most convenient size. My kids use it daily so if I get the biggest size, it lasts longer and I don't have to keep buying. It's handy enough for them to bring to school in case they need to reapply too. Since it's formulated for kids, I'm assured that it's safe for my children to use.
The rainy season is notorious for bringing about a swarm of mosquitoes with puddles as their breeding grounds. Keep them away from your little ones with OFF for Kids. You can purchase Off products at the SC Johnson Flagship Store on Lazada. If you don't like lotion, also check out Fumakilla Skin Vape, an excellent Japanese insect repellent spray we've been using more of.
Like this post? Subscribe to this blog by clicking HERE.
Let's stay connected: