When my daughter started hybrid F2F classes last year, she would always come home with a lot of mosquito bites. That time, dengue was in season so I couldn't take any chances. She did not like using Off Lotion in school because although Off is effective for us, lotion in general leaves your skin feeling quite warm and a bit sticky. Not all her classes are air-conditioned in college, unlike when she was in elementary and high school when she used Off. My sister recommended that we try Fumakilla Skin Vape from Japan. Fumakilla is a Japanese brand which specializes in insect-related products. They pretty much make everything from ant bait to cockroach killers to insect repelling products.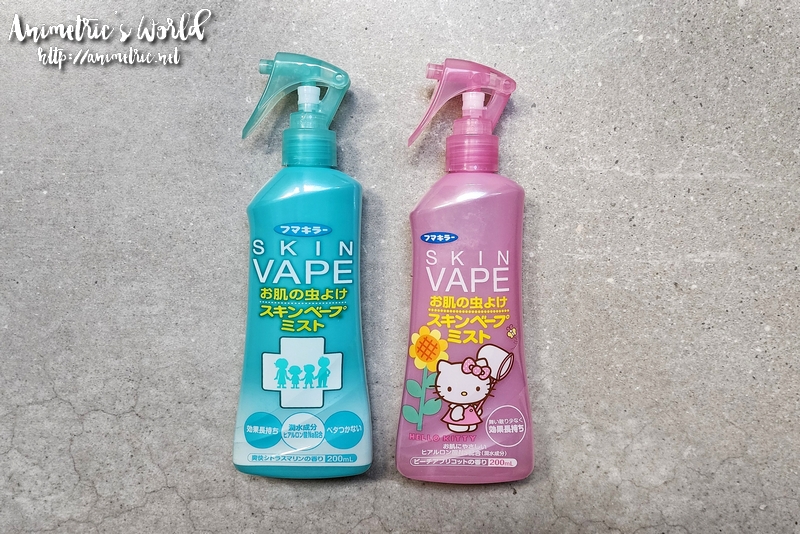 I was able to source Fumakilla Skin Vape easily from Shopee and Lazada. They cost ₱300+ per 200ml bottle — the + would depend when and where you buy. There are 2 scents available — Marine Citrus (blue) and Apricot Peach (pink). Both are very light and pleasant in terms of fragrance. The scent actually does not last so you shouldn't worry about it being like a cologne. Apricot Peach comes in Hello Kitty packaging so sellers tend to price this a bit higher than Marine Citrus.
I love the spray bottles Fumakilla Skin Vape comes in. There is a movable lock so if you plan to put it in your bag or carry it around, the sprayer won't get pushed accidentally.
Fumakilla Skin Vape is sprayed onto the exposed parts of the skin. It feels cool and refreshing. It also dries quickly so it's like you didn't put on anything. There is absolutely no sticky feeling. So far it's been very effective in keeping mosquitoes away. My daughter sprays it on at around 6:30am before she leaves for school and she doesn't have any bites when she arrives home at 4:30pm. No reapplication seems to be needed for this timeframe.
One bottle lasts approximately 6 months with 4 days a week usage. She usually sprays on her arms and legs, legs if she is wearing shorts or a skirt. If she wears pants then it's just the arms. It's safe even for children — it's recommended for babies 6 months and up in Japan.
This is by far the best and most effective mosquito repellent we've used. You can purchase Fumakilla Skin Vape from Shopee and/or Lazada. Be warned that there are China sellers who sell fake products at lower than ₱300 per bottle.
Like this post? Subscribe to this blog by clicking HERE.
Let's stay connected: