I'm from Quezon City but it's not all that often that we eat in the area. Thus when I was invited to Oedo Japanese Restaurant, I had no clue where it was.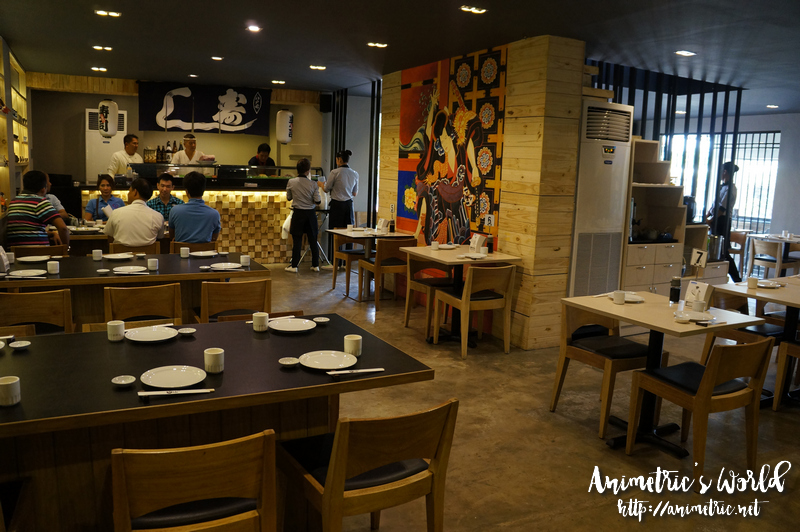 It's located along Sto. Domingo St. It's a pretty big place with cool air-conditioning (definitely a plus during these hot summer months).
We were served some cold mugicha (barley tea) while waiting for the other bloggers. Then the power went out. The restaurant went dark. There were tables outside in the al fresco area so we transferred there. Lucky for us there were a lot of trees outside so we were shaded and there was a breeze. I should mention that they have a Japanese chef onboard at Oedo Japanese Restaurant.
Special Okonomiyaki (P280)
We started off with an order of Special Okonomiyaki. Okonomiyaki is also known as Japanese Savory Pancake which is usually made of shredded cabbage, octopus pieces, meat, and other ingredients. I liked the fact that this particular Okonomiyaki was topped very generously with tasty bonito (a kind of fish) flakes.
Gyoza (P150)
Then we were served some Gyoza. Crisp outside and meaty inside, it was pretty nice.
Gyudon (P280)
Their Gyudon offers great value for money since it's a complete meal in itself and it's really good. The beef pieces are lean and tender plus there are a lot of juicy shitake mushroom pieces. It's a pretty hefty serving that's bound to satisfy the hungriest of tummies too.
Beef Teppanyaki (P345)
Wow, I was surprised how good the Beef Teppanyaki was. Taste is on the garlicky side. They use really good quality beef here served with buttered vegetables and 3 kinds of sauces on the side. I find the price reasonable too. This + Japanese rice = happy me.
Maguro Tataki Salad (P380)
This is a nice refreshing salad comprised mainly of seared tuna (maguro) and shredded radish in what tasted like ponzu sauce.
Omurice (P180)
Here's another complete meal in itself — Omurice, in other words, omelet wrapped around fried rice and topped with ketchup. Omurice is actually often served as a kid's meal in Japan.
Dragon Maki (P495)
Ingredient overload for this sushi — salmon, avocado, ebi (shrimp) tempura, kani (crabstick), and flying fish roe topped with Japanese mayo. Definitely sushi for sharing.
Ebi Tempura (P450 for 5 pcs)
No Japanese restaurant is of course complete without the ever popular Ebi Tempura. Oedo's uses really big and meaty prawns perfectly battered and fried to a crisp.
Takoyaki (P100 for 6 pcs)
Wow, I was surprised that an order of Takoyaki cost only P100 at Oedo! If you're eating here, I suggest choosing between Okonomiyaki or Takoyaki instead of ordering both because the flavor profiles are very very similar.
Oedo Maki (P300)
We had another super loaded sushi in the form of Oedo Maki. Those sharp conical peaks are actually a pile of tempura breading. The sushi itself is filled with kani (crabstick), cucumber, cream cheese, and unagi (eel). Not a fan of eel so I removed it from my piece, lol.
So Saba Yaki (P380)
Ahh, here's something I always see being eaten in anime — mackerel! This one was torched in front of us.
It was interesting to watch the mackerel gradually turning brown. It was my first time to eat mackerel and I rather enjoyed this one's mild smoked flavor and soft tender meat. Loved that there was a bit of Japanese Potato Salad served on the side.
Here with my lunch pals at Oedo's temple-like entrance: Hungry Kat, Pinas Muna, and Pepe Samson.
Overall I was pretty satisfied with the food at Oedo Japanese Restaurant. The dishes strike a good balance between taste, presentation, and price point. They look good, taste good, and are reasonably priced. In fact, you can have a complete meal by just ordering the Gyudon. Personally my favorites among those I've tried are the Gyudon, Beef Teppanyaki, Maguro Tataki Salad, and So Saba Yaki.
Oedo Japanese Restaurant
105 Sto. Domingo St. cor. Sgt. Alcaraz St.,
Quezon City
518-0058 / 255-5993
Like this post? Subscribe to this blog by clicking HERE.
Let's stay connected: