We visited Chibo Okonomiyaki at The Podium last Friday. We've always wanted to try this restaurant out but their S Maison branch is quite far from us. I'm just happy they opened at The Podium! It's now a lot closer to home so we can go anytime. I think the last time I had okonomiyaki was years ago.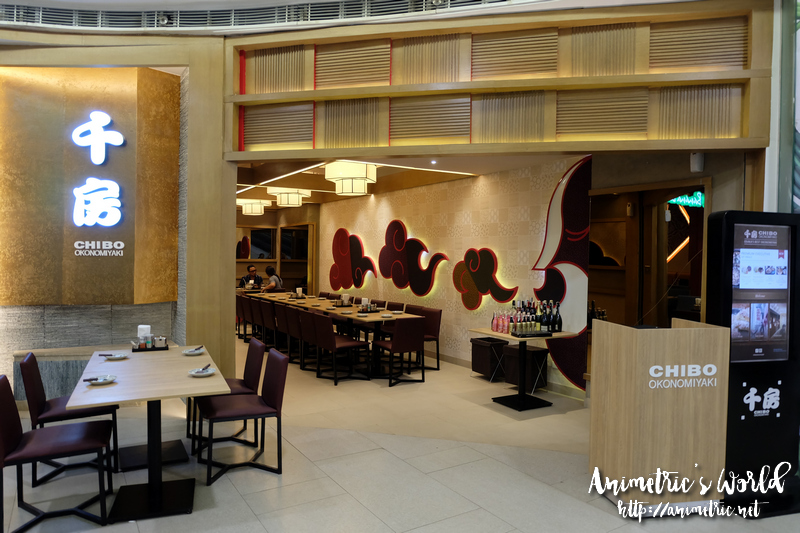 Okonomiyaki was something I fantasized about as a teen. I watched a lot of anime and the characters were always eating stuff like takoyaki and okonomiyaki. Back then (80's and 90's), we didn't really have Japanese restaurants which offered these dishes. I'm just happy I can have takoyaki and okonomiyaki anytime now. Chibo Okonomiyaki is located on the 5th level of The Podium.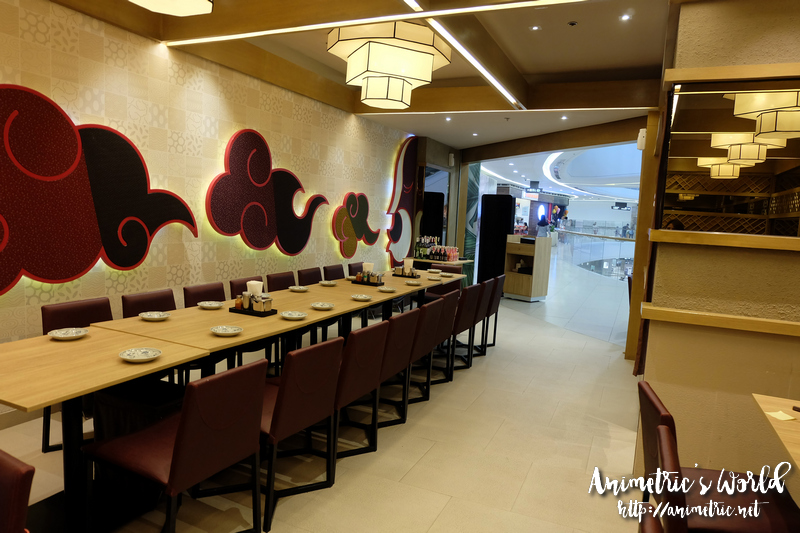 I like the simple, classy, and cozy interiors.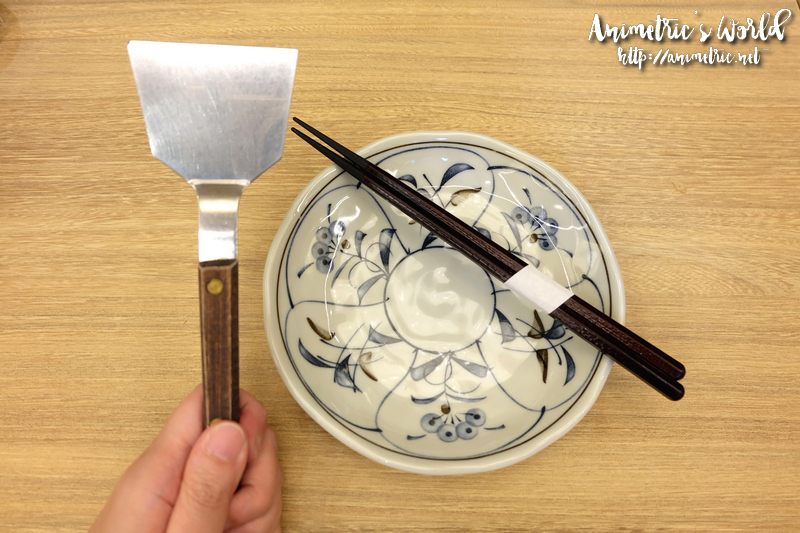 Each diner gets an okonomiyaki spatula, a plate, and a pair of chopsticks by default.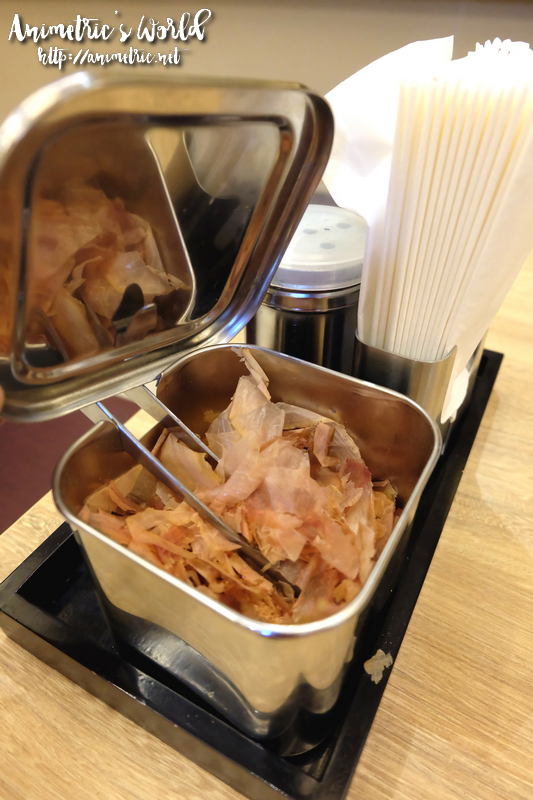 There are also condiments on each table — bonito flakes and seaweed flakes… in case you want extra.
We went straight to The Podium after picking up my daughter from school so the kids were hungry. We had Gyoza Teppan (P168 for 5 pcs) to start us off. It's a different kind of gyoza experience because instead of the usual dumpling-shaped pieces, these are flat and crisp. Minced meat and veggies are rolled flat and then placed in the middle of paper-thin wonton wrappers. It's surprisingly good. We ended up ordering 2 servings.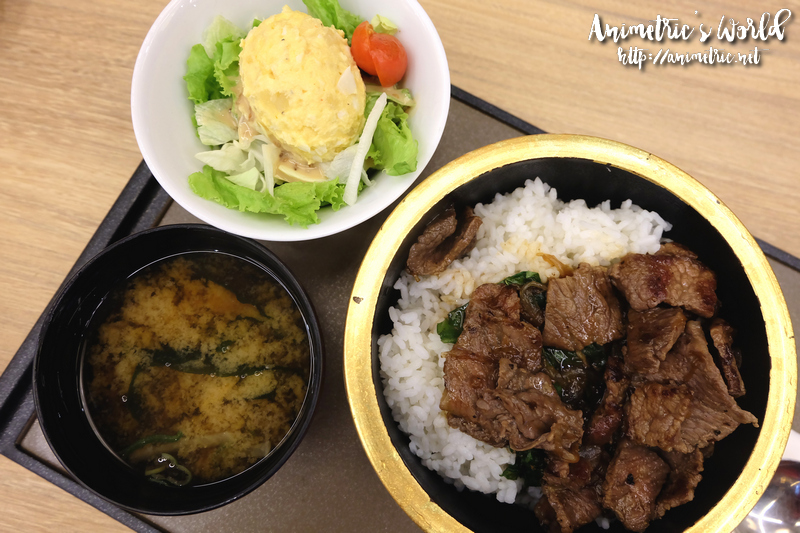 Since it was an early dinner, we all decided to try their Premium Executive Set Meals. Each set is served with your choice of rice topping, miso soup, potato salad, and a glass of house blend iced tea. If I'm not mistaken, there are 6 different sets to choose from. I ordered the US Angus Steak Ju (788).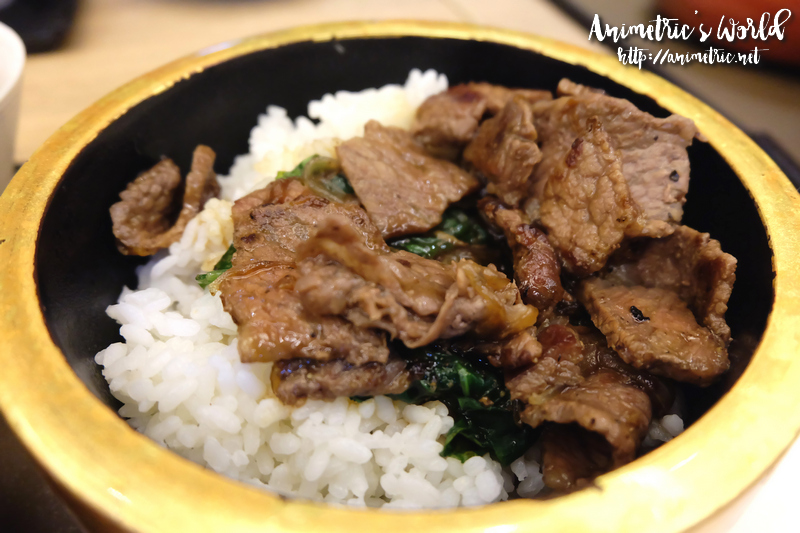 US Prime Angus Steak slices with spinach and onions are cooked in garlic ginger wine sauce and served atop steamed rice. The steak is really tender and flavorful. Really delicious!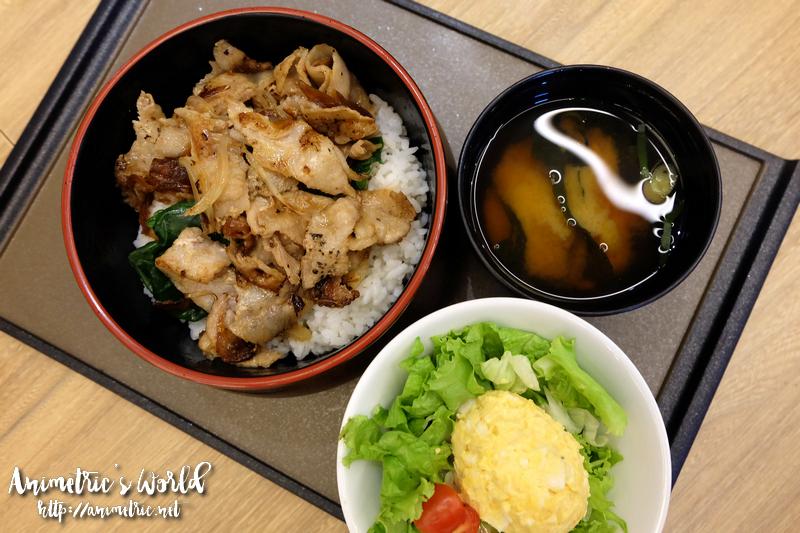 My son chose the Pork Ju (P488). It's the least expensive set.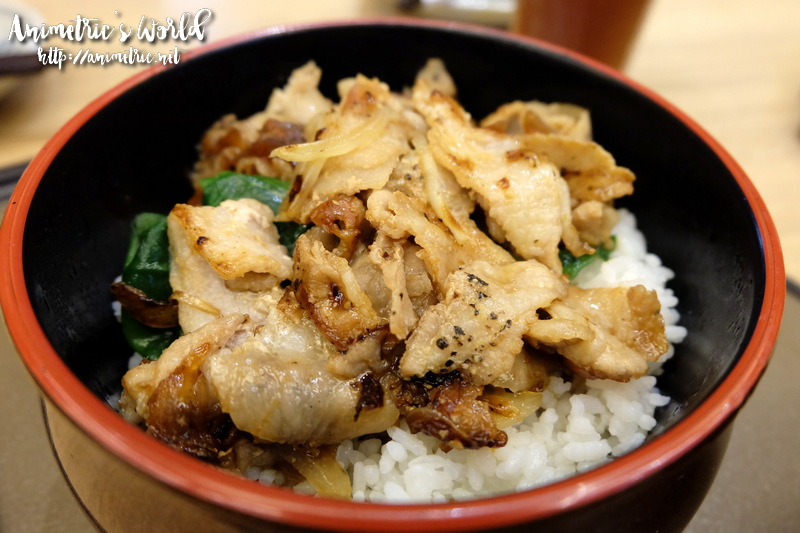 Pork belly slices with spinach and onions are cooked in shoyu wine sauce. My son liked it a lot. He said it was the best set after trying a bit of mine and my daughter's. I had a taste and it reminded me a lot of samgyupsal. I should figure out how to cook pork belly like this, lol.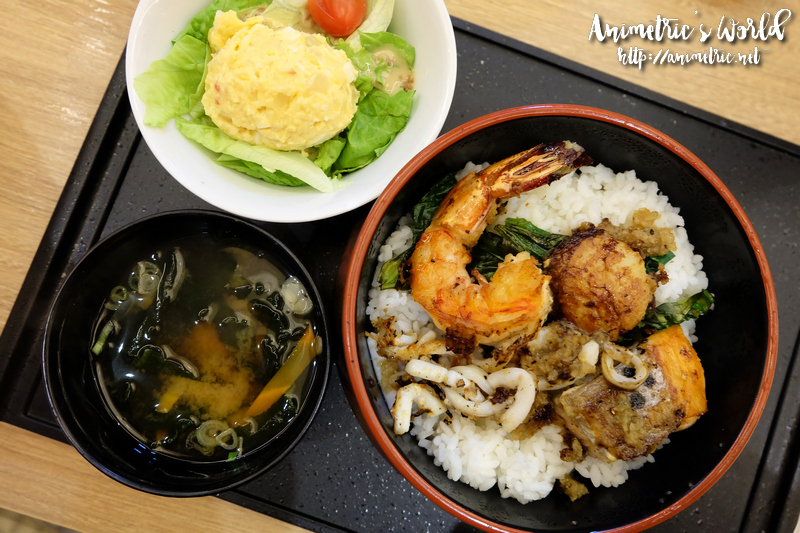 My daughter had the Mixed Seafood Ju (P688).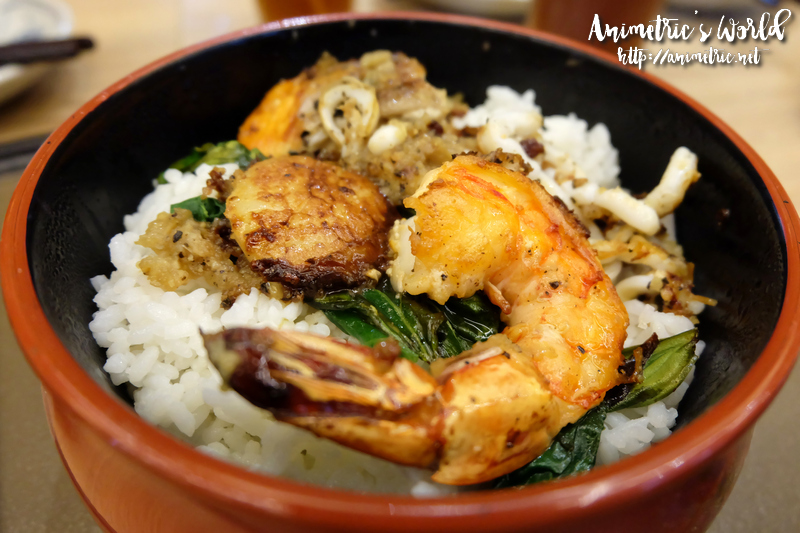 Norwegian salmon, US scallops, squid, tiger prawn, and spinach are cooked in salt garlic sauce. The seafood have this really pronounced grilled flavor which my daughter enjoyed. The potato salad all the sets come with is super delicious too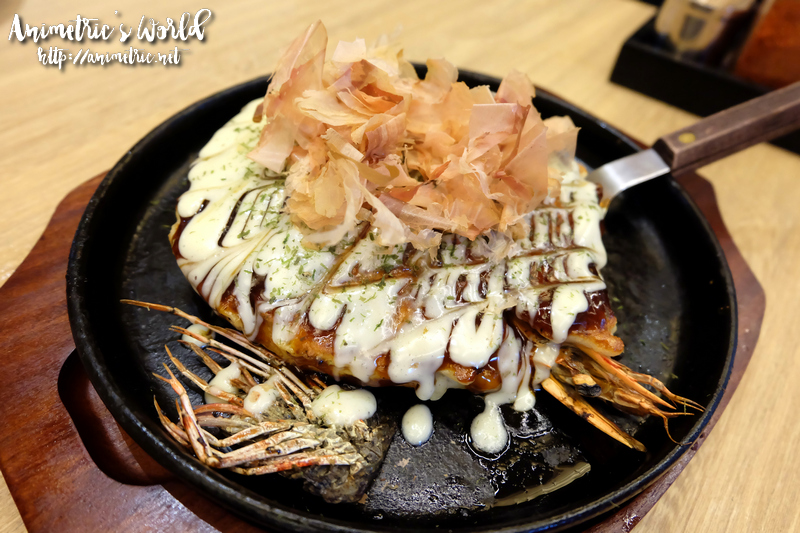 Of course we couldn't eat at Chibo Okonomiyaki and not try their okonomiyaki so we ordered their signature Chibo Okonomiyaki (P488). It's comprised of prawn, scallop, beef, and pork. It arrived at our table plain, then the server drizzled Japanese mayo and okonomiyaki sauce over it. She finished off with a sprinkling of seaweed flakes and a generous helping of bonito flakes. It's really good! We liked it a lot. I can say that so far it's the best okonomiyaki we've tried here in Manila. One order can serve 4 people.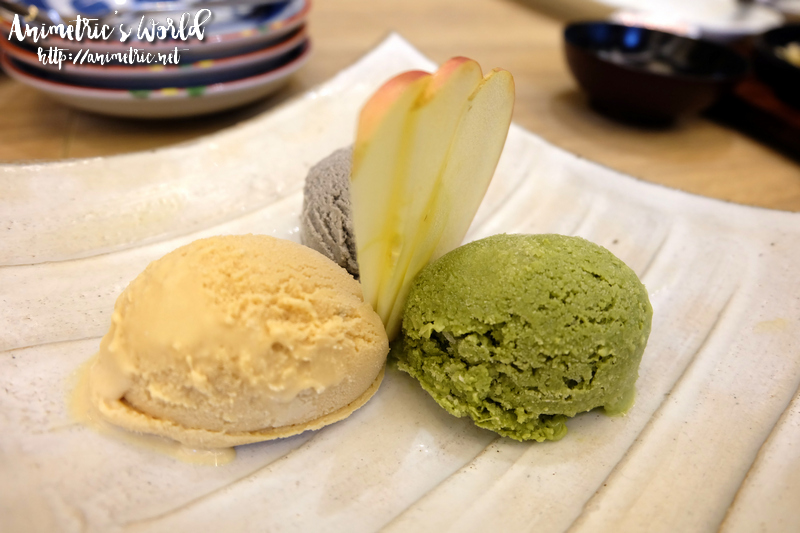 There are only 2 types of dessert in Chibo Okonomiyaki's menu and we tried both. This is 3 Flavors of Ice Cream (P200). Three scoops of ice cream are served with sliced fruits in season. This time, we got apple slices. Our ice cream flavors were: Matcha, Salted Caramel, and Black Sesame. WOW. I'm not an ice cream person but their ice cream is da bomb. Very thick, rich, and flavorful. It's a really great way to cap off your meal.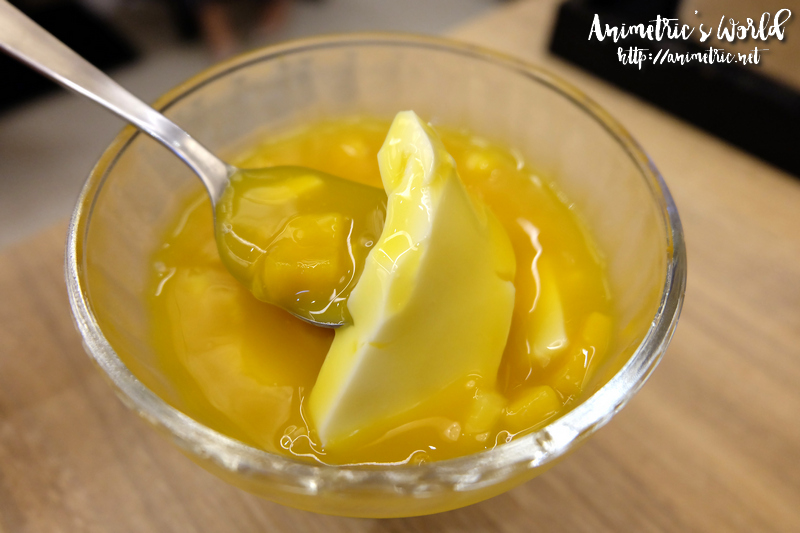 This is Blancmange with Mango Puree (P150). While the name is fancy, it's really just mango panna cotta. The milk custard is good, unfortunately the mango puree is way too tart. Plus there is too little custard. I would just go with the ice cream — the kids shared an order and had a scoop each and were perfectly happy.
All in all we had a really nice and filling meal at Chibo Okonomiyaki. There are still a lot of other menu items to try — there are diffetent kinds of yakisoba, teppanyaki, rice meal sets, and omelettes. We'll definitely be back for more… probably the next time our helper takes the day off lol. Okonomiyaki prices start at P288 while the cheapest yakisoba order costs only P238 so it's pretty affordable.
Chibo Okonomiyaki
Level 5, The Podium
ADB Ave., Ortigas Center, Pasig City
721-0333
Like this post? Subscribe to this blog by clicking HERE.
Let's stay connected: