Summer is definitely the time for slimming. Most of us are hitting the beach, going swimming, and well it's just too hot to stay all covered up. Aside from swimwear we'll probably be wearing more sleeveless tops and shorts too. That said I'd like to share my newest discovery — MySlim Yerba Mate Drink (P89 per bottle) and MySlim Dietary Supplement (P540 per bottle of 30 capsules).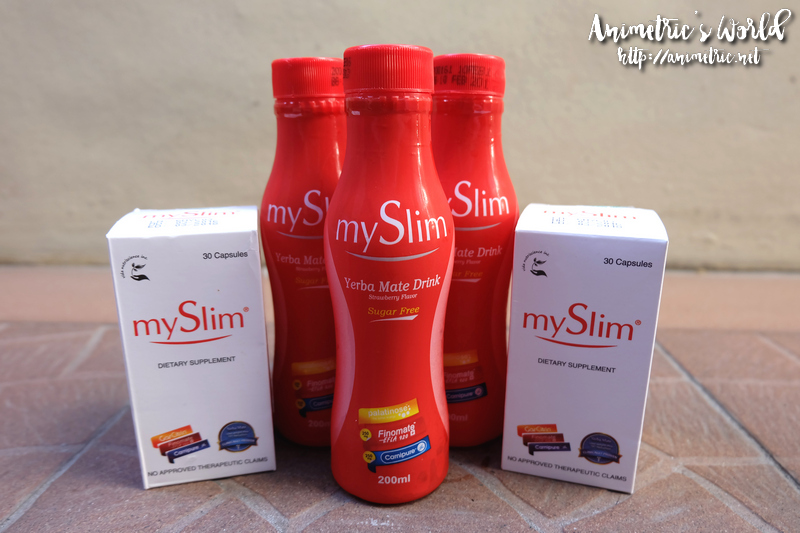 As usual, I'm excited about anything that has to do with losing weight. I love eating too much and so I'm forever stuck at this weight which isn't ideal. Why does food have to be so yummy? Lol.
I tried the MySlim Yerba Mate Drink (P89) first. Yerba Mate or Green Mate Leaf Extract increases energy and facilitates weight loss. This drink is strawberry flavored and sugar-free, which is good news for me. I come from a family of diabetics so I can't take too much sugar. In fact I've learned how to live with 2-in-1 coffee — coffee and creamer only, no sugar.
The way I take it is with lots of ice. I empty the 200ml bottle of MySlim Yerba Mate Drink into a big coffee mug with a truckload of ice. It's just too hot this summer. I wasn't expecting it to taste so good! It was so fruity, refreshing, and not overly sweet. It tasted like fruit punch. I downed the entire mug in no time. After a couple of hours I felt the urge to go to the bathroom. They're not exaggerating when they say this is a detox drink. It really purges your system of everything that probably shouldn't be there. I think I went 5x that day — but I didn't feel sick or anything. I just wanted to go to the bathroom lol. You can drink this every other day, 3x a week tops. Just make sure you're not going out to avoid inconveniences. There is a powdered version of this drink that comes in single serve sachets sold for P69 each, P20 cheaper compared to the ready-to-drink version I tried.
Next I tried the MySlim Dietary Supplement (P540 for 30 capsules). I was surprised at the price, it's definitely a lot more affordable compared to other slimming capsules.
You're supposed to take one (1) capsule after a heavy meal, you can take this 2x a day so it's suggested that you take it after breakfast and after dinner. Each capsule has Metaburn which accelerates your metabolism so you burn more calories and convert them into energy in a shorter span of time. MySlim Dietary Supplement capsules also act as an appetite suppressant so you get less cravings. I tried them and I'm happy to say I didn't experience any scary palpitations (hubby and I tried taking fat burner capsules before and felt so light-headed — this isn't anything like that!).
MySlim Yerba Mate Drink and MySlim Dietary Supplement Capsules are available at Mercury Drugstore, Watsons, Southstar Drugstore, 7 Eleven, Robinsons Supermarket, Rose Pharmacy, and St. Joseph Drugstore. Or you can order online at http://vidanutriscience.com/.
For more information, check out MySlim on Facebook.
Like this post? Subscribe to this blog by clicking HERE.
Let's stay connected: