One of my favorite desserts is Coffee Jelly. I've tried a lot from different restaurants… but I've always wanted to make my own. I did my some research online and found that everyone uses instant coffee powder to make it. I had initially planned on using Key Coffee Drip On for this but I need to experiment a bit first. It will probably involve dissolving the gelatin in hot coffee instead of hot water.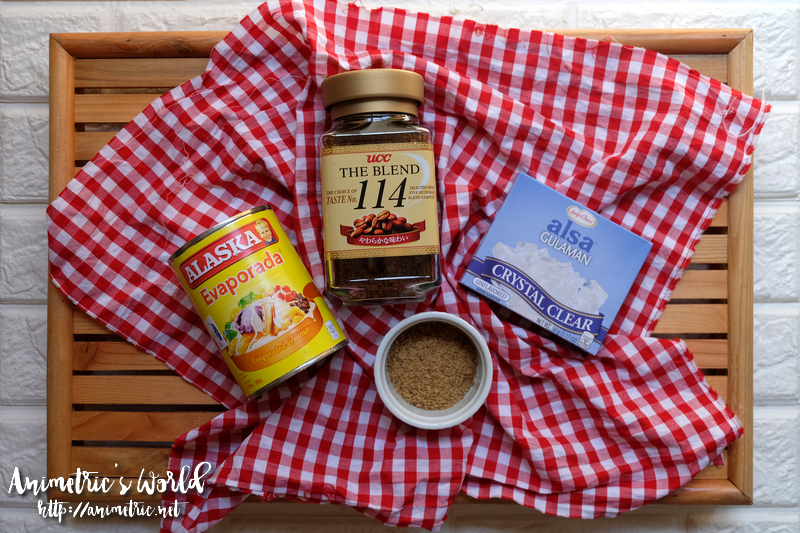 Anyhow, you only need 4 ingredients for my easy coffee jelly recipe. The secret is in the ratio of coffee, water, and gelatin. You need to "make" the coffee perfectly with the right proportions in order to get the best taste.
Ingredients:
2 tsps. UCC The Blend 114 Instant Coffee
1 package Lady's Choice Alsa Gulaman Crystal Clear Unflavored
2 tsps. or 1 tbsp. Muscovado Sugar
Alaska Evaporada for drizzling (best if chilled)
1. Follow the Alsa Gulaman package instructions. That would mean dissolving the gelatin powder in 1 and 3/4 cups of water. What I do is dump the powder in a saucepan and then add water while trying to boil it. I keep stirring until the powder completely dissolves.
2. Add 2 tsps of coffee powder and either 2 tsps or 1 tbsp of muscovado sugar (depending on your preferred sweetness) to the liquid gelatin. Stir until the coffee powder and sugar completely dissolve.
3. Transfer the liquid coffee gelatin to a square container and wait for it to cool before putting in the refrigerator. It should chill and completely firm up in 2-3 hours. I keep it for longer because I like it really cold.
4. Cut up the coffee jelly into cubes and put in your desired serving dish. I prefer using ramekins for this. Drizzle with Alaska Evaporada then serve.
You can make an Iced Coffee Jelly Drink by putting the coffee jelly cubes in a glass with shaved ice and then adding milk (fresh, evaporated, or Alaska Evaporada will all work… it depends on your preference). I like using Alaska Evaporada because it's mildly sweet and creamy. It goes really well with the coffee jelly compared to fresh milk which has no taste or evaporated milk which is on the salty side.
I got the UCC The Blend 114 coffee powder from Landers. It's perfect for this recipe… the taste is elegant, smooth, and robust. Other brands will work but this yields the best taste for me. Muscovado sugar works best because it enhances the coffee's richness. I've been making this a lot at home and everyone loves it. 😀
Like this post? Subscribe to this blog by clicking HERE.
Let's stay connected: