When I first put up my blog in 2009 (I was informally blogging on the now-defunct Multiply in 2008 but transferred to Blogger in 2009), it was because I liked writing. I was already contributing to magazines but it was something along the lines of one article a month or less, lol. I wanted to write more. I was and still am stuck in a business which has absolutely nothing to do with what I took up in college (AB Communication at Ateneo de Manila University).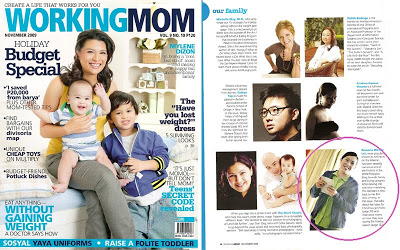 Contributing to ABS-CBN's WorkingMom Magazine was my first regular writing stint of sorts and although I have written for many other mags thereafter I think this publication is still one of the best I have worked with. It got to a point where I was always stressed trying to meet deadlines for several publications so after about three years of being hyper in the magazine biz I semi-retired. I rarely accept magazine assignments these days because I get so stressed by deadlines and interviewees. I mean, if it were a research piece that was all up to me it wouldn't be a problem. But it's such a nightmare writing articles that are dependent on several interviewees. I decided it's not worth the stress and the premature aging (these gigs don't really pay a lot) so nowadays my magazine articles are very few and far between. The last I wrote was for WorkingMom's July 2013 issue and if I'm not mistaken that's only my 2nd or 3rd magazine article for the year.
Writing and blogging are my creative outlets. My daily routine consists mostly of managing our inventory and collectibles, keeping tabs on production reports, and other tasks which require a lot of math… and math is something I'm horrible at which is why I took up Communication in college! Blogging gives me a voice. Nevermind if I'm just talking to myself. I find it therapeutic.
The Pinoy Blogosphere now and the Pinoy Blogosphere then are so so different and I've been formally blogging for only 3.5 years. There's way too much rumor-mongering, envy, and other petty problems these days. It was so much more peaceful back in the day. Why can't we all just get along and mind our own business? In most events, I feel it's safer to keep to myself at the risk of being labelled a snob. Less talk, less mistakes. Besides, in the world of blogging, anything you say can and will be held against you even if it's just hearsay. Hence, I will be the first to admit that I don't socialize that much.
Anyway, I'm deviating from my original topic which is my personal blogging philosophy. Since I tackle several topics (food, beauty, travel, tech, etc.) I would like to share my own personal rules for what I do here.
On Food Blogging:
I don't refer to my post as a review unless the meal I had was taken as a walk-in customer. During a food event, the whole establishment is on its best behavior plus more. The real experience and real review material is when you go on your own and eat minus the PR, the owner, the marketing, etc. hovering about and making sure everything is perfect. There was a time I gave a certain establishment a not-so-good review here on my blog. The chef/owner wanted to invite me back so he could personally oversee my next meal there. I declined. I mean what good is that? Would he be there every single day to do that for all his customers?
Yes, I do attend food events. For example, IHOP opened in the Philippines early this year. I attended the media preview and showed my readers what they are offering so they know what to expect. But that was NOT a review. It was a feature post announcing that IHOP had already opened in the Philippines. Plus I always say at the beginning of the post if I was invited or if it's a food event so readers would know that it was a complimentary meal.
Rest assured that even if the meal is free, I would never say that something is good or delicious if I did not think it was.
When I receive food samples, I share my honest opinion. Again, at the risk of sounding like a broken record, I would never say something is good if I did not think it was and I refuse offers from brands I do not trust.
On Beauty Blogging / Product Reviews:
I receive a lot of products for review but I buy a lot of products on my own too. I always say if it was sent to me or if I
bought it.
It's always a big risk when I review something that has to be used on my face. If I break out or something, I would have to
get myself treated and that entails costs (meds, dermatologist, etc.). Hence, even if the product is free, I would never say it's good if I thought otherwise. Please know that my priority is giving an honest review, not making the brand happy. If I can hit two birds with one stone, great. If not, sorry, but I have to tell it like it is. Sometimes though if something is so bad it could be
damaging, I would take up my concerns privately with the brand and not post anything at all.
On Tech Blogging:
I'm a techie person but not really a tech blogger. Most of the gadgets I review are stuff I actually use and relate to, lol. I can't tackle the really hardcore stuff that blogs like Yugatech do.
Most of my tech blogging these days is confined to Samsung because it's the brand that I use the most. My laptop and last 3 cellphones, even hubby's cellphone, are all Samsung.
On Travel Blogging:
Just like in food and beauty blogging, I always say if I was invited or sponsored to go somewhere. So far though, with the exception of Hong Kong Disneyland and the American Idol 2013 Finals, all of my travels have been paid for by our own hard-earned money.
I would like to thank everyone who have continuously been supporting my blog. I honestly never expected to have readers when I started. I was just posting away without a care in the world, lol. People turn to blogs for supposedly unbridled thoughts and opinions. This is what sets us apart from other forms of media. Personal credibility takes a very long time to build and sadly it takes very little to destroy it so it's something that I would never compromise.
Cheers and enjoy the rest of the day!

Like this post? Subscribe to this blog by clicking HERE.
Let's stay connected: