Here's one food chain to be excited about this 2020 — MOS Burger from Japan! It's finally here in the Philippines. They're opening the first branch in Robinsons Galleria next month. But to give us all an idea of what's in store, there's currently a MOS Burger Pop Up Store in Robinsons Galleria NOW. It's going to be there for 2 days (Jan 15-16, 2020) only so better check it out ASAP.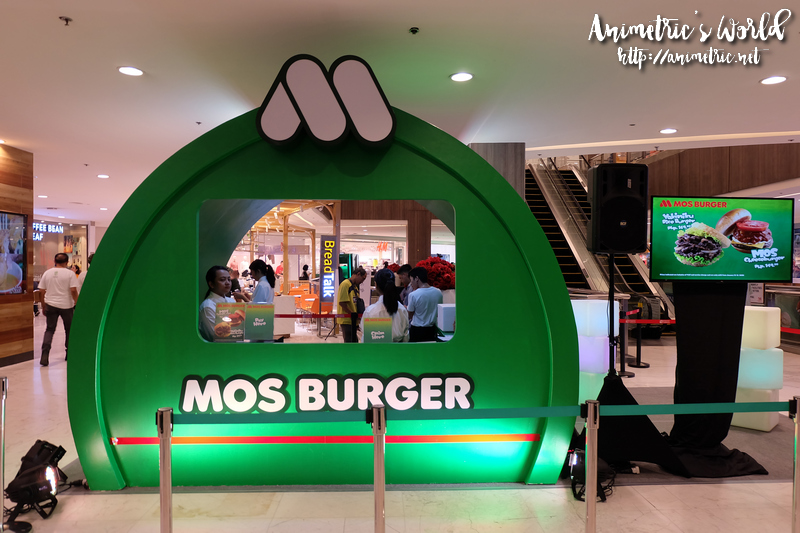 The MOS Burger Pop Up Store is located near the ADB Avenue entrance. It opens at 12nn and there are only 300 burgers for sale each day. You can line up as early as 10am to ensure that you get a taste. They will be selling the 2 most popular items on the menu: MOS Cheeseburger (P149) and Yakiniku Rice Burger (P169).
The Yakiniku Rice Burger puts thinly sliced flavorful beef strips and onions in between some lettuce and 2 rice patties.
MOS Cheeseburger puts a premium beef patty, onions, cheese, and tomato-based MOS special sauce in between two fluffy buns.
I got one of each and I ate them both wahahaa! I was so hungry come 12nn and the burgers were both calling out to me. So which one did I like better? Hmmm, it's so hard to decide but I think I quite enjoyed the Yakiniku Rice Burger more. The rice patties are INCREDIBLE. They use Japanese rice so they're really glutinous and chewy. The beef, onions, and lettuce went so well with them rice patties… yum!
MOS Burger's first location will be where Costa Coffee used to be, by the ADB Avenue mall entrance. They will also be opening stores in SM Megamall, Robinsons Magnolia (YES!), O Square Greenhills, and Robinsons Place Manila.
Apart from the burgers, the Japanese principals pointed out that another must-try is their coffee. MOS Burger will be bringing in a special blend of coffee exclusively for their stores. Just a side note, MOS Burgers are cheaper here in the Philippines compared to Japan. MOS Cheeseburger and Yakiniku Rice Burger retail for around P200 each over there.
I'm already looking forward to trying everything on their menu this February! 😀
Like this post? Subscribe to this blog by clicking HERE.
Let's stay connected: