Costa Coffee, UK's #1 coffee chain has finally made it to the Philippines! My friends who've been to London tell me that there's a Costa Coffee in almost every corner in the same way that there's a Starbucks everywhere you look when you're in the US.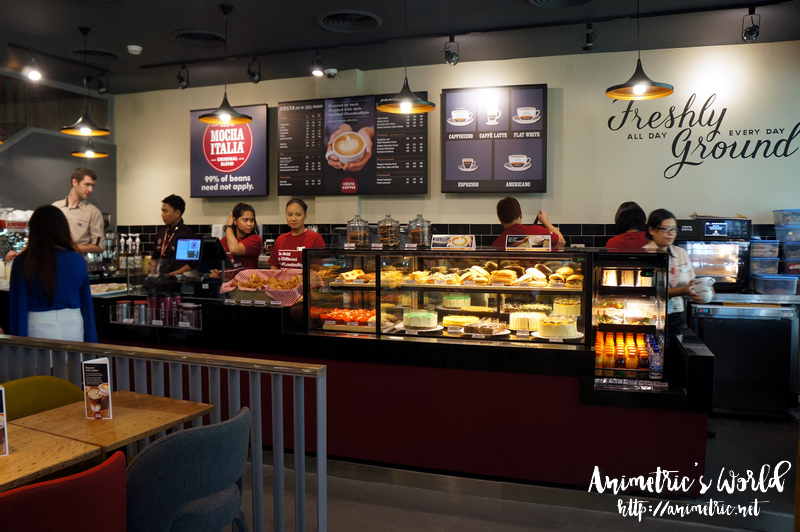 Costa Coffee's first Philippine store is located in Eastwood City! Lucky for me it's not far from where I live and work. I do hope they open a branch in Robinsons Magnolia too!
Of course I was curious as to what I could eat and drink at Costa Coffee! For starters there are these big and yummy-looking cookies… there are three flavors: Salted Caramel Chip (P70), Chocolate Oatmeal Raisin Cookie (P70), and Belgian Chocolate Chip Cookie (P70).
There are sandwiches and cakes too.
Mango Sago Mousse Cake and British Carrot Cake (both P150 per slice)
We have localized cakes that are not available in the UK, such as this Mango Sago Mousse Cake. The Costa Coffee folks said they wanted to use local ingredients in creating unique food items that would go well with coffee.
Matcha Green Tea Tiramisu, Original London Cheesecake, and Mocha Italia Chocolate Cake (all P150 per slice)

Blueberry Muffin (P95), Banana Caramel Muffin (P85), Chocolate Ensaymada (P85)
Strawberry Shortcake (P85), Chocolate Tiffin (P85), Calamansicle (P85)
I spied yet another local specialty, the Calamansicle. From the looks of it I'm betting it's kinda like a lemon square but made with calamansi.
Croissants — Butter Croissant, Chocolate Twist (P95), and Raspberry Twist (P95)
These croissants are freshly baked! I tried the Butter Croissant and it was heavenly! So rich and buttery, it's really a must-try. Don't forget to have it warmed.
Caesar Salad (P165) and Asian Noodle Salad (P175)
Costa Coffee offers salads too. At the moment there are 2 kinds — Caesar Salad and Asian Noodle Salad.
For the next 5 days, UK Store Manager Mark Schofield will be manning Costa Coffee's Eastwood City store, training the Filipino staff, and of course… making coffee!
Costa Coffee Flat White Coffee (P150)
I ordered Costa Coffee UK's bestseller, Costa Coffee Flat White. WOW. I'm speechless. It's soooooo good. It's made with just espresso and milk but it's smooth, rich, and velvety. Plus it's served at the perfect temperature so you don't burn your tongue! You don't need to add anything, it's perfect as is.
I finished the entire cup! It's pretty strong and boy was I ever awake after my drink. I slept very late the night before so I needed the extra jolt.
Salted Caramel Chip Cookie (P70)
This is how big the cookie is. I love how chewy it is and how it's loaded with salted caramel chips and pecans. Love love love.
Melted Swiss Cheese with Mushroom in Flatbread (P170)
This is hands down my favorite sandwich — Melted Cheese with Mushroom in Flatbread, and I tried around 3 different ones. I can't get over the super gooey tasty cheese and the tender mushrooms. Marj and I shared this but next time I'm having one all to myself lol.
When you visit Costa Coffee in Eastwood City, you simply must go up the second floor. It's really cozy and I dig the UK-themed interiors.
The wooden tables and chairs are super nice!
Original London Cheesecake (P150 per slice)
I tried a few cakes and this one is my absolute favorite, the Original London Cheesecake. It's cheesy and creamy, not overly sweet plus it has a hint of yogurt! It's divine. I'm still craving until now.
Belgian Chocolate Cream Frostino (P160 for the smallest size)
I couldn't not try a cold beverage and so I ordered a Belgian Chocolate Cream Frostino. Since I was already kind of jumpy from the Flat White I opted for a non-coffee Frostino. This one is an ice blended cream drink. Costa Coffee's Frostino is surprisingly smooth and velvety. There are no rough bits of ice when you sip. It glides down your throat ever-so-nicely.
Do drop by Costa Coffee to experience coffee London style!
Costa Coffee
Eastwood Citywalk 1,
E. Rodriguez Jr. Ave., Libis, Quezon City
https://www.facebook.com/CostaCoffeePH
Like this post? Subscribe to this blog by clicking HERE.
Let's stay connected: