Hubby, the kids, and I had lunch at Mitsuyado Ramen Shokudo last Sunday. It's located at Japan Town which is on Top of the Glo in Glorietta. Some weeks ago I tried Hakata Ton-ichi, the new ramen place that serves P180 ramen bowls. Well, Mitsuyado Ramen Shokudo also serves P180 ramen bowls… and it's right across Hakata Ton-ichi! But they're not really the same, as you'll see in a bit.
No, this isn't Mitsuyado Sei-Men The House of Tsukemen, although it's owned by the same group. There's no tsukemen on the menu.
There are step-by-step ordering instructions.
First, choose your basic ramen. You can go for the P180 bowl which comes in 4 flavors (White Original, Black Garlic, Red Spicy, Green Matcha) and one slice of char siu pork, or you can order the P280 bowl which has 8 slices of char siu pork. Not a ramen person? You can opt for a donburi (rice bowl) instead. Rice bowl prices start at P200.
After ordering, you move on and pick up your ramen / donburi at the next station.
After getting your ramen / donburi, you can get additional toppings from the buffet-type spread. It's quite similar to Marugame Udon, except that this place serves ramen instead of udon.
It's mostly breaded and fried stuff.
You pay per piece, prices start at P50 a piece. There's Pork Cutlet (P130), Curry Croquette (P50), Ebi Tempura (P60), etc.
There are also non-fried toppings like Char Siu (P100), Ajitama (P40), Edamame (P50), and Onigirazu (P30), etc.
After picking your preferred sides, you pick your drink at the final station. You don't really need to buy bottled water since they have pitchers of perfectly legit house water and glasses for customers' use. We found out too late. After this step, the cashier sums up everything on your tray and then you pay.
There's a lot of seating in this restaurant. The decor is meant to give a streetside dining vibe. It's great for photo ops. 🙂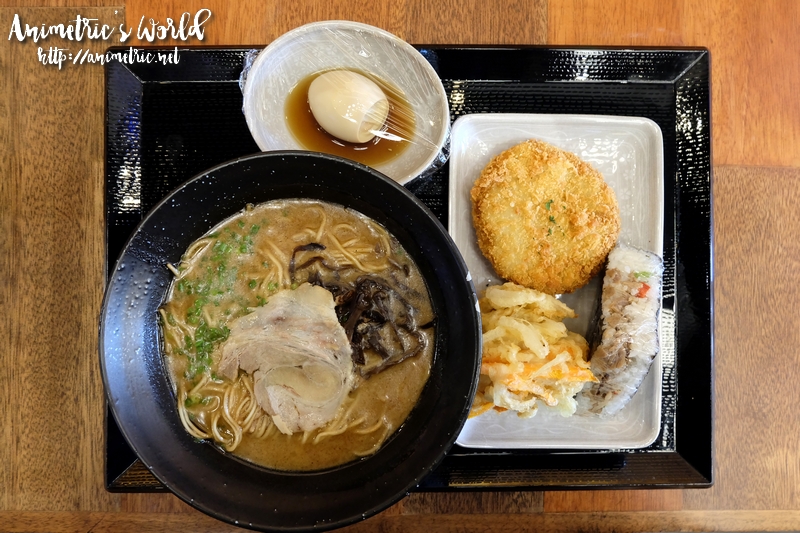 So… this was my lunch — Black Garlic Ramen (P180) + Curry Croquette (P50) + Ajitama (P40) + Vegetable Tempura (P50) + Pork Teriyaki Ginger Onigirazu (P30) = P350. Not bad, right?
The Black Garlic Ramen is the best of the 3 types we ordered. My daughter ordered Original White and it was kind of bland. Hubby ordered Matcha and it was also kind of bland. My son and I had this. No one wanted Red Spicy lol. We all agreed that Black Garlic is their yummiest ramen.
Here's a closer look at my "toppings". I liked the Onigirazu I got. Got kind of overwhelmed by the fried toppings though, next time I think I'll get just one.
I also liked the Ajitama. This usually costs P50 at other places… it's P40 here.
This is hubby's Char Siu Matcha Ramen (P280). There isn't really any matcha taste. Black Garlic is really the way to go!
My daughter picked these Maki Rolls as her topping. I don't remember how much they cost though. I had one and it's good.
Mitsuyado Ramen Shokudo is great for a quick lunch. The place is nice and prices are pretty reasonable. Their ramen is okay (go for Black Garlic)… we haven't tried their donburi yet. Expect to shell out maybe P350 per person if you opt for toppings. There's good value for money. Please note that they don't have desserts on the menu.
Mitsuyado Ramen Shokudo
Roofdeck, Top of the Glo
Glorietta 1, Ayala Center, Makati City
Like this post? Subscribe to this blog by clicking HERE.
Let's stay connected: