How much does a piping hot bowl of authentic ramen usually cost? Anywhere between P300+ and P400+, right? That said, I was surprised to find out that there's a new ramen place in Makati (and SM North EDSA actually) serving up bowls and bowls of legit ramen for just P180 per serving. Welcome to Hakata Ton-ichi.
Hakata Ton-ichi is located at Japan Town on Top of the Glo in Glorietta. It's a very bright, modern, and sufficiently air-conditioned space that I immediately took a liking to.
So let's talk about the ramen. I loved the Hakata Ton-ichi Ramen, which is tonkotsu-based. I can't believe they're only selling this for P180 ala carte. It even comes with a ramen egg which is a paid add-on in other places! I found the ramen to be just right in terms of consistency — not too thick and heavy, not too light. Taste is just perfect. Noodles are just the right firmness. The pork is also very tender. I was able to finish this quite easily.
I opted for Potato Salad and whoa, I was surprised I got mashed potatoes (plus a bit of carrot) with ramen egg on the side! This is really really good.
My table mate got the Hakata Salad, which is mixed vegetables with pork chasyu bits and dressing.
The Hakata Fried Rice is a default when you get the Hakata King's Set. Egg, leeks, rice, and pork chasyu are seasoned and fried all together for a tasty dish.
I opted for Gyoza as my side dish because I'm not really fond of chicken. Very nice and plump, they certainly didn't skimp on these!
My table mate got the Karaage, which is Japanese fried chicken. The pieces are quite big too, just like the Gyoza. Everyone was all praises for this one.
This is the glass of Iced Tea which came with my Hakata King's Set.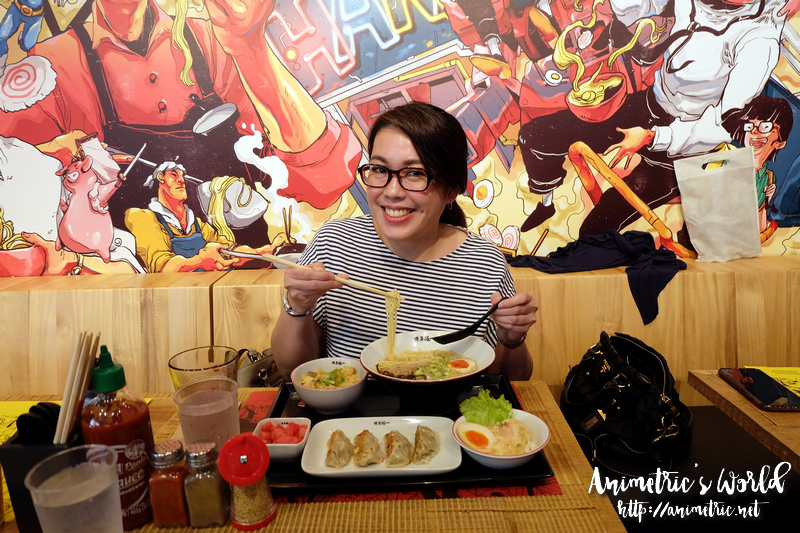 Aside from ramen, Hakata Ton-ichi also has a variety of Curry Rice dishes on the menu. I was actually able to try their curry and the spice level is not adjustable… it's a bit on the strong side so children be warned. Can't wait to go back with the family so I can try their Cheese Gyoza! Imagine, for P500 you can pretty much just have a bowl of ramen and a drink at other places… but at Hakata Ton-ichi, it's a super yummy full-blown meal complete with appetizer, side dish, rice, drink, and dessert!
At the moment, Hakata Ton-ichi has 2 branches: Glorietta and SM North EDSA. Do check out their Facebook Page for more information and updates.
Like this post? Subscribe to this blog by clicking HERE.
Let's stay connected: