I recently got acquainted with Mineral Fusion, an American makeup brand that Healthy Options carries. This mineral cosmetics brand's products are free from parabens, gluten, talc, artificial colors, synthetic fragrances, SLS, and phtalates. Everything is formulated with clean non-toxic ingredients, minerals, and botanical actives to give you the benefits of skincare while enhancing your beauty.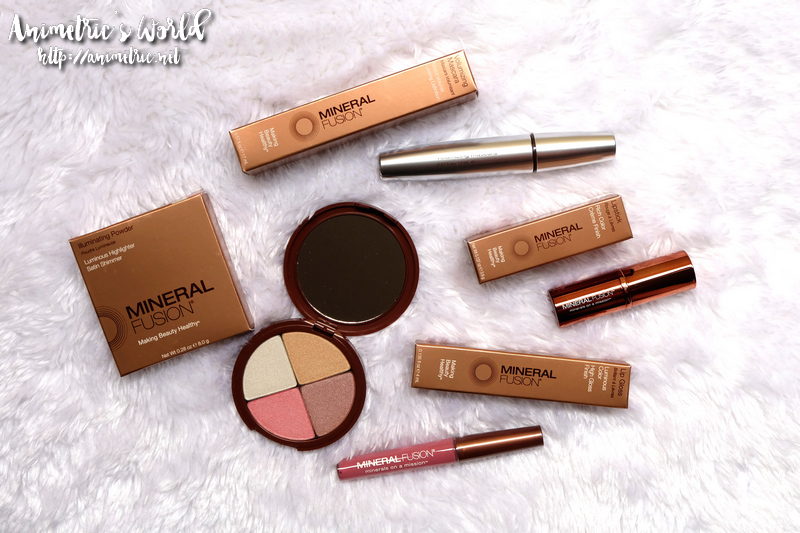 Anyhow, I got a few Mineral Fusion products to try. I haven't used mineral makeup in years so I'm expecting a lot of advancements from when I first tried them several years ago.
First, we have the Mineral Fusion Illuminating Powder (P1,325). I can never resist a good highlighter and this looks a bit more tame than the last one I bought, the Anastasia Beverly Hills Amrezy Highlighter.
The shades are reminiscent of those in a Becca highlighter palette I was checking out. I love how there are 4 very different shades. This sells for US$32.99 + sales tax in the US so the Philippine price is actually a bit lower at P1,375.
Here are swatches. These can be used alone or layered on top of blush or bronzer.
I applied the shimmery white shade on the apples of my cheeks, bridge of my nose, and forehead. The shimmer is more natural-looking and understated compared to my drag queen-level Anastasia Beverly Hills highlighters. Considering I took this photo indoors though, I'm pretty impressed!
I also got 2 lipcolor products, the first being Mineral Fusion Lip Gloss in Lovely (P675). This is US$12.99 in the US. I love the slim tube.
My second lipcolor product is Mineral Fusion Lip Sheer in Inspire (P850).
Here are the swatches. I'm surprised the Lip Gloss is so pigmented!
Wow, I used a dried out wipe to remove the swatches and they came off instantly… an indication that they contain no harmful chemicals.
Here's the Lip Gloss on the lips. I super love this product! I normally shy away from lip gloss because they're usually sticky and yucky but this is wonderful. The product glides on like a dream and it's color rich, unlike the usual glosses. My lips don't feel like they're thick or dripping wet lol. Of course it comes off when you eat and/or drink but reapplication is hassle-free so it's not a problem.
This is the Lip Sheer on the lips. It's actually more sheer than I expected. The Lip Gloss is much more pigmented. This doesn't ever dry completely so it's bye bye when you eat or drink. It's very buttery though. My main problem with this is a design flaw with regards to the tube's cap. No matter how securely I snap it close, the cap always comes off in my bag so the lipstick is now a mess. This doesn't happen with my other lipsticks.
I also got the Mineral Fusion Volumizing Mascara in Jet (P945) to try. Unfortunately it doesn't seem to be waterproof because I came home with a mild case of raccoon eyes after using it for a whole day.
Of the products I've tried, my favorites are the Illuminating Powder and Lip Gloss. They are definitely getting permanent spots on my dresser.
Mineral Fusion makeup products at select Healthy Options branches nationwide. Visit https://www.healthyoptions.com.ph/ for a complete list.
Like this post? Subscribe to this blog by clicking HERE.
Let's stay connected: