I went to the grand opening and launch of Midnight Mercato at Bonifacio Global City last night. I must admit, I had to struggle with myself because I was already sleeping by 7pm due to fatigue. Hubby actually had to wake me up at 9pm to remind me that we were going to Midnight Mercato.
Before I go on, let me give you a short primer on Banchetto and Mercato Centrale @ BGC. Banchetto is an overnight street food fiesta happening every 12mn of every Friday in Ortigas. It lasts until 11am in the morning, although my friends who have been there say that everything's usually wiped out by 3am. Meanwhile, Mercato Centrale @ BGC is a weekend market open Saturdays and Sundays from 6am to 2pm. Midnight Mercato is Mercato Centrale's answer to Banchetto, open Fridays and Saturdays from 10pm to 3am — a more feasible timeslot for me! Yey!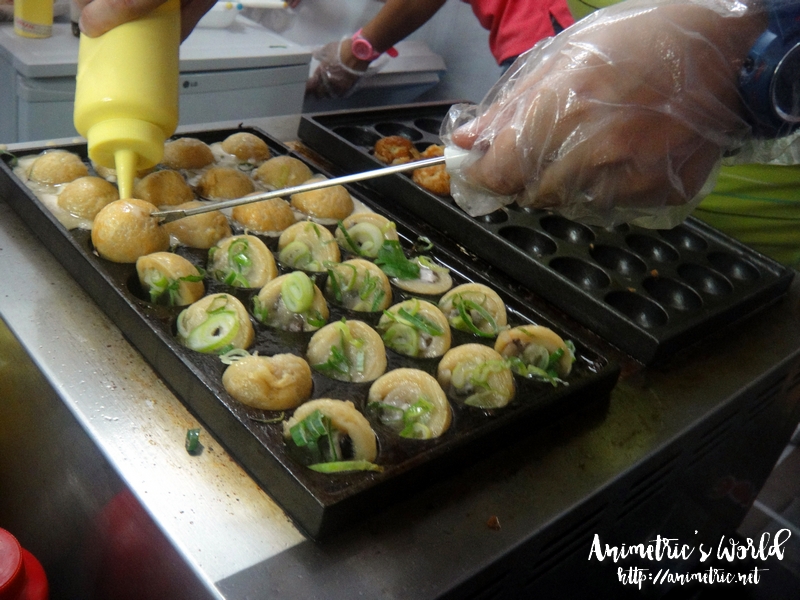 Now back to the grand opening of Midnight Mercato. I walked in the closed and air-conditioned tent and was surprised that the floors were actually cemented and paved. I've never been to the daytime version of Mercato Centrale. I went around and the first sight that greeted me was Otako Bar's takoyaki (octopus balls). Since takoyaki is nothing new to me I decided to skip it and save my calories for elsewhere… hehe.
Hubby and I found our way to Z's, a stall at the open area (no more air-con) where most of the grilling took place. We were intrigued by the delicious aroma and so we decided to share one Super Z Cheezy Sausage in a Bun (P115). Condiments like onions, pickles, catsup, mayo, and mustard are free but if you want the special ones like sauerkraut you have to pay an additional P20 or P25. At the booth next to Z's hubby and I availed of buy 1 take 1 Schublig (P150 for two buns). Unfortunately it was so crowded and busy I was not able to take decent photos.
I saw all kinds of burgers and sandwiches lined up for your eating pleasure.
Then I decided to try Offbeat's Chili Cheese Logs (P130). It's basically deep fried cheese sticks wrapped in lumpia wrapper then topped with cheese sauce, chili, and mayo. It was okay, but I don't suggest having one order all to yourself because it can make you feel umay (icky is the closest English expression I can think of for umay). Three of us actually shared one order.
There was this booth offering freshly flame-grilled burgers, steaks, and other meats. He uses real charcoal! 😀
We also saw Offbeat's infamous Krispy Kreme Burger, one of the most popular offerings of Mercato Centrale BGC. Hubby and I were too chicken to order one. It just comes across as so… unhealthy. I feel that one serving is enough to send both your cholesterol and blood sugar level skyrocketing. Waaaah.
By this time I wanted something dessert-ish. I spied on Fried Mantou at the Spring by Ha Yuan booth.
Mantou (that sweet white bread that is used in siopao) is sliced into strips and then deep fried.
When it's golden brown and crispy, it's served with a small container of condensed milk for dipping. It's quite yummy and it costs P40 per serving. According to blogger and Mercato organizer Anton Diaz, Mantou Fries is a new product making its debut at Midnight Mercato. He actually took our photo with it.
Then I went over to Mochiko, a small booth selling mochi (sticky rice cake) ice cream. I heard they use FIC, hehe. A scoop of ice cream is wrapped in mochi. Each ball costs P70 each. Hubby got the Green Tea variant.
I got Vanilla Rose, a special flavor available only for the month of February to celebrate Valentine's Day. It's pretty good, albeit the mochi coating was a bit over-frozen so it wasn't as chewy as it should be.
For my last purchase of the night, I decided to get a pack of Fresh Start organic red rice which cost P180. I also took home some cooked bacon tapa from Taparazzi simply because I was already full and had no place to stash the garlic rice, bacon tapa, and salted eggs with tomato in my stomach. XD
I had a great time at Midnight Mercato. It actually reminded me of the night markets I'd frequent abroad. There's everything from meat, pasta, pulutan (isaw, chicharon, etc.), pastries, and lots more. There are acoustic performances in the air-conditioned area too so you can be entertained while you eat. I think the tenants renew or change on a weekly basis so there's always something new to look forward to. 🙂
Midnight Mercato / Mercato Centrale @ BGC
30th Ave. cor. 9th St., (across The Spa)
Bonifacio Global City, Taguig City
http://www.mercatocentrale.ph
Like this post? Subscribe to this blog by clicking HERE.
Let's stay connected: