When we buy household appliances, one of the things we consider is the power consumption. I mean, if we use something everyday and it's not energy efficient, we'll end up with a higher electricity bill… right?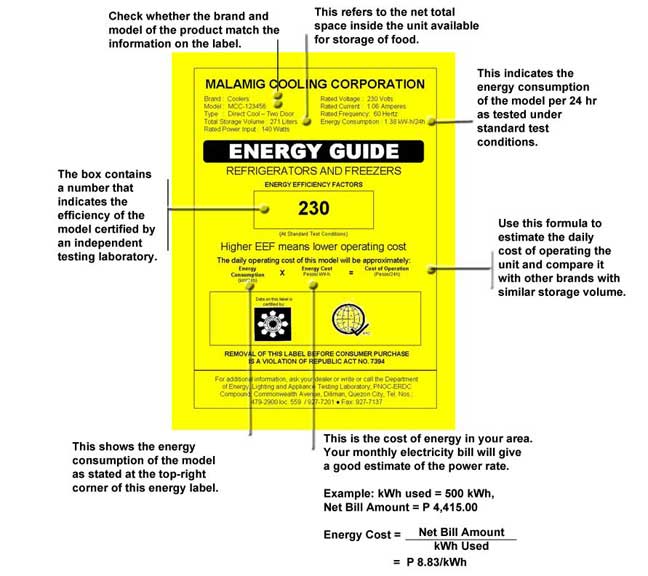 Now I always see yellow tags like the one above (I got the image off the Department of Energy website) stuck to refrigerators and air-conditioners for sale. On a regular day if you go to an appliance store and try to browse, you would see these yellow tags with a number which represents the appliance's energy efficiency. While it helps us determine how energy efficient an appliance is, experts like engineers may have an easier time getting what it really means.
Things are about to become a lot more simple with Meralco's Orange Tag. The goal is to have Orange Tags on all appliances which indicates the peso equivalent per hour / day / week of the power consumption. Take this particular Samsung refrigerator model for example, its estimated cost per day to operate is P19.25. Other brands and models would display a different figure.
In addition to the Energy Guide attached to appliances for sale, Meralco will be putting up these Orange Tags which give you an estimate of how much you need to pay per hour or per day for using a particular household appliance. Now it's easier to compare between brands and models. You can actually compute if that new ref, TV, washing machine, or aircon's power consumption falls within your monthly budget.
Appliances are subjected to thorough testing and measuring at the Meralco Power Lab. Yes, they actually have an entire facility dedicated to this.
They use different kinds of measuring tools to ensure accurate results, one such tool is this Power Meter.
When we toured the Meralco Power Lab, several tests were ongoing. See the bedroom above? There are two light bulbs sitting on the bed to simulate the body heat of 2 people occupying the room. They are measuring the power consumption of the aircon based on actual usage.
We were shown these Smart Plugs. According to the Meralco folks, using Smart Plugs lets you control your appliances via an app on your mobile device (cellphone, tablet, etc).
I actually tried adjusting the split-type aircon's temperature while I was there using a Samsung Galaxy Tab. Imagine the possibilities — you can turn your appliances on and off even if you're not home!
With the Meralco Orange Tag you know in one glance exactly how much an appliance's power consumption will cost you, hence the tagline "Alamin sa Isang Tingin".
Guess which kind of bulb is the most energy efficient? Yup, it's the LED type… its power consumption is less than half of an incandescent bulb's — Incandescent P0.77, CFL P0.22, LED P0.18 — these figures reflect how much it costs to use these bulbs per hour.
The Meralco Power Lab is a treasure trove of information with regards to your home's power consumption. I learned a lot that morning we visited. As you can see in the chart above, an inverter refrigerator consumes a lot less power compared to the conventional refrigerator. You can also see the peso values for the electric consumption of 3 kinds of light. With the Meralco Orange Tag, you can more or less estimate how much you'll be spending on electricity based on the appliances you're going to use.
Meralco Orange Tags can now be found in stores and so far leading appliance brands like Samsung, Sharp, and American Home have already signed up for the program. Meralco is looking at working with more brands in 2016. It would really be beneficial for us consumers if eventually all appliances would have the Meralco Orange Tag.
Here's a closer look at the Meralco Orange Tag. I love how it's now so much easier to make informed decisions when buying appliances!
What do you think? For more information, log on to http://www.meralco.com.ph/orangetag.
Like this post? Subscribe to this blog by clicking HERE.
Let's stay connected: