How much do you spend on electricity monthly? I think our bill is somewhere between P12k to P15k. I'm hopeful that this will be lower come next cycle because we've started using an inverter refrigerator. Then I heard that MERALCO is reducing the charge per kWh by 59 centavos. From P9.45 per kWh, it will go down to P8.86 per kWh. If you consume 1,000 kWh per month, P590 will be shaved off your electric bill.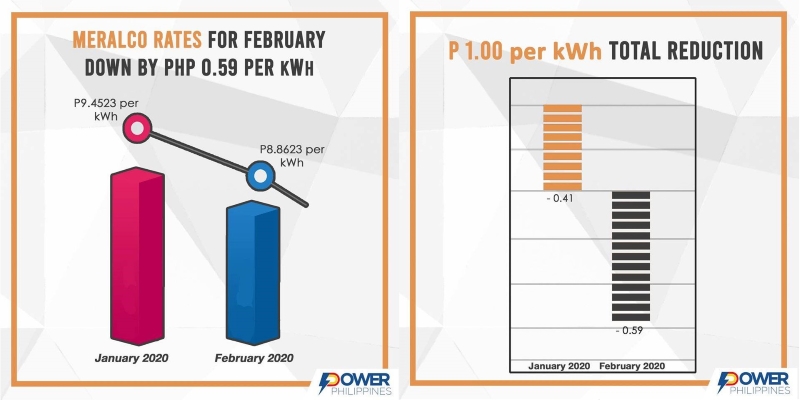 The reduction is mainly due to a lower generation charge after the implementation of new Power Supply Agreements (PSAs) last December 26, 2019.
The generation charge for February decreased to P4.51 per kWh thanks to Meralco's prudent and strategic partnerships with power suppliers. The resulting new PSAs, such as San Miguel Energy Corporation, South Premiere Power Corporation, and AC Energy, charge a lower generation cost. Charges from the Wholesale Electricity Spot Market (WESM) were also lower this month.
With these new PSAs providing lower generation costs, the public can expect consistently low power bills with energy-efficient use of appliances and devices at home, allowing for a bigger budget for other household and family needs.
As we approach the summer months, Meralco encourages its customers to continue practicing energy efficiency initiatives at home to help manage their electricity consumption, such as:
Unplugging appliances when not in use to avoid "phantom load"
Using the aircon at mid-setting or at 25 degrees Celsius. (This is something I will admit to not being able to do because I don't feel cold easily. I need 20 degrees Celsius to be comfortable.)
Using a power board or strip which can supply power to several appliances at once
Maximizing natural light during daytime
Keeping appliances well-maintained to ensure optimal performance.
Meralco also announced a P1.00 per kWh rate decrease from January to February.
I'm actually looking forward to our next electric bill so I can see how much we'll be saving!
Like this post? Subscribe to this blog by clicking HERE.
Let's stay connected: