What's new from KFC? Last week, they introduced the KFC Chaco (Chicken Taco). I attended a Mexican-themed welcoming party and got first dibs on their newest creation.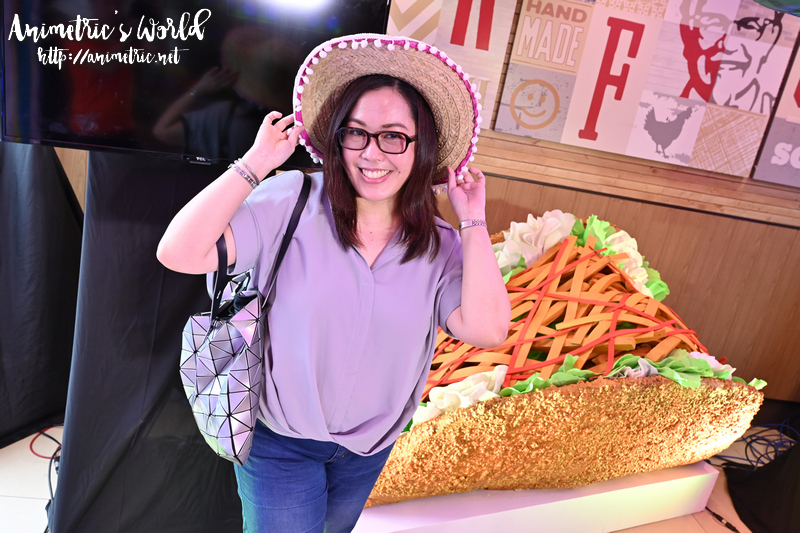 Of course I had to have a photo op with the giant KFC Chaco lol.
Instead of the usual taco shell, the KFC Chaco uses chicken in its place. It's kind of like a huge crispy breaded chicken nugget rolled flat then shaped into a shell. Then it's filled with shredded lettuce, salsa, corn kernels, taco mayo, and then topped with grated cheese.
Eating it can get messy. I ended up taking it home and having it for dinner with rice. You can order it three ways:
Ala Carte (P99)
Combo Meal with Fries and Drink (P145)
Fully Loaded Meal with 1 pc Chicken and Spaghetti (P219)
Personally, I think they should offer it as a rice meal because it works as a viand. Plus I prefer to eat it with a spoon and fork because as I've said earlier, it can get messy. If it were up to me I'd replace the mayo with taco sauce.
An ala carte order would be perfect for merienda.
KFC also launched Kathryn Bernardo as Mrs. Colonel in its latest TVC. Her onscreen (and offscreen?) partner Daniel Padilla is the Colonel after all. The KFC Chaco is now available at all KFC branches nationwide. As far as I know they'll have it for the entire month of May… I just don't know if it will become part of their regular menu. A lot of the KFC creations I've tried in the past were only available for a limited time, including the KFC Crispy Butter Chicken which I still kind of miss.
Have you tried the KFC Chaco? What do you think?
Like this post? Subscribe to this blog by clicking HERE.
Let's stay connected: